What Vanity Fair Got Wrong About Bill Clinton's Post-Presidency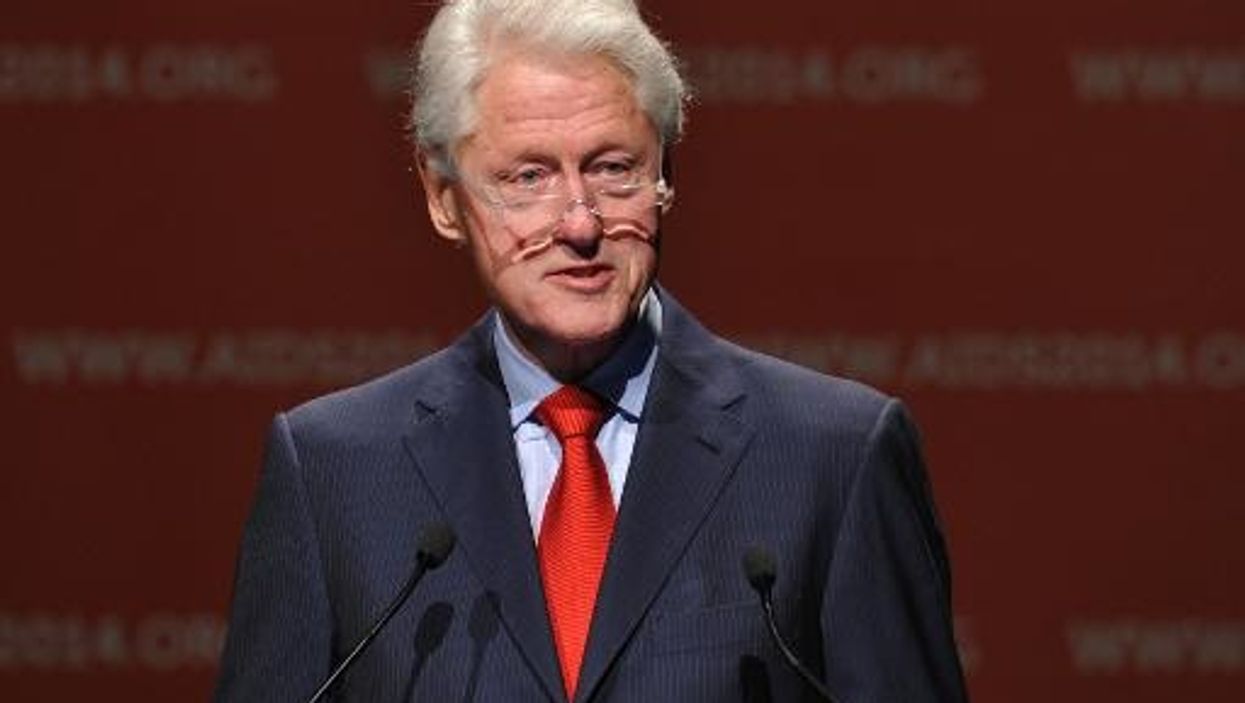 At a time when Americans are dying daily by the thousands in a pandemic and are still defending a presidential election that just barely preserved the nation's liberty, it is puzzling that a major national magazine would devote thousands of words and months of reporting time to rehash a relationship between a former president and his former employee who parted ways nearly a decade ago. But that was the essence of a story published last week in Vanity Fair, based almost entirely on reporter Gabriel Sherman's interviews with former Clinton aide Douglas Band, who now runs a global consulting and investment firm called Teneo that has made him wealthy.
The controversies over Band's business and his acrimonious split from the Clintons are old news and Sherman doesn't add much. But his account has drawn some momentary attention, particularly from The Daily Mail, a British tabloid, with a claim that Clinton once visited the private Caribbean island owned by the late and notorious Jeffrey Epstein—a claim categorically denied. The mysterious financier did donate money and the use of his plane to the Clinton Foundation, many years before he was arrested and was later found hanged in a Manhattan jail cell while awaiting trial on multiple charges, including the alleged rape of underage girls. But although the long list of Epstein's alleged crimes has never included any credible accusation against Clinton, the temptation to impute guilt by association is apparently impossible to resist.
Sherman writes that Band told him Clinton visited Epstein's island in January 2003, long before the financier's alleged sex crimes were revealed, but doesn't quote the former Clinton aide directly – a telling omission that leaves doubt about what Band actually said. Sherman also cites a "detailed travelogue" provided by Clinton's office which shows that the trip in question never happened. What Sherman doesn't mention, however, is that either the Secret Service would have accompanied Clinton or, if the former president left his security detail behind, he would have been required to give a signed waiver of protection to the Treasury Department. Clinton's office has repeatedly denied visiting Epstein's island, or traveling anywhere without Secret Service protection. Last year, the journalist Yashar Ali contacted the Secret Service and received a statement that "President Clinton has never declined protection and has always been accompanied by his detail."
Sherman also notes that on the eve of Clinton's videotaped speech to the Democratic National Convention last summer, the Daily Mail published photos of him and others on Epstein's jet during a Clinton Foundation trip to Africa in 2002. In his piece, Sherman provides his own caption: "Clinton slouches in an airport chair grinning boyishly as a 22-year-old blond masseuse named Chauntae Davies works on his shoulders (Davies accused Epstein of raping her numerous times during a four-year period)." Yet Sherman neglects to include Davies' description of Clinton to the Daily Mail as "a perfect gentleman," "charming and sweet," and "a good sport." Her account refutes the innuendo. (In the photos, by the way, Davies and Clinton are both fully clothed.)
So much for the salacious speculation. The Vanity Fair story goes on to raise supposedly unanswered "questions" about Clinton that in fact I thoroughly addressed in Man of the World, my 2016 book on his post-presidency published by Simon & Schuster. The answers are present in the book, as Sherman surely knows, but he instead asserts answers that are simply wrong.
For instance, Sherman cites a January 2008 New York Times story concerning Clinton's relationship with a Canadian mining mogul named Frank Giustra, which "exposed" how Giustra donated millions to the Clinton Foundation after the former president supposedly helped him win a uranium deal in Kazakhstan. But that story was thoroughly debunked years ago in Forbes – not a magazine favorable to Clinton.
(The misinformed Times article was later expanded by Peter Schweizer in his Clinton Cash book, a collection of falsehoods funded through a nonprofit controlled by Steve Bannon with millions from the far-right Mercer family – top financiers of Donald Trump's 2016 campaign. In 2015, the Times recycled Schweizer's version on its front page, inflicting the damage intended by Bannon on Hillary Clinton. The paper has since acknowledged that the Clinton Cash assertions it promoted were false, without taking responsibility for its own role in spreading them.)
In Vanity Fair, Sherman asks provocatively, "How exactly had Bill, with Band's help, earned that $109 million after leaving office?" He offers up a failed real estate venture involving an Italian swindler named Rafaello Follieri, leaving the false impression that either Follieri or Giustra or both were sources of the former president's wealth. In fact, Clinton personally received not a penny from either of them.
The accurate answer can be found easily enough in the Clintons' publicly available tax returns, released annually during their 30-plus years in public office.
While Clinton earned significant amounts from partnerships and consulting deals, at least 75 percent of his post-presidential fortune is derived from his own labor. As the author of My Life, a gigantic worldwide nonfiction bestseller, and other books, he earned $29 million in advances and royalties. As one of the most popular public speakers in recent history, he earned an eye-popping $52 million for appearances here and abroad (even though fewer than half his speeches were paid).
None of this material is hard to obtain.To botch this simple reporting task is remarkable indeed for a reporter of Sherman's experience.
It is remarkable too that in a story focused on the Clinton Foundation, where Band played a crucial role, scarcely more than a single sentence is devoted to setting forth the foundation's substantial achievements. Beyond Band's positive work in the Clinton Global Initiative are the public health advancements of the Clinton Health Access Initiative – which has helped to save tens of millions of lives and revolutionized international policy toward AIDS, malaria, and other diseases that have ravaged the developing world. (An irony is that Band has done valuable work abroad more recently, facilitating the release of Americans held in other countries, which gets scant mention. Those episodes would have made a far more interesting and original story than this stale material.)
Sherman's slanted narrative culminates in an implausible indictment –namely, his opinion that Clinton is somehow culpable for the rise of Donald Trump. A roster of more likely suspects might include the journalists who took the Clinton Cash bait, falsely maligned the Clinton Foundation, and set the negative framing of Hillary Clinton's presidential campaign.
Sherman concludes that Clinton has been forced to withdraw from public life, but that is plainly the blinkered outlook of a Manhattan-based magazine reporter. In 2019, before the pandemic struck, the former president enjoyed a very active year. His first work of fiction, a thriller titled The President is Missing, which he co-authored with James Patterson, sold over a million copies (and they're working on a sequel). That September, almost a year before she passed away, he introduced feminist icon Ruth Bader Ginsburg at the Verizon Center in Little Rock, where she gave a talk sponsored by the Clinton School of Public Service. More than 15,000 attended and an equal number were turned away– and the revered jurist seemed quite pleased to greet the man who appointed her to the Supreme Court, #MeToo or not. At 74, Clinton is now also working on a TV series on presidential decision making that he will host for the History Channel.
Meanwhile, long after the disgraced Trump Foundation has been shut down and fined by New York state authorities, the Clinton Foundation continues to quietly help people at home and abroad whose suffering occurs beyond the scope of tabloid media. Lately, the foundation has delivered more than a million meals to hungry children in Clinton's home state of Arkansas, in partnership with Chef José Andrés and his World Central Kitchen; provided many thousands of doses of naloxone in American communities struck by the opioid crisis; and brought hurricane relief and reconstruction to stricken villages in Puerto Rico and across the Caribbean. The work goes on in the most impoverished nations in Africa and around the world.
No, this isn't the kind of story that gets much ink in Vanity Fair. But then Clinton isn't doing what he does to get his name in glossy magazines, and never did.