Bill Clinton: Perpetrators Of MH17 Crash Sought A Divided World
@AFP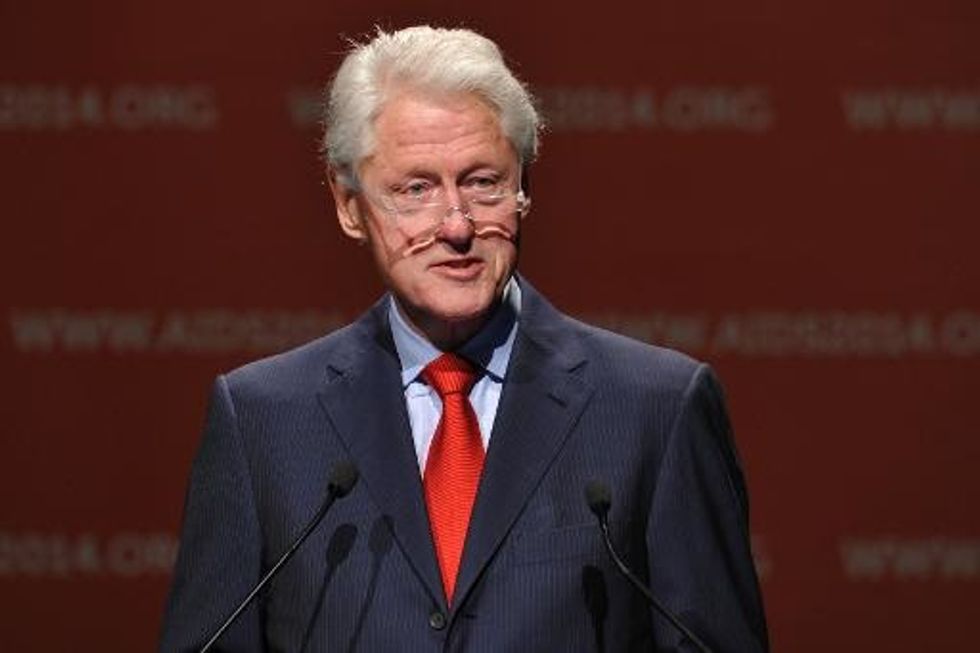 Melbourne (AFP) – Former U.S. president Bill Clinton called Wednesday for strength in responding to the loss of flight MH17, declaring those who had downed the plane — and provided the means to do so — sided with a brutal vision of the world.
Speaking at the world AIDS conference in Melbourne, Clinton said it "matters not" if the Malaysia Airlines plane had been shot down by mistake, and the loss of 298 lives was unintended.
And he paid tribute to the six AIDS campaigners who died aboard the flight.
Addressing a hall packed with scientists, policymakers and grassroots activists, Clinton singled out Dutch researcher Joep Lange, praising him for tireless work in bringing life-saving drugs to millions of people infected by HIV.
"He and the five other colleagues we lost lived lives which are overpowering in their contribution to a shared future," Clinton said.
"Those who shot them down and who provided the means to do so represent the other side in our struggle to define the terms of our interdependence: the open hand against the clenched fist, inclusive politics and economics versus division and dominance, cooperation against control, life against death."
The former president called on the world's response to be strong, and not be sapped by any argument that the loss of lives was unintended.
U.S. intelligence officials have said evidence showed pro-Russian separatists in Ukraine launched the missile, possibly targeting MH17 by mistake.
Clinton said he had been moved by seeing a statement to the UN Security Council by Dutch Foreign Minister Frans Timmermans, who spoke of lives torn apart and who bitterly condemned delays in recovering the bodies.
"It matters not that the murder was meant to be committed against other people," Clinton said.
"I hope that all of our countries who value freedom and honor will look at the statement made yesterday by the Dutch foreign minister before they give in to the temptation to say, 'Well, maybe we should weaken our resolve to make a strong stand because after all they didn't mean to shoot 'this' plane down'."
Clinton, a veteran campaigner in the fight against AIDS, set up a foundation in 2001 that has negotiated huge cuts in prices in antiretroviral drugs for poor countries.
His speech was briefly interrupted by about two dozen activists who held up banners demanding he help push through a "Robin Hood" tax on financial transactions to help fund the war on AIDS.
The former president looked back to 2002, when "barely 100,000" badly-infected people in poor African and Asian countries had grabbed the drug lifeline.
Today, the global total stands at nearly 13 million but as many as 28 million are in need, according to the World Health Organisation's criteria for eligibility, he said.
"An AIDS-free generation is within our reach," said Clinton.
But this could only be achieved through greater funding and smarter ways to use it, he argued.
Funding for AIDS in low- and middle-income countries stood at $19.1 billion (14.01 billion euros) last year, from $5 billion in 2003.
Beneath this surge, though, the figures show that domestic funding sources are increasing but western donations are slowing, he said.
"We're going to have to raise all the money we can and we're going to have to spend what we have as efficiently as possible."
Clinton also called for renewed efforts to combat stigma and prejudice, "which unbelievably, after all these years, is actually on the rise in some places".
He pointed to Uganda and Nigeria "and everywhere else" where anti-gay laws are in place.
"We have to remind people that the people we lost on that airplane gave their entire lives to the proposition that our common humanity matters a hell of a lot more than our interesting differences."
AFP Photo/Esther Lim