Bill Clinton's Wall Street Cash Puts Wife In An Ethical Spot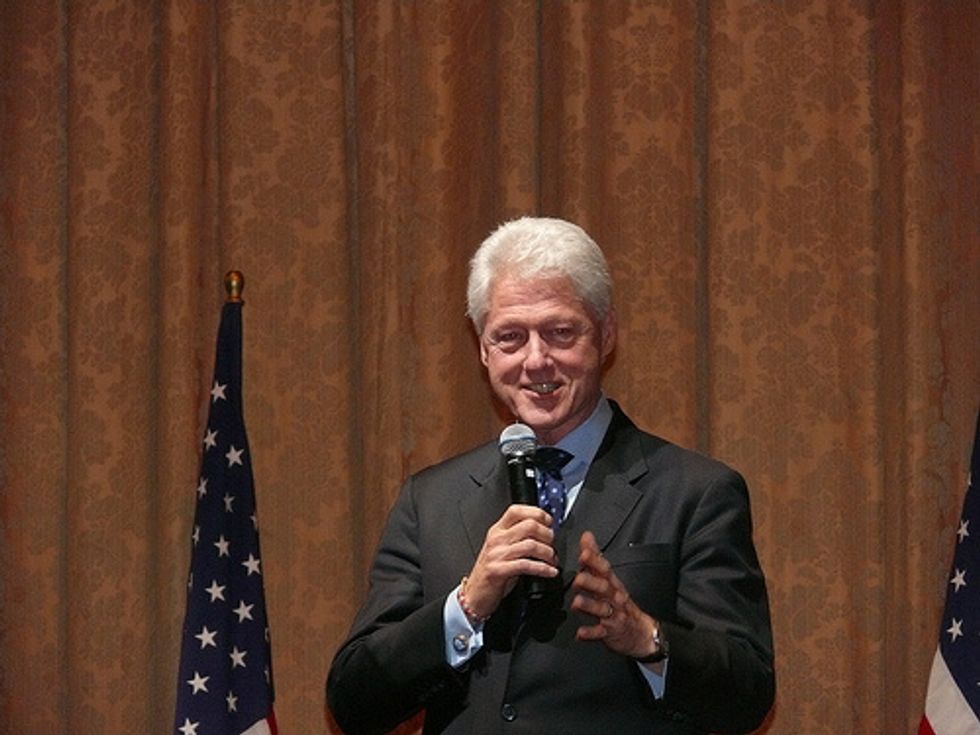 By Greg Gordon and Anita Kumar, McClatchy Washington Bureau (TNS)
WASHINGTON — Former President Bill Clinton flew to Nashville, Tennessee, in February to earn a fast $225,000 for sharing his insights with a private gathering of wealthy clients of Switzerland's largest bank.
It marked at least the ninth time since 2011 that the widely sought ex-president had appeared at a speakers' series for UBS' American clients, at venues stretching from Miami to Los Angeles. For voicing his thoughts, he reaped a tidy $1.5 million, according to financial disclosure statements filed by his wife.
But with Hillary Clinton once again a presidential candidate, the global gallivanting, which brought her husband a windfall of more than $118 million in speaking fees since 2001, is prompting questions about whether he has compromised her independence, including with Wall Street.
Ten of the world's biggest financial institutions — including UBS, Bank of America, JPMorgan Chase, Citigroup, and Goldman Sachs — have hired Bill Clinton numerous times since 2004 to speak for fees totaling more than $6.4 million. Hillary Clinton also has accepted speaking fees from at least one bank.
And along with an 11th bank, the French giant BNP Paribas, the financial goliaths also donated as much as $24.9 million to the Clinton Foundation — the family's global charity set up to tackle causes from the AIDS epidemic in Africa to climate change.
Many of the speeches and donations were made at times when the host banks were under Justice Department scrutiny. Just a couple of weeks ago, for example, UBS agreed to plead guilty to a felony wire fraud charge for manipulating benchmark interest rates and also admitted to breaching a 2009 pledge to commit no more crimes in return for a prosecution deferral. Since then, the bank paid $3.5 billion in penalties and restitution for an array of offenses and cooperated with a broad IRS investigation into American clients who opened offshore accounts to evade income taxes.
All told, the same 11 banks have paid more than $81 billion — yes, that's with a B — over the last six years to resolve federal investigations into alleged corruption, a McClatchy analysis found. With the settlements, the banks averted criminal and civil trials in the face of such allegations as that they fraudulently sold hundreds of billions of dollars in toxic mortgage securities, manipulated interest, and foreign exchange rates and flouted U.S. sanctions against Iran, Sudan, and Cuba.
The gusher of special interest money to the Clintons since they left the White House has become a dominant story line in the early stages of the 2016 presidential race. In addition to Bill Clinton's speaking fees, it includes $11.7 million in speeches by Hillary Clinton in the 15 months before she announced her candidacy and more than $2 billion in donations to the Clinton Foundation. She is not required to disclose what she and her husband earned from speaking fees in 2013.
That money flow has enmeshed the former and would-be future first couple in an extraordinary web of financial entanglements: with Arab governments, Canadian mining interests, U.S. energy giants and the largest banks on Wall Street, to name a few.
Republicans and Clinton's Democratic challengers all contend she is too financially beholden to special interests to lead the nation.
The Clintons' soaring income from speaking fees and book royalties also threatens to undermine Hillary Clinton's attempt to cast herself as a crusader for poor and economically struggling Americans.
"The deck is still stacked for those at the top," Hillary Clinton said at a small-business round table in Cedar Falls, Iowa, last month. "People aren't getting a fair shake. Something is wrong when CEOs earn more than 300 times more than what the typical American worker earns and when hedge fund managers pay a lower tax rate than truck drivers or nurses.
"I'm running for president because everyday Americans and their families need a champion, and I want to be that champion."
She wouldn't be the first wealthy president to try to look out for those on the bottom rungs of society, but she may have to overcome charges of hypocrisy, now circulating in a Republican National Committee video. The top range of assets listed in Hillary Clinton's latest financial statement, along with their two luxury homes, would put their net worth as high as $70 million. Based on 2012 tax data in a University of California, Berkeley study, their wealth would rank them near the nation's upper one-tenth of 1 percent.
If Hillary Clinton wins the White House, the financial industry payments and likely hefty donations to her campaign are "going to put her in a spot when she comes up with policies toward Wall Street," said Lawrence Noble, a senior counsel to the nonpartisan Campaign Finance Center.
"One of the dilemmas she's going to face is that even if she makes a decision based totally on its merits, and she in her heart of hearts believes it's the right thing to do, people are going to see it through the frame of receiving money from Wall Street," he said.
However, Noble emphasized that since a 2010 U.S. Supreme Court ruling all but eliminated constraints on election financing by corporations and wealthy individuals, a Republican presidential candidate could benefit from even greater financial backing. Billionaire conservatives such as brothers Charles and David Koch, who own a huge oil industry company, and Las Vegas casino owner Sheldon Adelson are expected to put hundreds of millions of dollars behind their favorite Republican candidates.
The Clintons' tangle goes beyond money, to overlapping connections in their inner circle. During her stint as secretary of state from 2009 to 2013, Hillary Clinton chose a Clinton Foundation employee, Cheryl Mills, as her chief of staff, fanning suspicions that Clinton tilted policy decisions to favor foundation donors.
Huma Abedin, one of Clinton's closest confidants, worked simultaneously as a consultant for the State Department and Teneo, an elite strategic advisory firm for chief executives of some of the nation's largest companies.
Most puzzling, perhaps, is how the Clintons seemed to take only modest steps to safeguard themselves from this controversy after all the past furors surrounding them in the 1990s, including Bill Clinton's sale of overnight stays in the White House's Lincoln Bedroom to high-dollar donors to the Democratic National Committee.
The former president did not respond to a request for an interview, and spokesmen for both Clintons declined to comment for this article.
Bill Clinton seemed to react to the stream of critical news stories in an open letter Friday thanking the Clinton Foundation's hundreds of thousands of donors after returning from a trip to Africa with his daughter, Chelsea.
"As you all know, it's the political season in America," he wrote, "so the purpose and impact of the efforts your support makes possible has largely been ignored in recent coverage of the Foundation."
He said the foundation has saved the lives of millions of AIDS victims, provided healthier food to 16 million American children and that private commitments arranged by the foundation "have already improved 430 million lives in more than 180 countries."
Hillary Clinton disassociated from the foundation while secretary of state and again when she announced her presidential candidacy.
Karina Byrne, a UBS spokeswoman, said her bank invited Bill Clinton to join in a speakers series called "Revitalizing America," which brought business and government leaders to address global financial issues before some of the bank's wealthy clients. Former President George W. Bush also participated.
"Our clients have greatly appreciated the access in hearing from those two wonderful gentlemen," she said.
She was asked whether UBS officials also hired Clinton because his wife was a likely presidential candidate.
"Our interest was more in learning from President Clinton's experience," she said.
Among questions that the Clintons haven't answered is whether and to what degree Hillary Clinton insisted that her husband, unshackled from tight ethical restraints after ending his public service career in 2001, avoid booking speeches or accepting foundation donations that might saddle her with financial conflicts.
In a half-dozen interviews, friends familiar with the Clintons' thinking said that they have come to expect attacks challenging their integrity after enduring seemingly endless controversies during eight years in the White House. Those brouhahas also included Bill Clinton's impeachment over his sexual liaisons with intern Monica Lewinsky and never-proven conspiracy theories that White House Counsel Vince Foster didn't die of a suicide.
The Clintons have never tried to modify their behavior to avoid creating problematic perceptions, in the belief that whatever they did, they would always be criticized, said their friends, who spoke on condition of anonymity to avoid damaging relationships.
After the barrage of attacks in the 1990s, Bill and Hillary Clinton concluded they would always be fodder for the critics, said Skip Rutherford, a longtime friend who headed the Clinton Foundation when its mission was to build a presidential library and who heads the Clinton School of Public Service at the University of Arkansas.
"What I really think is that if the media didn't have these, then they would find something else," said a frustrated Donald Fowler, who chaired the Democratic National Committee during Clinton's presidency.
Fowler said critics have been trying to nail something on the Clintons for decades, and "it drives the Republicans nuts" that besides the Lewinsky scandal, "they haven't laid a finger on either of them."
P.J. Crowley, who served as a State Department spokesman under Hillary Clinton, said he could only remember two instances when her husband's interests at the foundation intersected with her own areas of focus: In 2009, when Bill Clinton went to North Korea to help seek the release of two U.S. journalists and in 2010, in the aftermath of the earthquake in Haiti. Rather than conflicting, their interests were "complementary," he said.
Before Hillary Clinton took office, Barack Obama's presidential transition team negotiated an agreement with the Clinton Foundation aimed at eliminating possible conflicts of interest during her tenure, limiting donations from foreign governments and requiring that the department pre-clear Bill Clinton's speaking appearances.
Despite the legalistic terms, concerns about conflicts were rarely raised, Crowley said. Except for the State Department officials charged with vetting Bill Clinton's planned speeches or reviewing proposed foreign government donations that exceeded the negotiated limits, department employees were not asked to look into or consider Bill Clinton's business transactions, he said.
Fred Wertheimer, who as president of Democracy 21 is among Washington's longest-serving watchdogs over money in politics, expressed dismay that Hillary Clinton did not take more steps to avoid even appearances of conflicts of interest.
Since she knew she might run for president, Wertheimer said, he "would have thought that Mrs. Clinton would have been much more careful about her speaking engagements" and more discreet than to become a principal in the Clinton Foundation for two years after leaving the State Department.
Noble, a former general counsel of the Federal Election Commission, recalled the agency's major investigation into Bill Clinton's fundraising for the Democratic National Committee.
"What it told me about Bill Clinton was they were going to play fast and loose with the campaign finance rules … cozy up to people with a lot of money," he said.
Hillary Clinton has acknowledged that, between January 2014 and this April, she collected $11.7 million from the talk circuit, including $280,000 from Deutsche Bank, the Germany-based colossus. In addition, she spoke at events sponsored by Citibank, Goldman Sachs and JPMorgan Chase, donating to the Clinton Foundation total fees ranging from $750,000 to $1.5 million, the foundation recently disclosed.
Hillary Clinton's latest financial disclosure statement revealed that she and her husband earned $25 million in speaking fees in the 15 months before she entered the presidential race. Campaign officials declined to say whether she will disclose their earnings in 2013, when both also traveled heavily to accommodate speech requests.
Because employees of Citigroup and other major banks and the firms' political action committees donated more than $2 million to Hillary Clinton's 2000 and 2006 Senate campaigns, her eight years as a New York senator offer clues as to how she might deal with Wall Street.
In 2007, for example, she was among the first in Congress to call for tougher regulation of exotic new investment instruments that amplified the magnitude of the crisis. She also called for government intervention in the marketing of so-called subprime home mortgage loans, whose staged hikes in mortgage interest rates buried millions of borrowers with soaring monthly payments, leading to waves of foreclosures that crashed the housing market.
Yet as a U.S. senator, Hillary Clinton was only allowed by Senate rules to accept an honorarium of up to $2,000 for speaking appearances, provided she donated the money to a charity.
One of her few recent public speeches shows how things have changed.
On Dec. 4, 2014, she spoke in Boston to the Massachusetts Conference for Women, a 51-minute appearance including a question-and-answer session.
Her reduced fee of $205,500 amounted to $4,029 per minute.
(c)2015 McClatchy Washington Bureau. Distributed by Tribune Content Agency, LLC.
Photo: Veni Markovski via Flickr. Graphic: Tribune News Service.