Billionaire Tom Perkins: Paid A Million In Taxes? You Should Get A Million Votes!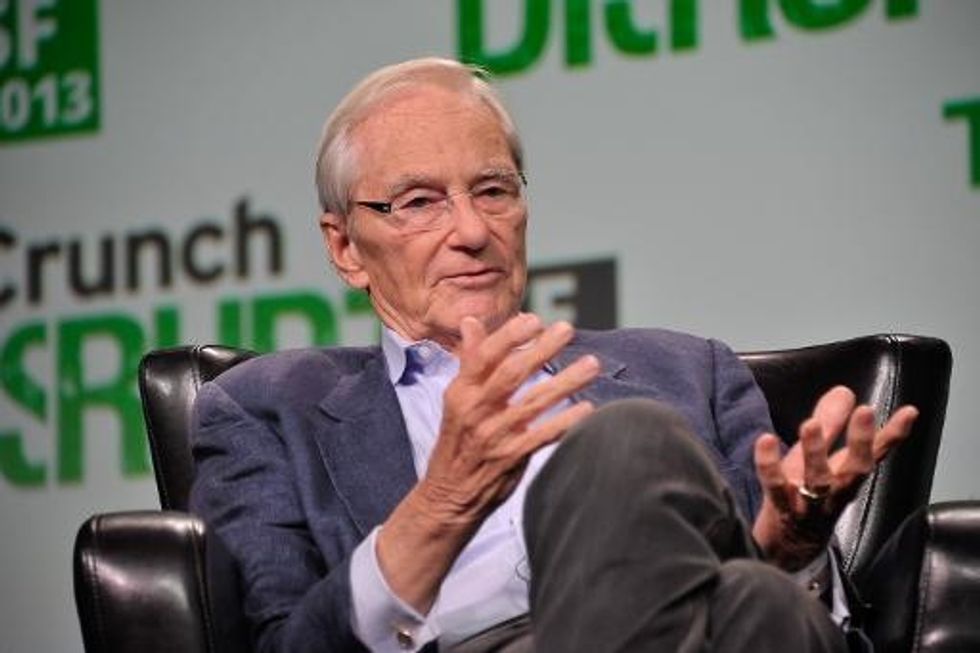 Tom Perkins, the billionaire venture capitalist who recently made the worst possible argument against fighting inequality, is once again speaking up for the rights of the super-rich — and making the rest of the country cringe.
During a Thursday event at the Commonwealth Club on Thursday, Perkins told Fortune's Adam Lashinksy how he would reform election laws. Borrowing a theory from Bryan Fischer — which is generally a good indicator that trouble is about to follow — Perkins explained, "The Tom Perkins system is: You don't get to vote unless you pay a dollar of taxes."
"But what I really think is, it should be like a corporation," Perkins added. "You pay a million dollars in taxes, you get a million votes. How's that?"
As CNN Money points out, although the audience laughed, Perkins gave no indication that he was joking (he later noted that "I intended to be outrageous, and it was").
Whether or not the billionaire's comments were meant to be in jest, however, his proposal is really no joke. After all, Perkins' stated goal — giving the wealthy near-total control over elections — seems closer to reality than at any point in memory. As The Huffington Post's Paul Blumenthal recently pointed out, in the 1980 elections, the wealthiest 0.01 percent of campaign donors accounted for just under 15 percent of campaign contributions. In the 2012 elections, however, the top 1 percent of the 1 percent accounted for more than 40 percent of all money spent. In other words, if there's a problem with the super-wealthy's influence in elections, it's certainly not that they have too little of it.
On Thursday, Perkins also clarified how exactly the rich are being demonized in America.
"The fear is wealth tax, higher taxes, higher death taxes — just more taxes until there is no more 1 percent," Perkins said, apparently confused about how percentages work. "And that that will creep down to the 5 percent and then the 10 percent."
While Perkins is an avowed enemy of the government collecting money, however, he doesn't seem to be as opposed to the government giving it out. Perkins made much of his fortune working for the computer giant Hewlett-Packard, which happens to be one of the top defense contractors in the United States, and could never have grown to its current size without the active support of the federal government.
Of course, Perkins' rant isn't even his most offensive of the past month. Compared to his warning that the progressive critique of income inequality is reminiscent of Kristallnacht, suggesting that America let the richest of the rich unilaterally decide elections so they can dodge paying taxes is downright politically correct.
At this rate, it's only a matter of time before Republican pollsters start adding Perkins' name to their questions about the 2016 Iowa caucus.
AFP Photo/Steve Jennings