Billy Frank Jr., Nisqually Elder Who Fought For Treaty Rights, Dies At 83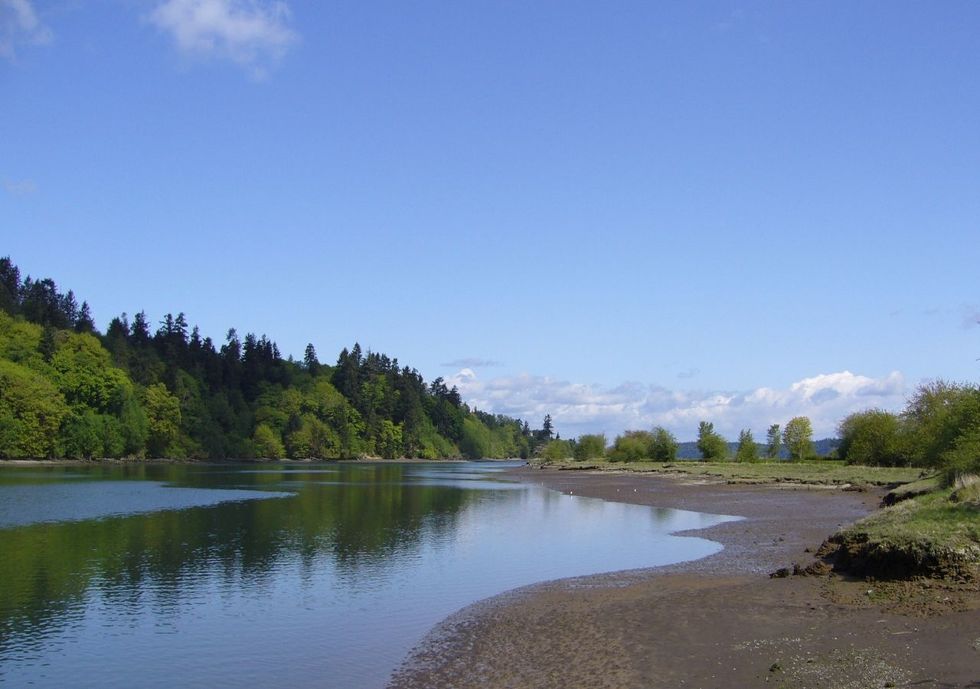 By Craig Welch, The Seattle Times
SEATTLE — Billy Frank Jr., a Nisqually elder and fisherman who served for more than half a century as the charismatic voice of Northwest tribes fighting to exercise their treaty rights, died early Monday, tribal officials and his family confirmed Monday.
Frank was 83.
"We are all stunned and not prepared for this," said W. Ron Allen, Jamestown S'Klallam tribal chairman, who has worked with Frank since the early 1980s. "He was bigger than life. It's a very sad day for all of us."
Frank was first arrested for salmon fishing as a boy in 1945. He was beaten and jailed repeatedly as he and others staged "fish ins" demanding the right to collect Chinook and other salmon in their historical waters, as guaranteed under treaties when they ceded land to settlers in the 19th century. By the time celebrities like Marlon Brando showed up on the Nisqually River to assist them in 1964, the salmon wars had raged for decades.
In 1974, U.S. District Judge George Boldt affirmed the tribes' right to half of the fish harvest — and the nation's obligation to honor the old treaties. In 1993, another court decision extended that affirmation to the harvest of shellfish.
By then Frank already had become one of the nation's most eloquent and influential tribal champions.
He fought in Olympia and Washington, D.C., to protect forests and salmon streams from excessive timber harvest and development. He battled in court, in endless public meetings and in private conversations with anyone who would listen. With his soft voice, strong handshake and endless stories, he disarmed senators and presidents.
"He wanted all these tribes to understand that if they worked together we could do anything," his son, Willie Frank, said.
Gov. Jay Inslee called Frank not just a tribal leader but a state leader.
"We can't overstate how long-lasting his legacy will be," Inslee said in an interview. "He pushed the state when he needed to push the state. And he reminded the state when it needed reminding. His legacy is going to be with us for generations. My grandkids are going to benefit from his work."
Steve Robinson, who worked side-by-side with Frank for 30 years, serving as his spokesman and writer starting in the mid-1980s, said Frank would never hesitate to do battle over what he believed. But he also had the instincts and skills of a diplomat.
Frank more than anyone else, Robinson said, could convince people that the way to prosperity was through a healthy environment, because Frank believed it. Robinson called "the greatest man I've ever known."
"When he walked into the room, he just had such a power and presence," Robinson said. "We would have visitors from Russia, Asia, South America, and he'd delight them all. He'd travel to Barrow or Kamchatka and kids would line up to see him. But he was always humble. He knew no strangers and hugged everybody."
Pat Stevenson, the environmental manager for the Stillaguamish Tribe, said Frank was selfless, rather than focused on his own accomplishments, and always used words like "we" and "us" and "the tribes."
"He was there to make it better for everybody," Stevenson said.
Frank was a fighter to the very end, said his son, who woke his father around 6 a.m. Monday to get ready for another meeting.
Frank showered and dressed but when Willie went back to check in, his father was hunched over in bed.
"I asked him every day if he was feeling good, but he would never tell me if he wasn't," Willie said. "He wouldn't want people to worry about him."
Photo via Flickr