Bipartisan Group Of Senators Wants Answers On NSA Surveillance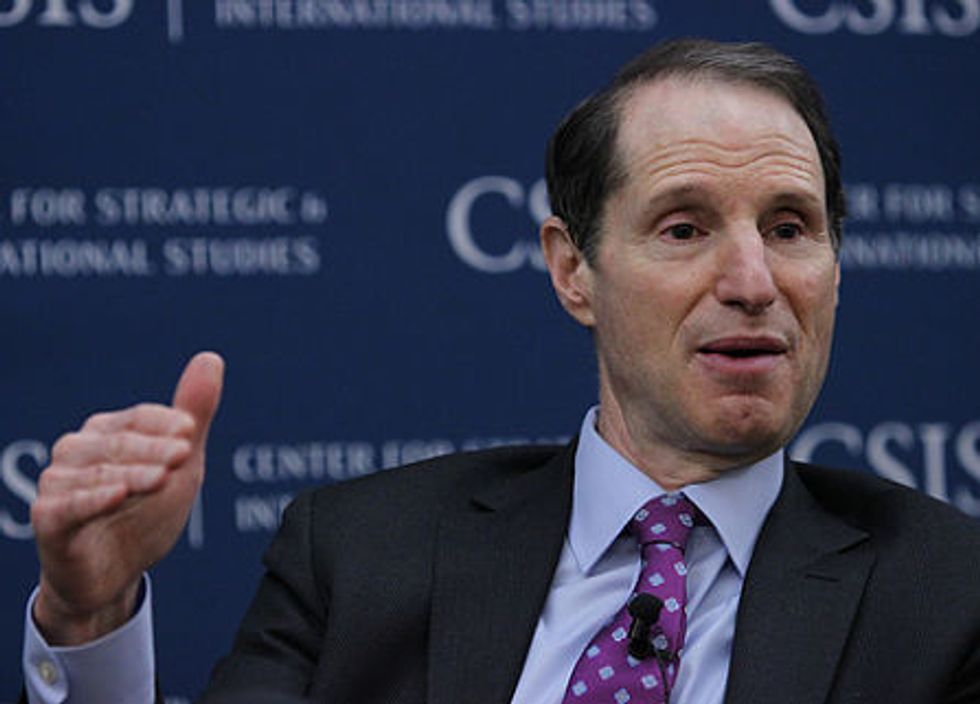 Senator Ron Wyden (D-OR) is leading a group of 26 senators — 22 Democrats, three Republicans and one Independent — in demanding answers from Director of National Intelligence James Clapper.
The senators sent a letter to Clapper Friday that includes a series of questions about the scope and focus of the National Security Agency's bulk collection of data authorized by the PATRIOT Act.
Some — including Senator Rand Paul (R-KY)  and foreign policy expert Fred Kaplan — have argued that Clapper misled Congress when Wyden asked in March if the NSA was collecting data on millions of Americans.
Clapper replied, "No, sir . . . not wittingly."
Senator Wyden has only said that Clapper didn't give a "straight answer."
In the wake of revelations of massive data collection leaked by former NSA contractor Edward Snowden, the senator is obviously interested in giving the director another opportunity to answer in a forthright manner.
"We are concerned that by depending on secret interpretations of the PATRIOT Act that differed from an intuitive reading of the statute, this program essentially relied for years on a secret body of law," the senators wrote, noting that the law passed in the immediate aftermath of 9/11 and reauthorized in 2011 includes a business-records authority "very broad in its scope."
They note that the Supreme Court decision the government is relying on to authorize massive data collection — Smith v. Maryland — was "based on the technology of the rotary-dial era and did not address the type of ongoing, broad surveillance of phone records the government is now conducting."
They suggest that by tracking location data government is "turning Americans' cellphones into tracking devices."
By providing seven specific questions, they said they hoped to clear up misleading statements by Clapper in the past and allow their constituents to evaluate the decisions the government is making:
1) How long has the NSA used PATRIOT Act authorities to engage in bulk collection of Americans' records? Was this collection underway when the law was reauthorized in 2006?
2) Has the NSA used USA PATRIOT Act authorities to conduct bulk collection of any other types of records pertaining to Americans, beyond phone records?
3) Has the NSA collected or made any plans to collect Americans' cell-site location data in bulk?
4) Have there been any violations of the court orders permitting this bulk collection, or of the rules governing access to these records? If so, please describe these violations.
5) Please identify any specific examples of instances in which intelligence gained by reviewing phone records obtained through Section 215 bulk collection proved useful in thwarting a particular terrorist plot.
6) Please provide specific examples of instances in which useful intelligence was gained by reviewing phone records that could not have been obtained without the bulk collection authority, if such examples exist.
7) Please describe the employment status of all persons with conceivable access to this data, including IT professionals, and detail whether they are federal employees, civilian or military, or contractors.
The senators who signed the letter are: Ron Wyden (D-OR), Mark Udall (D-CO), Lisa Murkowski (R-AK), Patrick Leahy (D-VT), Mark Kirk (R-IL), Dick Durbin (D-IL), Tom Udall (D-NM), Brian Schatz (D-HI),  Jon Tester (D-MT), Jeanne Shaheen (D-NH), Dean Heller (R-NV), Mark Begich (D-AK), Bernie Sanders (I-VT), Patty Murray (D-WA), Jeff Merkley (D-OR), Mazie Hirono (D-HI), Al Franken (D-MN), Tom Harkin (D-IA), Chris Coons (D-DE), Maria Cantwell (D-WA), Richard Blumenthal (D-CT), Max Baucus (D-MT), Elizabeth Warren (D-MA), Martin Heinrich (D-NM), Tammy Baldwin (D-WI) and Mike Lee (R-UT).
Photo: Center for Strategic & International Studies via Flickr.com