Bipartisan Senators Support Criminal Justice Reform Despite Scare Tactics
@FAWFULFAN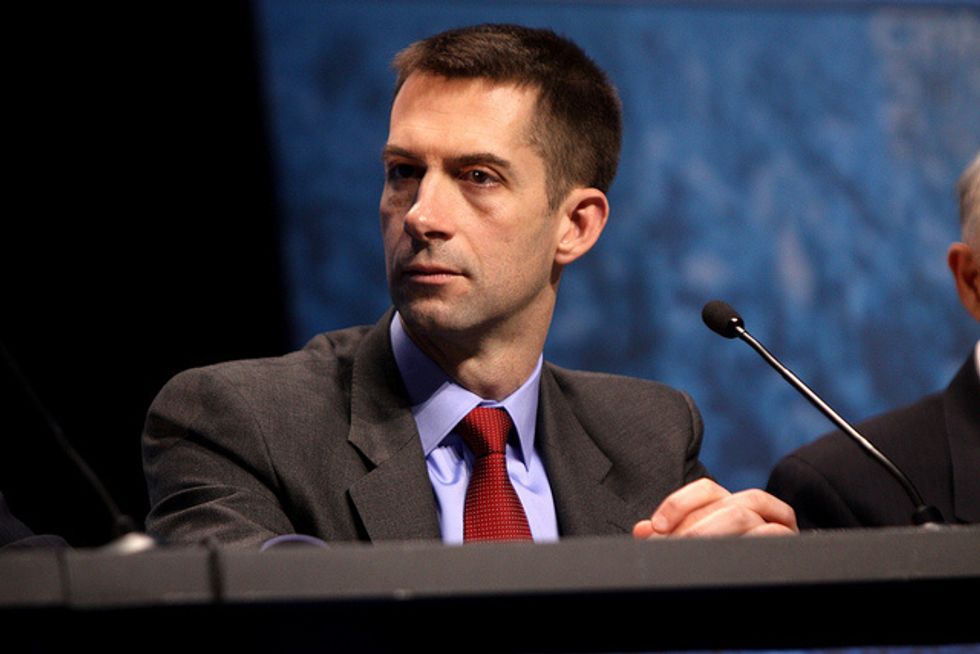 Reprinted with permission from AlterNet. 
Sen. Tom Cotton (R-AR) is one of the most extreme authoritarians in Congress. He led the crusade to go behind President Barack Obama's back and try to derail talks with Iran. He tanked immigration reform twice, once when he was in the House and once in the Senate. And he once claimed the only problem with the Guantanamo Bay detention facility — which has broadly been condemned as a violation of human rights and international law — is that there are too many empty beds.
And, notes POLITICO, he vehemently opposes the FIRST STEP Act, a bipartisan attempt to enact criminal justice reform and lessen mass incarceration:
Cotton is trying to use the same hard-edged tactics he deployed in the past to beat back the bill, arguing that Republican supporters will be held accountable if someone let out of prison under the bill's terms commits a serious crime.

"We shouldn't release serious and repeat-violence felons, which is what the bill will do. It will be bad for anyone who votes for it," Cotton said in an interview Wednesday. Political strategists "think this bill will be as toxic as immigration."
But Cotton's attempts to block this bill appear to be doomed. Everyone from the American Civil Liberties Union to the Fraternal Order of Police to Sen. Dick Durbin (D-IL) to Sen. Ted Cruz (R-TX) to President Donald Trump supports the bill. And Senate Majority Leader Mitch McConnell (R-KY) has now agreed to bring it to the floor after initially resisting the bipartisan pressure.
The version of the FIRST STEP Act being debated in the Senate is more expansive than the version that passed the House earlier this year. It would give federal judges discretion to impose shorter sentences, require federal prisoners be incarcerated within 500 miles of their families, and allow wardens to grant time credits to certain federal prisoners who complete recidivism-reduction programs, that would downgrade the final years of their sentence to house arrest or a halfway house.
Contrary to Cotton's dire warnings, nothing in this bill would release violent criminals. Sen. Mike Lee (R-UT), a former prosecutor, penned a lengthy essay in the conservative National Review blasting Cotton's ignorance of the bill and saying his complaints "do not survive scrutiny."
It is a spectacular and rare achievement when such an important bill generates this level of bipartisan consensus in Washington. Cotton is desperate to derail that consensus — and he is failing.
Matthew Chapman is a video game designer, science fiction author, and political reporter from Austin, TX. Follow him on Twitter @fawfulfan.