Bishop Who Wowed Royal Wedding To Protest At White House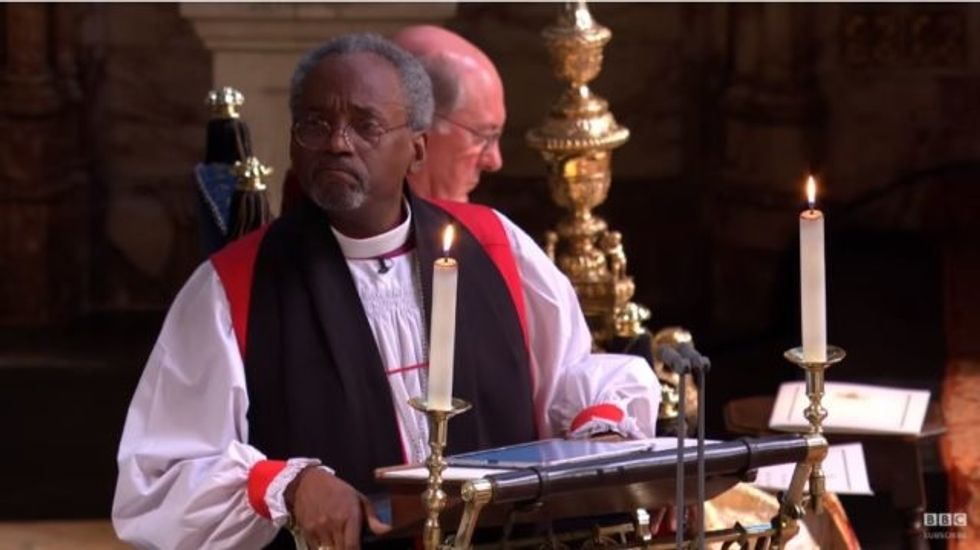 Reprinted with permission from AlterNet.
Episcopal Presiding Bishop Michael Curry, who recently came to global prominence for his viral social justice sermon delivered at the royal wedding of Prince Harry and Duchess Meghan Markle, will participate in a Thursday candlelight vigil against authoritarianism and bigotry.
He joins progressive Christian leaders who signed onto a statement opposing President Donald Trump's "America First" policy by name, calling it "theological heresy."
"As a Bishop I believe we should follow the teachings of Jesus — who taught us to love God and love our neighbor," Curry said.
He is among the voices endorsing the Reclaiming Jesus platform, a progressive interdenominational religious statement that opposes "authoritarian rule" and rejects the "resurgence of white nationalism, racism, and xenophobia; misogyny; attacks on immigrants, refugees, and the poor."
Curry is the first Black presiding bishop in the history of the Episcopal Church, and his spirited social justice rhetoric marks a shift from the left-leaning church's traditionally buttoned-up public image.
His participation in Thursday's protest will cement the Episcopal Church as a force against the Trump administration and heralds a return to prominence for the Christian Left.
"We are Christian leaders bearing moral witness to the teachings of our faith in the public square," Curry said. "As citizens we want our government to reflect our values."
Chris Sosa is the Senior Editor at AlterNet. His work also appears in Mic, Salon, Care2, Huffington Post and other publications. Follow him on Twitter @ChrisSosa.