Black Day For Ukraine Military Ahead Of Key Vote
@AFP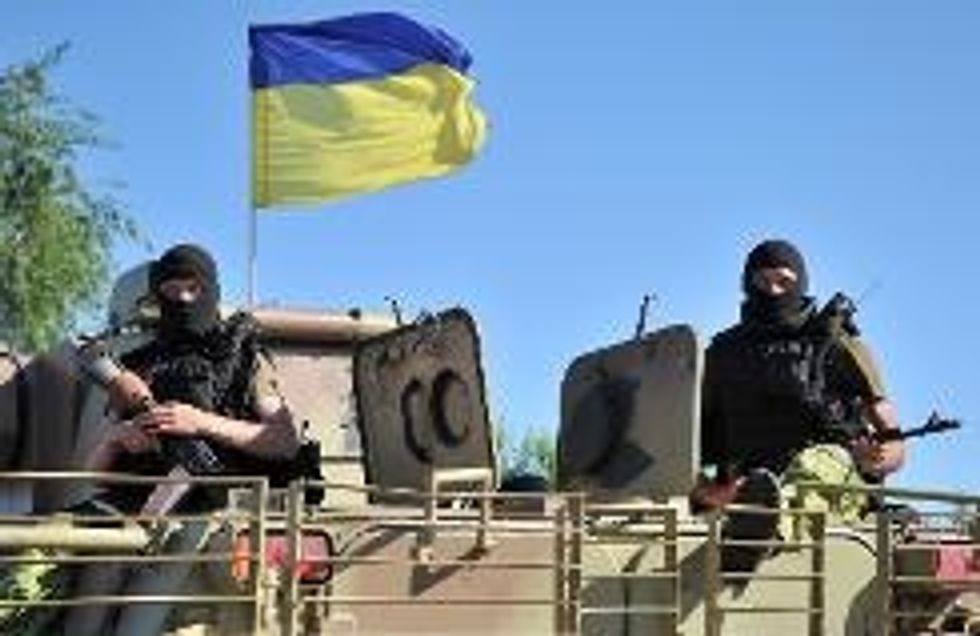 Volnovakha, Ukraine (AFP) – Pro-Russian rebels firing mortar shells and grenades killed 14 Ukrainian soldiers on Thursday, the blackest day yet for the military and a dramatic ratcheting up of tensions just three days before a crunch election.
The attacks in the eastern industrial belt near the Russian border underscored the difficulties of the embattled Kiev government in resolving a crisis that is threatening to tear the country apart.
Ukraine's Prime Minister Arseniy Yatsenyuk accused Russia of trying to "escalate the conflict" and disrupt Sunday's vote, calling on the U.N. Security Council to hold an urgent meeting on the crisis.
He said the Kremlin's announcement of a troop withdrawal from the border was merely a "bluff", and that even if soldiers were redeploying, Ukraine was still being infiltrated by "armed terrorists."
Adding to the chaos in the east, armed separatists seized four coal mines in the first such confirmed attack on the main economic engines of the former Soviet republic.
Western governments have pressured Russia not to meddle in the snap election, seen as crucial to preventing all-out civil war erupting on Europe's eastern flank.
Russia set Western nerves on edge when it massed some 40,000 troops on the border, raising fears of an invasion into eastern Ukraine after its seizure of the Black Sea peninsula of Crimea in March.
On Thursday, Russia's defense ministry said four trains and more than a dozen planes were taking troops and equipment away from the border in what President Vladimir Putin said were measures to create "favorable conditions" for Sunday's election.
NATO chief Anders Fogh Rasmussen said he had seen some evidence of limited Russian troop activity that he hoped was "the start of a full and genuine withdrawal."
But rebels in Ukraine's heavily-Russified eastern industrial regions of Donetsk and Lugansk are showing no signs of scaling back resistance to what they and the Kremlin regard as an illegitimate government in Kiev.
The Ukrainian defense ministry said the worst of the two overnight attacks saw the insurgents blow up a military vehicle after volleying mortar shells and grenades at a roadblock set up by government troops near the town of Volnovakha in the Donetsk region.
Interim President Oleksandr Turchynov said 13 had been killed in Volnovakha, while the defense ministry said another soldier was killed in a similar strike near Rubizhne in Lugansk.
Kiev's interim government launched its so-called "anti-terrorist" operation in mid-April aimed at crushing the rebels who have seized more than a dozen eastern cities and towns and declared sovereignty in Donetsk and Lugansk.
An AFP toll compiled through U.N. and Ukrainian government sources puts the number of deaths across the east since mid-April at over 140.
Putin — his government wary of devastating sanctions threatened by Washington and its European allies — denies a direct role in the insurgency and has so far refrained from recognizing the legitimacy of the rebel republics.
But Putin rejects the legitimacy of the pro-Western team that toppled a Moscow-backed president in February on the back of a massive wave of street protests.
He has given only grudging backing to an election that is all but certain to bring to power a pro-Western president who will seek to fold the nation of 46 million more fully into Europe and break for good its historic dependence on Russia.
Sunday's poll pits the overwhelming favorite Petro Poroshenko — a 48-year-old confectioner whose chocolate factories have been shuttered in Russia on dubious health and safety grounds — against nearly 20 challengers including the divisive nationalist ex-premier Yulia Tymoshenko.
"What is important is not the election itself," Putin said. "What is important is that (Kiev) repairs relations with the regions so that people start feeling like full-fledged citizens again."
U.S. Vice President Joe Biden, in Bucharest on Wednesday, warned Russia of new sanctions.
"If Russia undermines these elections on Sunday, we must remain resolute in imposing greater costs," he said.
Ukraine's interior ministry said it is mobilizing 55,000 police and 20,000 volunteers to ensure security for Sunday's ballot although officials acknowledge it will be difficult to organize in the east.
"I appeal to all Ukrainians not only to go and vote but to help others go and vote, to prevent people from preventing others to vote," Wolfgang Ischinger, the mediator for an OSCE-sponsored peace plan, told reporters on Thursday.
Rebel leaders have vowed to disrupt polling in Donetsk and Lugansk, the heartland of Ukraine's Soviet-era industrial rust belt that churns out more than 15 percent of the country's economic output.
Earlier Thursday, the self-proclaimed leader of Lugansk Valery Bolotov proclaimed martial law in the region and called for Putin to send peacekeeping forces that could help avert a "humanitarian catastrophe."
©afp.com / Genya Savilov