Black Lives Matter and 'Bernie or Bust' Clash Outside The DNC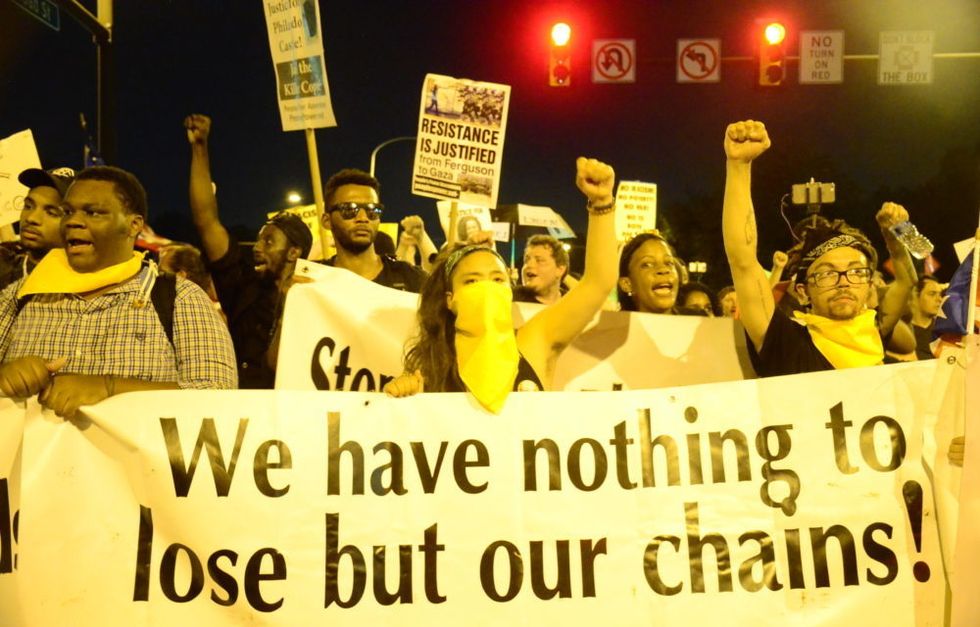 The chaos outside the Democratic National Convention in Philadelphia on Tuesday night could be felt from miles away. Trains going to the Wells Fargo Center were not running all the way there to the venue, and police were present in every cart of every train heading that direction.
On the 25-minute walk from the train station to the convention, a swarm of incredulous Sanders delegates could be seen walking back the other way from the Wells Fargo Center, after the Vermont senator decided to end the roll call vote and nominate Hillary Clinton for the presidency.
"Have you ever been surrounded by Hillary people all day long? It sucks," one of them said to a protestor.
The first thing I saw at the convention's outer gate was a Sanders supporter who now supports Clinton arguing with a Sanders supporter who now supports Trump. "Don't call me a fucking fascist!" the man wearing a "Make America Great Again" hat said to the Clinton supporter.
Riled up "Bernie or Bust" supporters waited for the Sanders delegates who decided to walk out of the convention as a show of protest. Once the delegates came out, the protester's next move was unclear, even to their leaders — those who seemed to have some sway with the crowd chanted "slow down, tighten it up." No one knew where we were headed, but a stampede of police officers followed, awaiting their own orders. Protesters first followed the delegates, and then turned around and came back to the gate.
One of them, Jill Orchin, from North Carolina, was visibly upset at what she claimed were efforts by the Democratic Party to silence Sanders' delegates during speeches. She called Sanders part in the roll call vote for Clinton "hurtful."
"I look up to Bernie, I thank him and he's a beautiful human being, but it sucks that he had to do what he had to do because of his job and I don't agree with it" Orchin said.
An older woman with a Sanders shirt was handing out roses in an attempt to "keep the peace." But it wasn't long before peace was threatened outside the DNC.
When a Black Lives Matter march arrived, tensions rose as they refused to unite the two protests. "This message is not gonna get drowned out. I will not allow it" one BLM protestor said, as he argued that the Bernie or Bust crowd only wanted to protest together to make their own movement look larger than it was, not to address racial injustice.
A group of Sanders supporters attempted to ease tensions with "we are in this together" chants that clashed with "hell no DNC we won't vote for Hillary" screams.
"This is why we can't do anything" a Sanders supporter said of BLM's attempts to keep the two protests separate.
A BLM activist replied that he had joined the Bernie or Bust movement before, but that their "this is what democracy looks like" motto did not represent his demands as a black man. "I've been shot in the street. You wanna talk about that?" he asked the Berner.
Green party candidate, Dr. Jill Stein showed up shortly after, but, even after a megaphone was handed to her by protesters, her words were nearly inaudible to anyone more than 10 feet away from her. Most of the people there did not even know who the woman swarmed by a crowd of cameras was.
The protest rapidly deescalated once the BLM and Bernie or Bust crowds separated for good. Those angry at the DNC were loud, but even at the protest's peak, the chaos spoke louder than their message itself.
The relative inconsequence of the protests became even clearer as I left the area in an Uber: I was greeted by the driver's shushing — "I gotta listen to Bill Clinton's speech!"
Photo: Fabian Ortiz