Blizzard-Weary Americans Brave More Snow As Eight Die
@AFP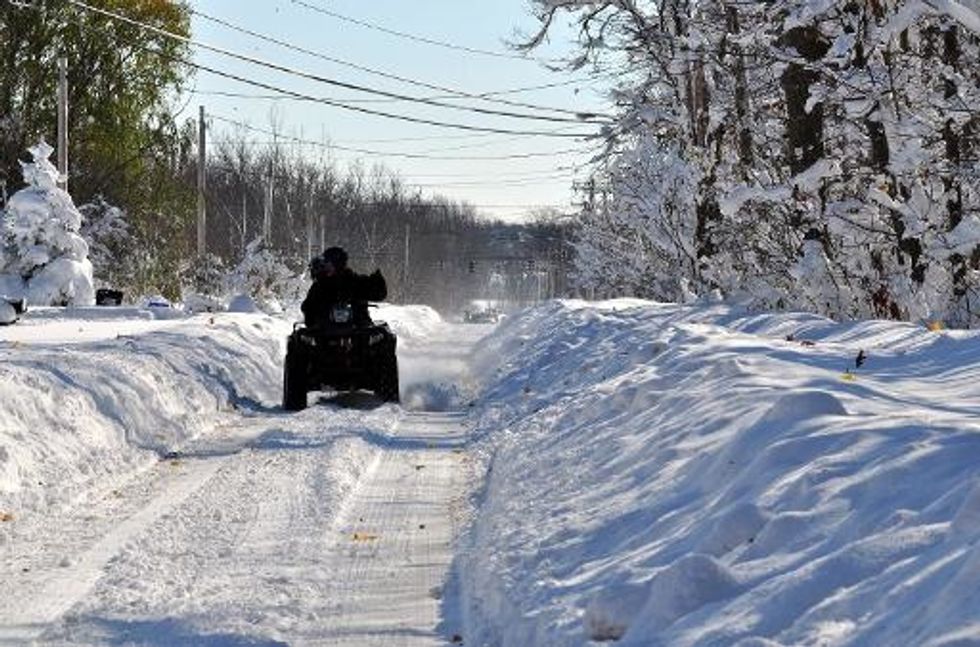 New York (AFP) – Americans smothered in mountains of snow after a stunning blizzard hit the northeast are in for more of the white stuff through the end of the week.
Tuesday's monster storm in and around Buffalo, New York, dumped more than five feet of snow, stranding scores of motorists, canceling flights and killing at least eight people around Lake Erie in the northeastern United States.
A few more feet fell Wednesday, and the National Weather Service said in its latest update that "impressive lake effect snowfall continues across the eastern Great Lakes on Thursday and through Friday morning.
"Up to three feet of additional snowfall is forecast for some locations," it added.
Areas east and southeast of Buffalo could receive a year's snow or even more in just two days, Erie County executive Mark Poloncarz told reporters Wednesday.
The deadly burst, named Winter Storm Knife, may see as much as another three feet (one meter) of snowfall on Thursday, which could prompt a federal disaster declaration, Poloncarz said.
The Arctic blast will keep temperatures below normal until the weekend, with all 50 states recording below freezing temperatures on Tuesday, the National Weather Service said.
A state of emergency and travel bans are in effect across Buffalo's Erie County and authorities ordered people to stay at home to allow crews to clear roads, repair power lines and provide emergency assistance to the most vulnerable.
County spokesman Peter Anderson said runways at Buffalo Niagara International Airport were open, but that "a lot of flights" were being canceled because people cannot get to the airport.
The National Guard was called in to assist with military Humvee vehicles after New York's transportation department worked through the night to rescue stranded motorists and take people to shelters.
"This is something that we're not going to be able to solve on our own. Many communities are still in a very difficult, in some ways paralyzed situation," Poloncarz said.
"From a public health standpoint this has been a killer storm. We've had six deaths in the area, five of which have been preventable," said Erie county health commissioner Gale Burstein.
Three of those who died suffered heart attacks while shoveling snow and another person died while using a snowplow.
U.S. media reported two other deaths in the states of New Hampshire and Michigan.
Dave Zaff, a meteorologist from the National Weather Service, said areas east and southeast of Buffalo city received upwards of five feet (1.5 meters) of snow.
"That is somewhat of an extreme event," he told AFP. "From a forecast standpoint, it will be historic.
"The impact alone when you have hundreds of thousands of people stranded, roads closed everywhere, you start to get fatalities," he said.
"It becomes a very memorable event that people will never forget."
A university women's basketball team was eventually rescued after spending more than 24 hours trapped in a bus on a highway.
And New York-based rock band Interpol was among those trapped in the snowstorm outside Buffalo overnight, forcing them to cancel a concert across the Canadian border in Toronto.
"Still trapped yo! Haven't really moved in 30 hours and we've been on the bus for nearly 40 hours. Nutso. Never seen anything like it," the band said on Twitter.
One young woman in Buffalo tweeting from @SpecialCassie said her father had finally made it home after spending nearly 40 hours stuck in a car.
"Snow to his shoulders, had to climb a tree to get out," she wrote.
AFP Photo/John Normile