Bobbi Kristina Brown, Daughter Of The Late Whitney Houston, Dies At 22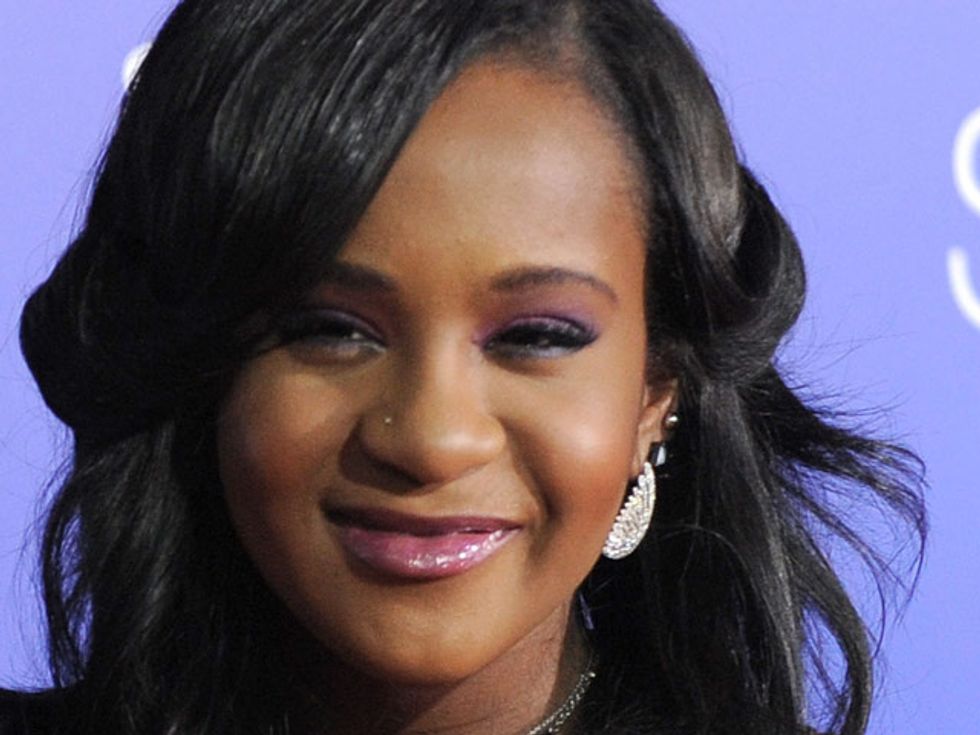 By Christie D'Zurilla, Los Angeles Times (TNS)
Bobbi Kristina Brown, the only daughter of the late Whitney Houston and entertainer Bobby Brown, died Sunday in Peachtree Christian Hospice in Atlanta, nearly six months after being found face-down and unresponsive in a bathtub at the Atlanta-area town home she shared with partner Nick Gordon. She was 22.
"She is finally at peace in the arms of God," a rep for the Houston family said in a statement Sunday. "We want to again thank everyone for their tremendous amount of love and support during these last few months."
Bobbi Kristina "made her transition peacefully," according to a family statement sent out by Legacy Recordings, which handles her mother's catalog.
The New Jersey native was thrust into the spotlight as an 18-year-old when her mother was found dead in a hotel bathroom in Beverly Hills, Calif., on Feb. 11, 2012, the night before that year's Grammy Awards.
She was in the hotel lobby when her mother's body was found and then made headlines of her own when she was taken to Cedars-Sinai Medical Center in Los Angeles that night and the next morning for stress and anxiety.
History appeared to repeat itself to a degree on Jan. 31, when Bobbi Kristina, nicknamed Krissi, was also found in a bathtub, unresponsive but alive. Over the weeks and months that followed, she went from being hospitalized on a ventilator and in a medically induced coma to breathing on her own in a rehab facility, but never regained consciousness.
Grandmother Cissy Houston said in April that her granddaughter had suffered "global and irreversible brain damage." On June 24, Bobbi Kristina was moved to hospice care, and friends and family members began saying their goodbyes.
Gordon, her quasi-brother — Whitney Houston had raised him from age 12 along with her daughter — wasn't among those visiting, however.
In the wake of Houston's death, he and Bobbi Kristina had become romantically involved, even saying they were married, though it would turn out they hadn't been. The Houston family's disapproval of their new relationship was a plot point in the 12-part docu-series The Houstons: On Our Own, which ran in the second half of 2012.
Despite his pleas, Gordon didn't see Krissi again after she was taken from their home Jan. 31. An existing restraining order keeping him away from Pat Houston, Whitney's sister-in-law and the executor of Bobbi Kristina's trust fund, kept him from away from the hospital as well.
Though the Brown and Houston families had been at odds repeatedly while Bobbi Kristina was being cared for, Bobby Brown and Pat Houston were made co-guardians in May with regard to decisions about her care and medical needs. At the same time, attorney Bedelia Hargrove was appointed legal conservator, with responsibility for Bobbi Kristina Brown's assets, including likeness, rights and legal claims.
The day Brown was moved to hospice, Hargrove filed a civil lawsuit against Gordon on his girlfriend's behalf, alleging he'd physically abused her — including knocking out teeth and dragging her up stairs — had controlled her and had taken a significant amount of money from her without permission, $11,000 of it after she had been hospitalized.
The conservator's lawsuit alleges that after Whitney Houston's death, Gordon had maneuvered himself into a boyfriend role and then fraudulently represented himself as Bobbi Kristina's husband to access the multimillion-dollar estate she had inherited.
Authorities announced June 25 that the results of a months-long police investigation into the events of Jan. 31 had been handed over to the Fulton County (Ga.) district attorney's office, which would determine whether any criminal charges would be filed.
Since then, Gordon's legal team has grown to include an attorney who successfully represented Casey Anthony and an investigator who worked on the Natalee Holloway disappearance.
Bobbi Kristina Brown was born March 2, 1993, seven months after her parents — who met in 1989 — got married. In 2005, she appeared occasionally on her parents' reality series, Being Bobby Brown.
When Whitney and Bobby's tumultuous marriage ended in a divorce that was finalized in April 2007, Houston was awarded physical and legal custody of her daughter. Bobby Brown, who had visitation rights but no custody, challenged the decision months later but was a no-show in court and lost his appeal.
Photo: Fabricio Bolonini via Wikimedia Commons.