Meet The Former Prosecutor Who Will Lead The House Benghazi Investigation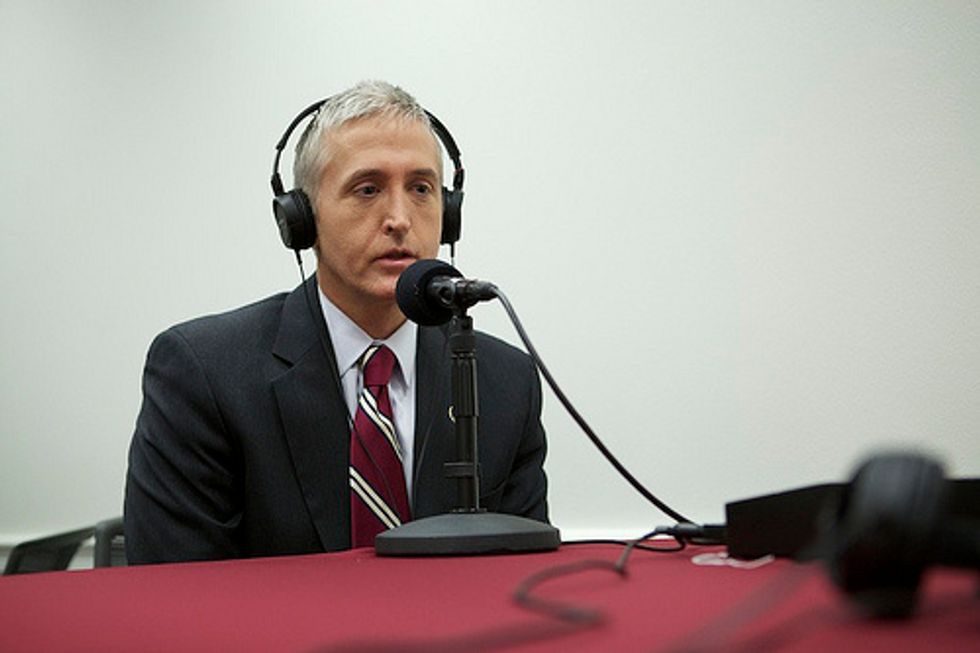 "Trey Gowdy is as dogged, focused, and serious-minded as they come," House Speaker John Boehner (OH) declared Monday as he justified his decision to appoint South Carolina Representative Trey Gowdy (R) to lead the congressional committee set to investigate the 2012 Benghazi attacks.
But who exactly is Trey Gowdy? And why do conservatives feel so warm and fuzzy about Boehner's decision?
As Business Insider explains, Gowdy is a former federal prosecutor and district attorney for South Carolina's Seventh Circuit.
Gowdy began serving in Congress in 2011, and he quickly earned the admiration of those on the right. The South Carolina Republican, as Fox Newsput it, "has made a name for himself by going after top administration officials with the same fervor he once reserved for murder convicts he sent to death row as a prosecutor in South Carolina."
Besides bonding with his fellow conservatives over their zeal for the death penalty, Gowdy has proven to be a far-right favorite, actively participating in the GOP-led investigation into the September 2012 terrorist attacks on the U.S. diplomatic outpost in Benghazi, Libya. In October 2013, the conservative congressman made news when he used a press conference to "demand answers" from the Obama administration on the State Department's knowledge and handling of the Benghazi attacks.
Months later, in December, Gowdy did what all good Republicans ought to: he slammed a New York Times report Republicans deemed favorable to the Obama administration as "politically motivated," but not before managing to tie it back to Benghazi.
Explaining to Fox News' On the Record guest host Dana Perino that the report sought to advance or promote Hillary Clinton's expected 2016 presidential bid, Gowdy accused the Times of failing to acknowledge the former Secretary of State's role in Benghazi.
"I want you to read it six times and tell me if you can tell who the Secretary of State was when Benghazi happened," Gowdy challenged.
Gowdy – who currently serves on the House Oversight Committee — might now get his own chance with Clinton, whom he is likely to subpoena to testify before the newly formed congressional committee.
"Our fellow citizens are full well capable of processing the truth about the attacks and aftermath, and most assuredly entitled to hear it," Gowdy asserted after Boehner tapped him as committee leader.
Gowdy's reputation has earned him support from colleagues like House Majority Leader Eric Cantor (R-VA), who says the South Carolina congressman's "prosecutorial background" will constitute an "enormous value to the committee's efforts."
Democrats have not confirmed their participation, with House Minority Leader Steny Hoyer (D-MD) telling reporters he plans on pushing House Democrats – several of whom say that Speaker Boehner has not even contacted Democrats to discuss the committee – to vote against it.
For now, however, Boehner and conservatives are giddy with excitement over the latest development in their favorite conspiracy.
Rep. Scott DesJarlais (R-TN) is confident that the committee will finally unearth the "truth" about Benghazi, in no small part due to Gowdy's newest role.
"He has an innate ability to evoke the truth," says DesJarlais, according to Fox News.
Oh, and let's not forget Gowdy's "ability" to hunt down officials and politicians "with the same fervor he once reserved for murder convicts he sent to death row." We're sure Mrs. Clinton is shaking in her boots.
Photo: House GOP via Flickr