Boehner Demands Medicare, Social Security And Medicaid Cuts To Raise Debt Limit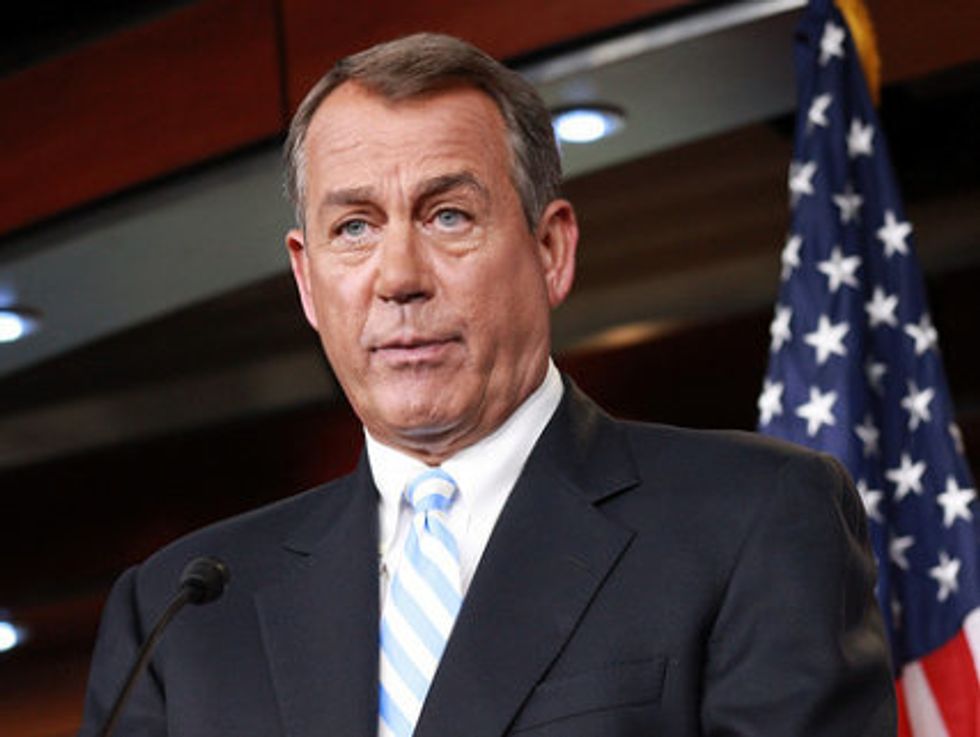 Speaker John Boehner (R-OH) vowed on Monday that any increase in the debt limit would require cuts to the "mandatory side" of government spending.
"Now, it's time to deal with the mandatory side," Boehner told the crowd at a fundraiser for Rep. Mike Simpson (R-ID) in Boise, Idaho. "I've made it clear that we're not going to increase the debt limit without cuts and reforms that are greater than the increase in the debt limit."
"Mandatory" government spending includes Obamacare, Medicare, Medicaid, Social Security and government pensions, all programs that benefit senior citizens who — according to a recent poll from Democracy Corps — have begun to turn against the GOP.
"The president doesn't think this is fair, thinks I'm being difficult to deal with" Boehner said. "But I'll say this: It may be unfair but what I'm trying to do here is to leverage the political process to produce more change than what it would produce if left to its own devices. We're going to have a whale of a fight."
The Speaker clearly wanted the Republican donors in the audience to think he's preparing a debt limit fight reminiscent of the 2011 crisis that cost the United States its AAA credit rating, triggered losses of more than 2,000 points on Wall Street and will cost taxpayers an estimated $19 billion over 10 years.
"I wish I could tell you it was going to be pretty and polite, and it would all be finished a month before we'd ever get to the debt ceiling. Sorry, it just doesn't work that way," Boehner added. "If this were easy to do, somebody over the last 20 or 30 years would have gotten it done. We're going to do it this fall."
Apparently, the Speaker doesn't remember that the budget was actually in a surplus just over a decade ago. That's a memory he probably wants to block out, since he went along with George W. Bush's agenda that helped turn that surplus into a deficit of over a trillion dollars as Bush left office. The budget deficit this year is projected to be about half the deficit President Obama inherited.
Business Insider's Josh Barro points out that Boehner used a nearly identical line in December 2012 when talking about the debt limit: "Any debt limit increase would require cuts and reforms of a greater amount." Republicans then quickly caved and raised the debt limit in exchange for the Senate passing a non-binding budget.
Secretary of the Treasury Jack Lew insisted on CNBC Tuesday morning that the president will not negotiate when it comes to the debt limit. He also said that the president would not accept any deal that defunds or delays Obamacare.
The Speaker's latest comments could just be an attempt to distract members of his caucus who are intent on stopping Obamacare, as a ploy to keep the U.S. government open after September 30 — when the government runs out of current funding. Or he could be serious this time.
Regardless, the question remains whether he can get a majority of his caucus to go along with any plan that keeps the government functioning.
Photo: Talk Radio News Service via Flickr.com