Boehner Grabs A Random Hostage To Stop The GOP From Pulling The Trigger On Itself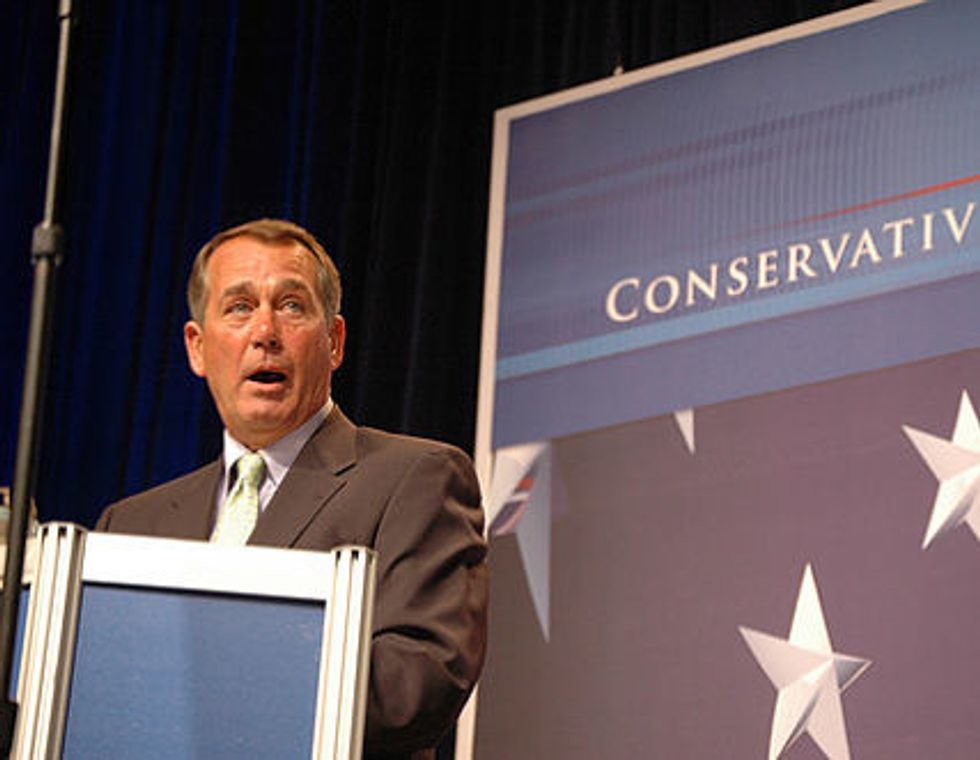 What do you do when the deficit is falling faster than it has in generations and the health care plan you've been comparing to the Holocaust/slavery/Armageddon for years is starting to look as if it will be more popular than expected?
What do you do when a large chunk of your party's House caucus still wants to shut down the government or possibly default on the nation's debt over the deficit and/or that health care plan?
What do you do when people in your own party are spending time and money letting Republicans know that the price of voting to keep the government functioning could be an expensive and possibly career-ending primary challenge?
In private, Republicans have begun to worry.
Off the record, some insiders have told journalists that they're afraid to lose the House, even though the GOP should actually gain seats, the way the out party generally does after a president has been in office for six years.
Sensing his dilemma, Speaker John Boehner (R-OH) did something extraordinary this week, something akin to a parent posting a positive drug test on his or her child's Facebook page. Boehner had his pollster David Winston release a survey that shows the public overwhelmingly opposes a government shutdown. Women decisively oppose it 61 to 29 percent.
But Boehner's problem is that this poll, the one that's supposed to help him keep the government open, shows that one group supports a shutdown by a large margin, 63-27: very conservative voters, the people most likely to show up to vote in a primary and scream at you in a town hall meeting.
LOL.
Thus is Boehner's predicament. Republicans know Americans don't want a shutdown, but Americans aren't going to decide if Republican House members still have a job that comes with a free ticket to the State of the Union in 2014… primary voters are.
This has led Boehner to twist himself into all kinds of contortions to give his caucus some excuse for why they actually have to vote to fund the government beyond September 30 of this year. His latest plan involves the automatic budget cuts known as the sequester.
"The president is desperate to get rid of the sequester… so desperate that he says he'll shut down the government if Congress follows the law and funds the government at the levels his sequester mandates," Boehner said, according to Roll Call. "The president's threat to shut down the government if we implement his sequester is not a defensible position. The American people won't stand for it, and we're not going to be swayed by it."
This is the equivalent to the scene in The Naked Gun, when Lt. Frank Drebin responds to a suspect who has a gun to the head of a hostage by grabbing a random passerby to hold as his own hostage. Of course, in this situation, the hostage House Republicans are holding is the future of the GOP itself.

The president is opposed to the sequestration, but has never threatened to shut down down the government over it. He certainly isn't touring the country demanding the end of the sequester and accusing of anyone who votes for it of being for it, the way Senator Ted Cruz (R-TX) is over Obamacare.
And Boehner's biggest problem isn't the president when it comes to these budget cuts — it's his own party, just as the Republicans' biggest problem for 2016 is the fact that it's nearly impossible for them to lose the House in 2014.
"Sequestration — and its unrealistic and ill-conceived discretionary cuts — must be brought to an end," Rep. Hal Rogers (R-KY), the House's chief appropriator, said in July, after his committee failed to come up with a bill for federal transportation and housing and urban development that met the level of cuts Republicans want in the next budget.
Rogers knows those cuts probably won't hurt his party in 2014 when constituents barely have time to process what it means to start slashing the government even more as our recovery sputters along. But by 2016, when demographics have shifted even more away from the GOP and millions more voters show up to vote for the president, Democratic candidates will have specific cuts that Republican reps voted for, rather than giving up tax breaks for private jets or Mitt Romney. But still Boehner is relying on keeping sequestration as his safest bet for avoiding a shutdown.
And when it comes to immigration, the Republican situation is even more dire. Republicans cannot win the presidency if their next nominee does worse with Latino voters than Mitt Romney, who did worse than John McCain, who did worse than George W. Bush.
The Washington Post's Greg Sargent asked the Cook Report how many Republican House seats have enough Latino voters to swing the outcome of a race in 2014: a grand total of five.
Shut down the government, threaten to default on America's debt, destroy immigration reform that's already passed the Senate and you'll keep your job in 2014… and likely cost your party any chance at the White House.
But at least you've stood by your principles!
Of course, when House Republicans stood by their principles in the 1990s, the result was a Republican president who ran against them to win the primary then grew the government and forever spoiled the notion that tax cuts for the rich create jobs.
House Republicans are nearly impervious to the opinions of anyone but the far right of their party. Of course, Speaker Boehner can always make a deal with House Democrats to keep the government open, raise the debt limit and pass immigration reform. But the same way his members fear a primary challenge, he fears a coup.
So, for now, America's only hope is that he can trick his party into thinking that they care about the hostage he grabbed.
Photo: House GOP Leader via Flickr.com