Boehner Rules Out Impeachment As Democrats Cash In On Threat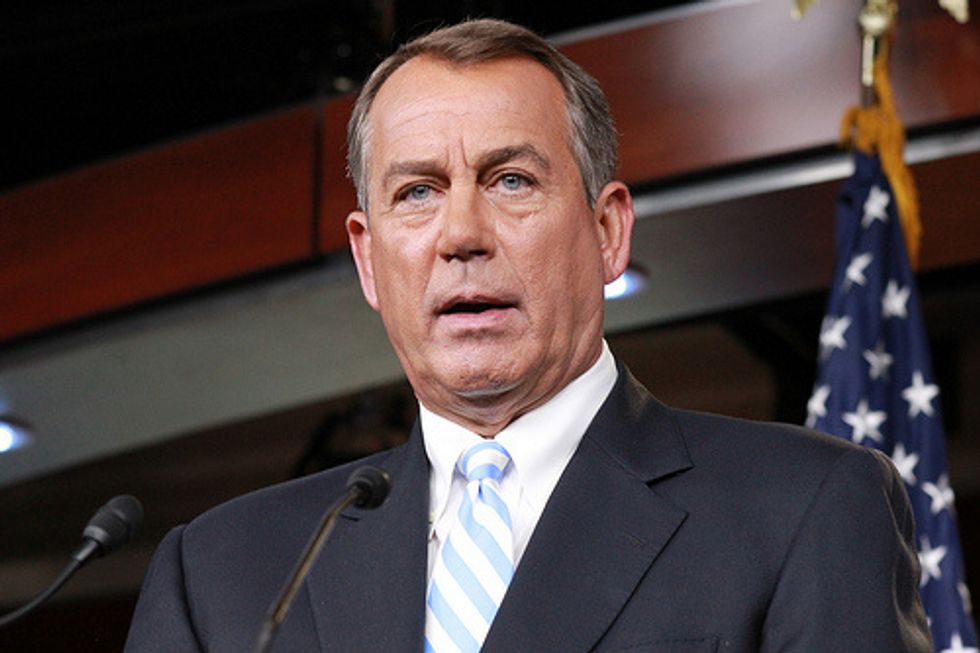 By Michael A. Memoli, Tribune Washington Bureau
WASHINGTON — After Democrats said Tuesday they had raised $7.6 million by warning supporters that a planned GOP lawsuit against President Barack Obama could lead to impeachment, House Speaker John A. Boehner accused the White House of engaging in a fundraising "scam" because there are "no plans" for such a step.
In his most definitive comments on the subject to date, Boehner said that Democrats are using the impeachment issue to raise money and rally their base.
"This whole talk about impeachment is coming from the president's own staff and coming from Democrats on Capitol Hill," Boehner told reporters Tuesday. "We have no plans to impeach the president. We have no future plans."
Boehner's comments come before an expected vote Wednesday by the full House to initiate a lawsuit against Obama over alleged abuse of executive powers. The suit is seen as a way to placate conservative elements of the GOP base who think impeachment should be pursued.
Rep. Steve Israel of New York, the chairman of the Democratic Congressional Campaign Committee, said that incoming House Majority Whip Steve Scalise (R-LA) "breathed new life" into impeachment speculation by refusing to rule it out in a network-TV interview Sunday.
"I do not write Steve Scalise's talking points," Israel told reporters at a breakfast hosted by the Christian Science Monitor shortly before Boehner's news conference. "They're pushing this because they believe it in their souls, or they believe it in their political calculations."
Israel detailed just how potent the threat of impeachment has been for Democrats — generating a total of $7.6 million in online donations since Boehner announced the lawsuit in June, including $3 million since an initial committee hearing to discuss it and $1 million on Monday alone.
Despite assertions by Republicans that impeachment is not likely, Israel cited the 2013 government shutdown as proof that it was a real threat.
"We may not believe that impeachment is viable, but around this table very few would have believed that a government shutdown of 16 days was viable," he said. "They can't help themselves."
Rep. Greg Walden of Oregon, chairman of the House Republicans' campaign committee, shared some of the Democratic fundraising numbers with his colleagues at a closed-door meeting Tuesday, suggesting that Republicans avoid the topic.
The timing of the House vote Wednesday may only further benefit Democrats' campaign coffers, coming just more than 24 hours before the end-of-month fundraising deadline.
Photo: Talk Radio News Service via Flickr