Boehner, Ryan Admit That There Is No Debt Crisis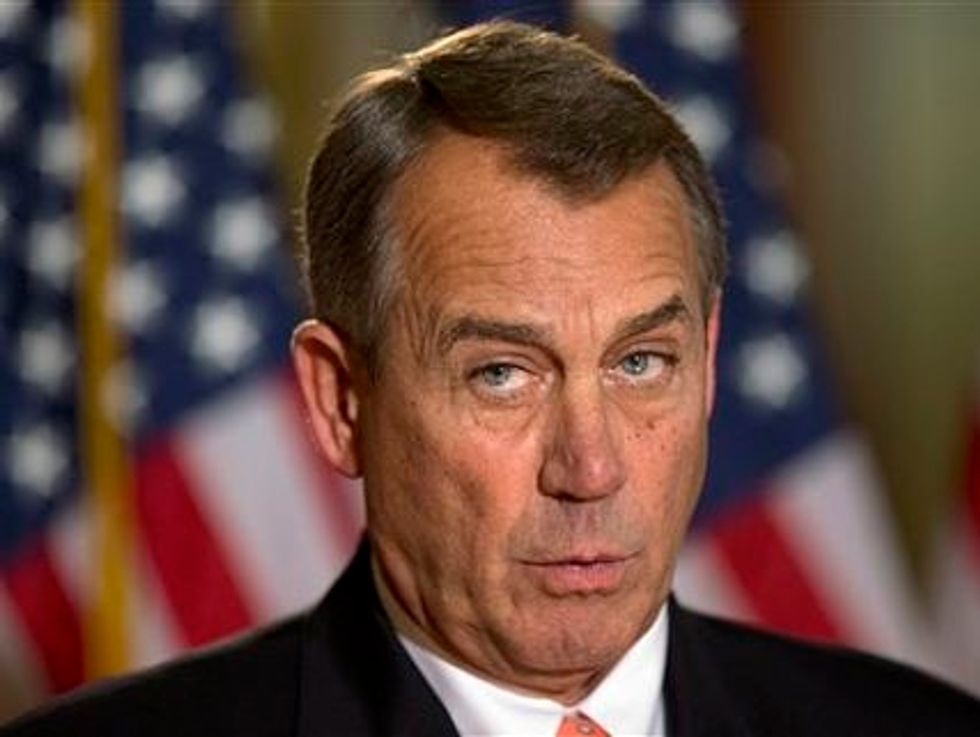 House Speaker John Boehner and House budget chief Paul Ryan have found surprising common ground with President Barack Obama: All three agree that America is not facing an imminent debt crisis. Boehner made a startling admission during a Sunday morning interview on ABC's This Week: There is no debt crisis.
President Obama made that claim last Wednesday, when he told ABC's George Stephanopolous that "We don't have an immediate crisis in terms of debt," adding, "In fact, for the next 10 years, it's gonna be in a sustainable place."
The statement generated a good deal of controversy on the right — the National Republican Congressional Committee, for example, blasted Obama as being in "complete denial about the challenges our country faces" — but it turns out that the highest-ranking Republican agrees with the president.
When Martha Raddatz asked Boehner on This Week whether he agreed with President Obama's statement, the Speaker replied, "We do not have an immediate debt crisis, but we all know that we have one looming." Raddatz followed up, asking "So you agree with the president on that?" and Boehner reiterated, "Yes."
Later that morning, House Budget Committee chairman Paul Ryan agreed as well. On CBS' Face The Nation, Ryan told host Bob Schieffer, "We do not have a debt crisis right now. But, we see it coming. We know it's irrefutably happening. And the point we're trying to make with our budget is, let's get ahead of this problem."
Boehner and Ryan's admissions are sure to come to as a surprise to many conservatives; aside from the aforementioned NRCC, Washington's budget-scold-in-chief Alan Simpson must have been stunned, given that two years ago he warned of a "debt bomb" blowing up the U.S. economy "before two years."
But the statements also raise a fundamental question about the House GOP's policy: If Boehner and Ryan don't believe that a debt crisis is imminent — and if America's nearly record-low borrowing costs are any indication, they're right — then how can they justify pushing for an extremist budget that would slash hundreds of billions of dollars from vital programs supporting the elderly and the poor, and could ultimately cause thousands of deaths?
Indeed, by finally acknowledging that the U.S. will not wake up tomorrow resembling Greece circa 2009, Boehner and Ryan are tacitly admitting the true motivation behind their legislative goals: The Ryan plan is not about the deficit, it's about crippling the federal government and delivering a huge tax break to the wealthy in one fell swoop.
AP Photo/Jacquelyn Martin