Boehner: Senate Democrats Need To 'Get Off Their …'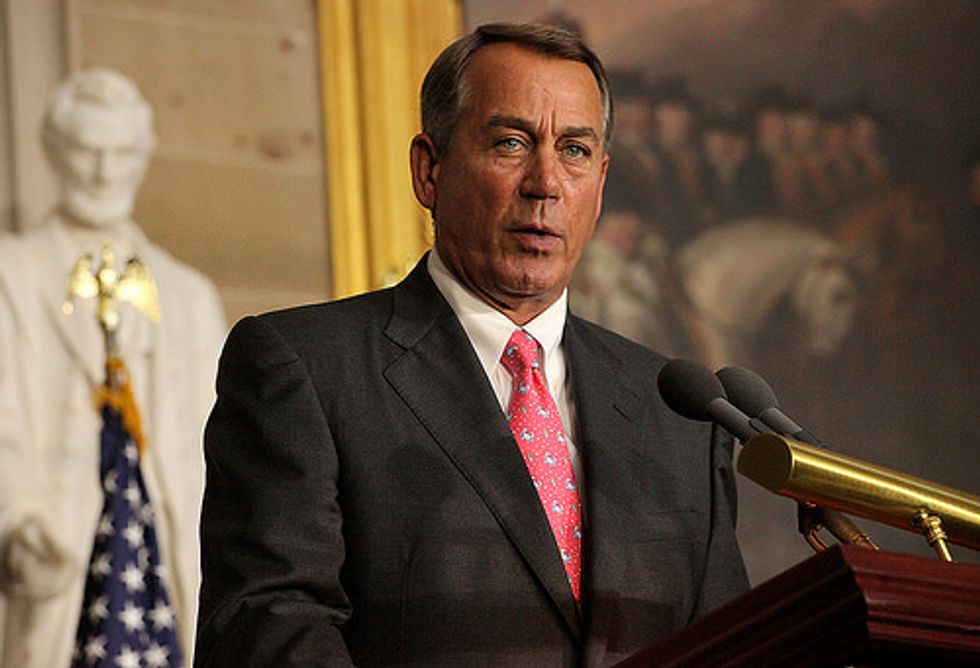 By Matt Fuller, CQ-Roll Call (TNS)
WASHINGTON — GOP House leaders emerged from a Republican Conference meeting Wednesday with a persistent refrain on Department of Homeland Security funding: The House has done its job; it's time for the Senate to act.
During their weekly Republican leadership press conference, Speaker John Boehner repeatedly called on the Senate to take up the House-passed DHS funding bill, which Senate Democrats have repeatedly blocked the chamber from considering.
"You know, in the gift shop out here, they've got these little booklets on how a bill becomes a law," a fired-up Boehner said, as camera shutters clicked away. "The House has done its job! Why don't you go ask the Senate Democrats when they're going to get off their ass and do something?!"
When Boehner was asked if this standoff with the Senate was how he planned for the DHS bill to play out — Senate Republicans now insist it's on House Republicans to send over a new bill — Boehner said the process was working "exactly" the way he envisioned it.
"The House did its job," Boehner said. "We won the fight to fund the Department of Homeland Security, and to stop the president's unconstitutional actions. Now it's time for the Senate to do their work."
But if they don't, does Boehner ever intend on throwing the Senate a lifeline?
"The House has done its job," Boehner said. "It's time for the Senate to do theirs."
Time and again, Republican members trickling out of the Wednesday morning conference meeting stubbornly repeated some variation of Boehner's new favorite line: The House did its job, now it's the Senate's turn.
During conference Wednesday, members heard from two of their former House colleagues now in the Senate: Cory Gardner of Colorado and Shelley Moore Capito of West Virginia.
But instead of Gardner and Moore Capito quelling the House insistence that the Senate act, the two freshmen senators got an earful that they weren't doing enough.
According to Rep. Ron DeSantis of Florida, one member in the conference meeting told the senators they shouldn't be letting the Senate go home on the weekend.
DeSantis said there were ways Republicans could pressure Senate Democrats — simultaneously noting he's "not an expert on kind of how the Senate's run" — and he said the sense among the public was that Senate Republicans weren't doing enough.
In a mocking tone, DeSantis said the Senate's attitude was, "'OK, have a vote, OK, you don't have 60, OK, we got to move on to something else now.'"
House members simply aren't satisfied with the Senate's effort on the House-passed DHS bill, which would block President Barack Obama's executive action on immigration. And House Republicans aren't moving off their position that the Senate take up their bill. That insistence was typified Wednesday in one particularly iron-willed exchange between Budget Chairman Tom Price and a reporter.
"The speaker's position, and our position, is that the House has already acted; it's time for the Senate to act," the Georgia Republican said Wednesday morning.
Asked if the more likely option then was for a continuing resolution or for a shutdown, Price said the option was for the Senate to act.
Presented with Senate Majority Leader Mitch McConnell's comments Tuesday that it was "obviously" up to the House to send over a new bill, Price was emphatic. "The House has acted," he said, content to leave it at that.
But Rebecca Shabad, a reporter for The Hill, was not content to leave it at that. She asked if Price thought the House might have to act again. "It's up to the Senate to act," Price replied.
Asked again if a CR was more likely, given the short amount of time before a DHS shutdown on Feb. 28, Price resorted to a similar line. "The House has acted. It's up to the Senate to act," he said.
And that's the official position from House Republicans: They're not budging.
A similarly obstinate back-and-forth is playing out between Boehner and McConnell in the press. Boehner continues to insist the DHS funding bill is up to the Senate, while McConnell points to three failed votes to proceed to the legislation.
When Boehner was asked about the constantly evolving McConnell-Boehner relationship Wednesday, he didn't say much.
"I love Mitch," Boehner said. "He has a tough job to do, and so do I."
And that was that.
Adam Jentleson, spokesman for Senate Minority Leader Harry Reid (D-NV) later issued the following statement on Boehner's comments:
"We know Speaker Boehner is frustrated but cursing is not going to resolve the squabbling among Republicans that led to this impasse. Democrats have been clear from day one about the way out of this mess: take up the clean Homeland Security funding bill which Republicans signed off on in December – and which is ready to come to the Senate floor – pass it, and move on. If Republicans want to debate immigration policy next, Democrats are happy to have that debate.
"Neither Speaker Boehner nor Senator McConnell appears willing to do the right thing and stand up to the extremists in their caucus like Senator Ted Cruz who have led us here. As we speak, Senator McConnell is on the verge of wasting three entire weeks that could have been used to pass a clean Homeland Security bill simply because he is unwilling to stand up to Senator Cruz.
"The Republican Congress is a mess, pure and simple. Democrats are happy to help our Republican colleagues resolve their problems but the first step is for Republican leaders to do the right thing and pass a clean bill to fund Homeland Security."
Photo: Talk Radio News Service via Flickr