Boehner Warns GOP Not To Make Holiday Plans As 'Fiscal Cliff' Talks Stall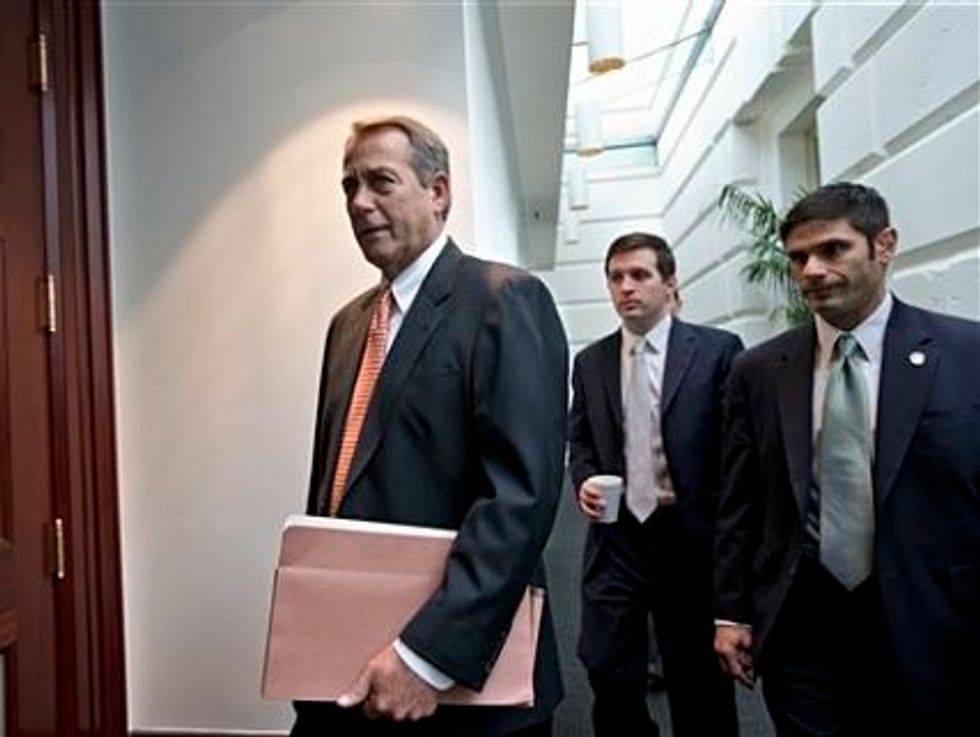 House Speaker John Boehner is warning congressional Republicans not to make any plans for the holidays, as negotiations to avert the so-called "fiscal cliff" appear to be at an impasse with just 19 days to go until the deadline.
"There were some offers that were exchanged back and forth yesterday and the president and I had pretty frank conversations about just how far apart we are," Boehner said in a press conference Wednesday. Just before, he told his caucus at a closed-door meeting that they will likely be in Washington negotiating a budget deal through Christmas.
House Minority Leader Eric Cantor echoed the speaker, saying "We're going to stay here until Christmas Eve and even the time between and before the New Year."
"I think it's getting worse, not better," Republican Whip Kevin McCarthy added.
Despite reports earlier this week that Obama and Boehner were slowly progressing towards a deal to avoid the "cliff," new reports suggest that the two sides are still very far apart. As CNN's Dana Bash first reported, during a Tuesday night phone conversation with the president, Boehner proposed a permanent extension of the Bush-era tax cuts on the wealthiest 2 percent of Americans.
The demand is a non-starter for President Obama, who has repeatedly warned that he will not accept any deal that does not raise tax rates on incomes over $250,000. He has the leverage to follow through on that threat; after all, if Boehner refuses to compromise on tax rates and no deal is reached, then all of the Bush-era tax rates will expire on January 1st.
Obama is still publicly projecting optimism that Boehner will relent; as he told ABC News on Tuesday night, "I'm pretty confident that Republicans would not hold middle-class taxes hostage to trying to protect tax cuts for high-income individuals…I don't think they'll do that."
For their part, congressional Democrats seem prepared to go over the cliff rather than make a bad deal. As Greg Sargent reports in The Plum Line, Senate Democrats are flatly rejecting the notion of raising the Medicare eligibility age as part of a deal. Although President Obama suggested that he could be open to the idea, Oregon senator Jeff Merkley told Sargent that raising the eligibility age from 65 to 67 — which would provide negligible savings, but come with a massive human cost — is "absolutely unacceptable."
"If this is a trial balloon," Merkley said of Obama's ABC interview, "it's a lead balloon."
Photo credit: AP/J. Scott Applewhite