Boeing Q3 Profit Soars, Raises 2013 Forecast
@AFP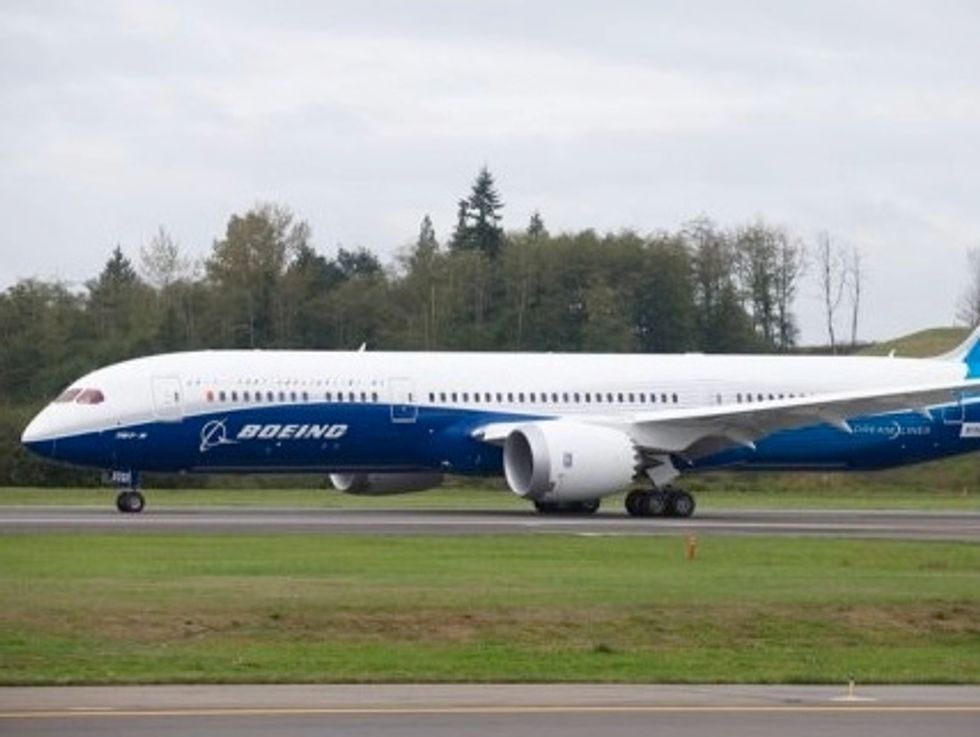 Washington (AFP) – U.S. aerospace and defense giant Boeing said Wednesday third-quarter profit soared 12 percent from a year ago and raised its 2013 earnings outlook on a pick-up in commercial aircraft deliveries.
Net earnings totaled $1.16 billion for the July-September quarter, compared with $1.03 billion in the same period in 2012, the Chicago-based company said in a statement.
Earnings of $1.51 per share were 12 percent higher than the year-ago EPS of $1.35.
Third-quarter core operating earnings per share, excluding certain pension expenses, increased 16 percent to $1.80, well above the Wall Street analysts' average estimate of $1.55.
Revenues rose 11 percent to $22.13 billion, reflecting higher commercial airplane deliveries. That beat analyst expectations of $21.68 billion.
The company reported a record $415 billion order backlog, including $27 billion net orders booked during the quarter.
"Consistently strong operating performance is driving higher earnings, revenue and cash flow as we deliver on our record backlog and return increased value to shareholders," Jim McNerney, Boeing's chairman, president and chief executive, said in the statement.

Profits from its Commercial Airplanes segment soared 40 percent to $1.62 billion. The company booked 200 net orders and deliveries accelerated to 170 aircraft from 149 a year ago.
The Commercial Airplanes division reported a backlog of nearly 4,800 airplanes valued at a record $345 billion.
To meet strong demand for the 787 Dreamliner, Boeing said, the 787 production rate will be increased to 12 per month, from 10, in 2016, with a target of boosting the rate to 14 per month before the end of the decade.
Profits from its smaller Defense, Space & Security segment fell 19 percent, lead by a 48 percent fall in earnings from military aircraft. Boeing said that its military aircraft's operating margin fell 6.2 percent, in part reflecting one-time charges on the F015 and C-17 programs.
The Defense division backlog was $70 billion, with 38 percent of that representing orders from international customers.
Boeing raised its 2013 core earnings outlook to between $6.50 and $6.65 per share, from the prior estimate of $6.20 to $6.40.
"Despite the uncertainty of the U.S. defense market, overall our customer-focused business strategies and disciplined execution on our programs are producing the results we expect, and our strong year-to-date performance and positive outlook allow us to increase our 2013 guidance for earnings and operating cash flow," McNerney said.
Shares in Dow component Boeing were up 3.3 percent at $126.57 in pre-market trading on the New York Stock Exchange.
AFP Photo/Stephen Brashear