Bombshell: Is Trump Pressuring Ukraine To Investigate Biden?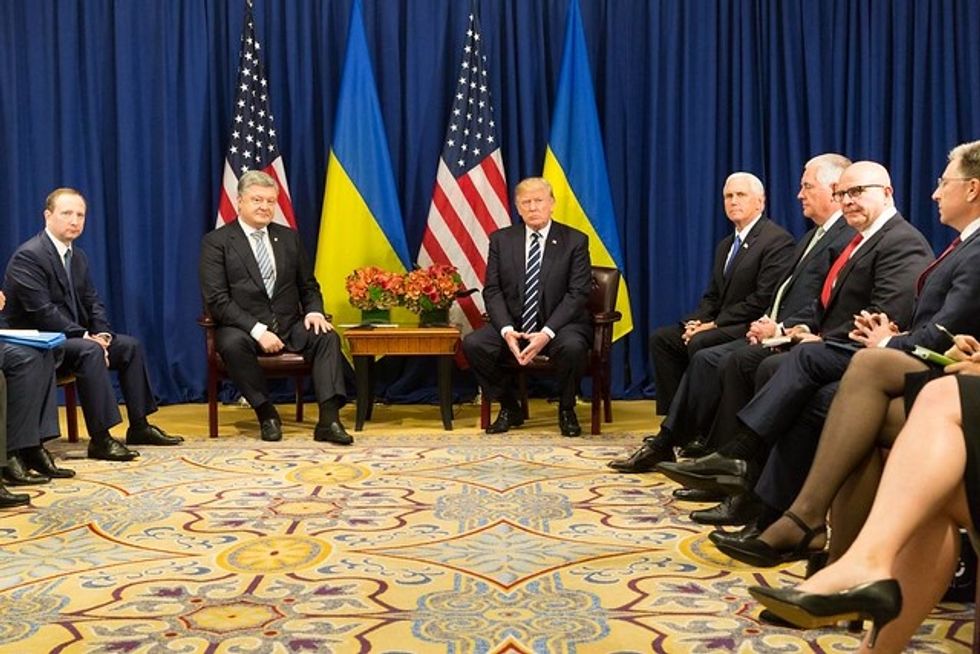 Reprinted with permission from Alternet
In a piece by the Washinton Post editorial board — usually a source for analysis and opinion, not new bombshell facts — the paper dropped a stunning allegation about President Donald Trump that would undoubtedly constitute an impeachable offense.
The piece discussed the White House's stalling of military funds for Ukraine, a previously reported revelation that I had referred to as "Trump's latest gift to Putin." Anything that weakens Ukraine militarily is a boon for the Russian president, naturally, as his forces continue to occupy the illegally annexed region of Crimea.
But the editorial board indicated that it has sources that say Trump's aim is not to please Putin — or at least, that's not the sole reason for the delay. It explained:
[We're] reliably told that the president has a second and more venal agenda: He is attempting to force [Ukrainian President Volodymyr Zelensky] to intervene in the 2020 U.S. presidential election by launching an investigation of the leading Democratic candidate, Joe Biden. Mr. Trump is not just soliciting Ukraine's help with his presidential campaign; he is using U.S. military aid the country desperately needs in an attempt to extort it.
There are several questions to ask about this. First, in a big journalistic faux pas, this bombshell allegation is written in the passive voice. That allows the editorial board to completely avoid characterizing the source of the information at all, noting only that they're reliable. Are these administration sources? Sources in the Ukrainian government? Confidants of the president? Confident congressional sources? There's no indication.
It's also important to ask why these allegations would appear in an editorial rather than the extremely credible and rigorous reporting arm of The Washington Post. The newspaper has some of the best reporters in the business, and it's not clear why they wouldn't be put in charge of verifying these facts. Nevertheless, the editorial board has its own reputation to protect, so its factual claims should be given some weight.
And the allegation comports with other known — and deeply suspicious — facts. Rudy Giuliani has been candid about the fact that he has been trying to pressure Ukraine to go after Biden, in addition wanting the country to investigate how allegations about Paul Manafort's Ukrainian ties were uncovered during the 2016 campaign. Clearly, Giuliani, with Trump's tacit, if not outright, support, is following the campaign's 2016 playbook: smear your enemy by stirring up controversy about an investigation and enlist foreign government's to help in this effort. Giuliani has even admitted that he had the help of the U.S. State Department in his outreach to Ukraine.
The former New York mayor's actions were bad enough. A president's team asking for a foreign government to investigate its political opponent on its own should be a massive scandal. But if Trump is delaying military aid to that government to pressure Ukraine into going after Biden in an effort to affect the 2020 election, that should undoubtedly be considered an impeachable offense.
Of course, Trump has already proven that he can get away with committing myriad impeachable offenses. So what does he have to lose?