Book Review: 'Here Comes The Night: The Dark Soul Of Bert Berns And The Dirty Business Of Rhythm And Blues'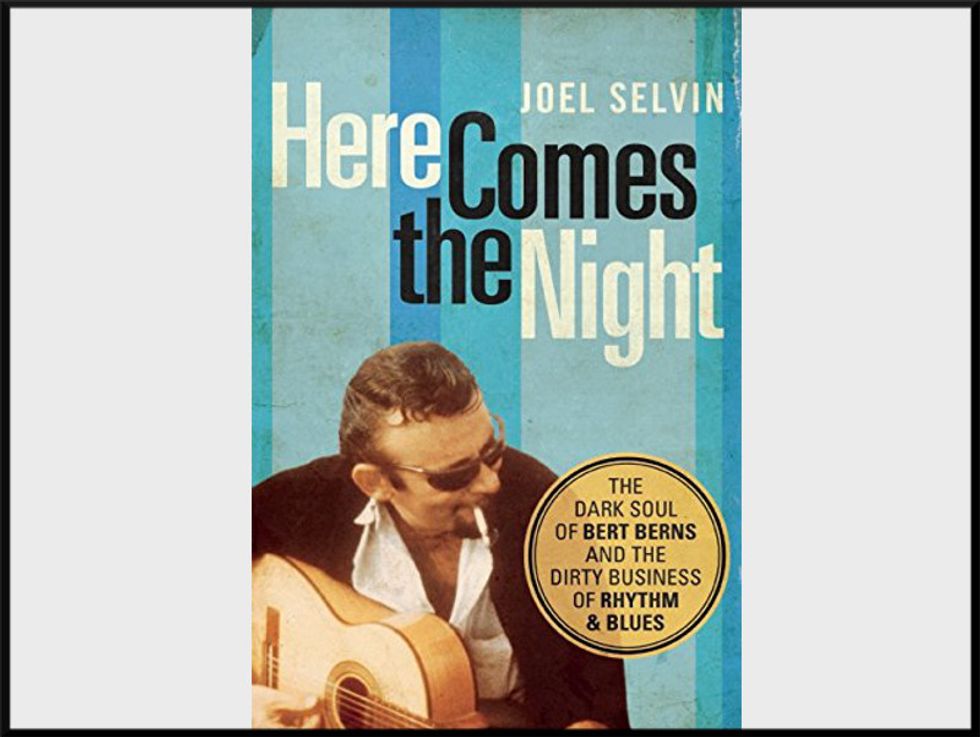 Here Comes the Night: The Dark Soul of Bert Berns and the Dirty Business of Rhythm and Blues by Joel Selvin; Counterpoint (320 pages, $17.95)
—
The music business is a decidedly mixed advertisement for American culture in the twentieth century. Gifted artists from the nation's social margins created dazzling new forms that found huge global audiences, but the business side was sketchy at best. Consider, for example, the rise of the Music Corporation of America (MCA), which grew out of Al Capone's Chicago before morphing into MCA-Universal, the entertainment conglomerate. Or the mob-controlled Kinney Parking Company, which fattened itself on New Jersey nightclubs before purchasing Warner Bros.-Seven Arts in 1969. If Frank Sinatra's links to organized crime are no secret, few know that the Chicago syndicate controlled Louis Armstrong's career; indeed, Armstrong himself was unaware of that arrangement until his longtime manager died in 1969.
Joel Selvin's new book captures both the greatness and the grit of the mid-century music business in New York City. It's not his first look at this scene; Peppermint Twist, which Selvin co-authored in 2012, features the Peppermint Lounge, the Manhattan mob hangout made famous by the Twist dance craze. Before that, Selvin specialized in West Coast music. The chief music critic at the San Francisco Chronicle for decades, he has authored books on Sly and the Family Stone, the Summer of Love, and Ricky Nelson. He also helped with Sammy Hagar's memoir, which topped the New York Times bestseller list for nonfiction in 2011.
Selvin's hero in Here Comes the Night is Bert Berns, but the story ranges well beyond the obscure producer. Woven deeply into the narrative are more recognizable figures, including Ahmet Ertegun, Jerry Wexler, Phil Spector, Jerry Leiber, Mike Stoller, Carole King, Don Kirshner, and Burt Bacharach. Most of the action revolves around two midtown offices, the Brill Building and nearby 1650 Broadway, where a seemingly endless list of hits were produced. This is the micro-world Bob Dylan discovered upon his arrival in New York City and to which he devotes much of his attention in Chronicles: Volume One. But Selvin also reminds us that Irving Berlin, who was born in Russia the year Grover Cleveland entered the White House, kept an office at 1650 Broadway while the Berns saga was playing out.
Although Selvin mostly focuses on producers and songwriters, he doesn't scant the singers or musicians. We hear about sessions with Ray Charles, Aretha Franklin, Otis Redding, Sam Cooke, the Drifters, the Shirelles, Ike and Tina Turner, Elvis Presley, Solomon Burke, Wilson Pickett, Patti LaBelle, and Tony Orlando. The sheer number of characters, the cascade of song titles, and the swirl of labels can be overwhelming. But if the reading experience occasionally feels like drinking from a fire hydrant, Selvin's approach dramatizes the intensity and tempo of this extraordinary subculture. He completes the effect with bits of slang and period diction, lacing his jaunty prose with references to thrushes, shouters, machers, and wiseguys.
Berns grew up in the Bronx, but his musical history might be said to have begun in Havana. Born in 1929 as Bertrand Russell Berns — his father admired the British philosopher — Berns was smitten by New York City's mambo craze and traveled to Cuba before the revolution. By then, independent labels were already dominating the pop charts, especially in the rhythm-and-blues category, whose products only a few years earlier were known as race records. At upstart Atlantic Records, producers were in charge; they worked close to the knuckle while their bosses greased the nation's key disc jockeys. In an effort to promote their singles, the labels even signed over the precious publishing rights to Dick Clark and others. Sometimes they also paid the artists. Ben E. King described the Atlantic Records crew as "a better class of thieves."
Berns started his own label on a shoestring but soon crossed paths with Jerry Wexler at Atlantic Records. At their first meeting, Berns played a number he derived from "La Bamba" and an unrecorded song called "Shake It Up Baby." He called the new tune "Twist and Shout," which Phil Spector mangled in the studio before Berns scored a hit with the Isley Brothers in 1962. Powered by John Lennon's ragged vocals, the Beatles launched that song into the stratosphere the following year. Berns followed up with "My Girl Sloopy," which charted in 1964 and went to number one the following year as "Hang On Sloopy." He also produced "Here Comes the Night," which introduced Them, the Belfast band featuring Van Morrison, to American audiences. A 20-year-old session musician named Jimmy Page added the shimmering guitar track.
After several years at Atlantic, Berns again started his own label, this time in partnership with Wexler and the Ertegun brothers. It wasn't a unique arrangement; Atlantic Records was also working with outfits well off Broadway, including FAME studios in Muscle Shoals and Stax Records in Memphis. All seemed well until Wexler proposed a restructuring that Berns refused. Berns bought out his partners, and they parted on bad terms. Later, Wexler refused to pay out $70,000 he owed Berns, whose mob friends visited Wexler. A terrified Wexler hired bodyguards and never forgave Berns. Berns was drained by the experience but turned his attention to his new star, Neil Diamond, who scored with "Cherry, Cherry" and "Solitary Man" and wrote "I'm a Believer" for The Monkees. They also had a falling out, and Berns had someone throw a stink bomb into Diamond's gig at The Bitter End. After his manager was beaten up, Diamond moved his family to Long Island and borrowed a pistol.
Berns lived at a furious pace, in part because a heart condition made old age a long shot. As Selvin notes, that condition adds an extra layer to "Piece of My Heart," which Berns recorded with Erma Franklin, Aretha's sister, in 1967. The following year, Janis Joplin put her stamp on it forever. Berns didn't live to see it; he died suddenly at age 38. The same year, Atlantic Records became a wholly owned subsidiary of Warner Bros.-Seven Arts, which was based in Los Angeles. Many of Berns' colleagues and collaborators moved there, too. The music business Berns entered only seven years earlier was already history.
For a relative unknown, Berns left an impressive legacy. He landed 51 pop-chart singles, 19 of them in 1964, his first year at Atlantic. "Berns wasn't the greatest of the era, although his best work was as good as anybody's," Selvin claims. "His name may be lost, but his music is everywhere."