Boston Marathon Beefs Up Security With Thousands Of Cops, No-Bag Rule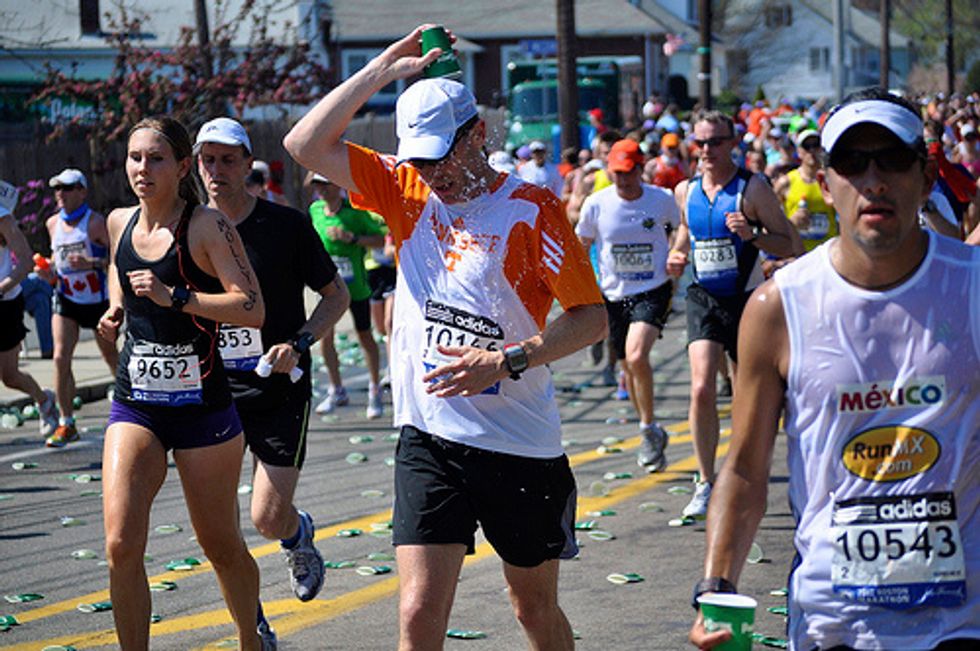 By Matt Pearce, Los Angeles Times
Ask a runner what sets the Boston Marathon apart, and he or she will tell you it's a people's race. You run with a herd through a series of towns around Boston and finish downtown to the cheers of a jubilant mob.
But now, a year after two bombs killed three people and wounded scores more near the finish line on Boylston Street, one of the world's most famous marathons has become a 26.2-mile public-safety puzzle for officials hoping to prevent another attack and ease concerns of participants and observers without destroying its quirky personality.
On Monday, law-enforcement and race officials announced some of their solutions to the security cipher. In short, expect more cops at the race on April 21 — about double the number in the past.
With 36,000 runners and as many as a million spectators expected to clog the streets around the race this year, 3,600 police were expected to be scattered throughout the eight cities and towns that form the path of the marathon.
Dozens of law enforcement agencies were expected to pitch in, with the cost of the effort "not driving the security plan," as one official put it at a Monday news conference in Boston.
In addition to adding more cops along the route and surveying the crowds, the security plan also adds several restrictions on participants and onlookers.
Officials are asking onlookers not to bring their backpacks, which the Tsarnaev brothers were suspected of using to hide two pressure-cooker bombs before the detonations last April 15.
Runners will be barred from carrying containers larger than a small fanny pack or a "fuel" belt holding liquids for the run.
Coolers aren't welcome either; officials ask that fans bring belongings in plastic bags.
In a remark reflective of officials' struggles between vigilance and fun, Massachusetts public safety director Kurt N. Schwartz told reporters that they hoped the plan "strikes the right balance between safety and security and ensuring that we maintain the traditional character and feel of the Boston Marathon."
"We are encouraging the public, spectators to enjoy the day," said Schwartz, who also framed many of the marathon's new safety moves as a matter of courtesy and consideration for a potentially jittery crowd. "We understand that we are asking everybody, 1 million people, to do things a little differently this year."
When reporters asked Schwartz about security for next year's race — more or less grasping at whether this year's preparations were a one-time deal or a more permanent condition — Schwartz refused to say.
"We are not talking about 2015 and beyond," Schwartz said, then gave a nod to the obvious emotion attached to the first race after a scarring terrorist attack: "We are all mindful of what happened a year ago."
Photo: Christopher S. Penn via Flickr