Boston Marathon Bomber's Lawyers Try To Explain His Crude Gesture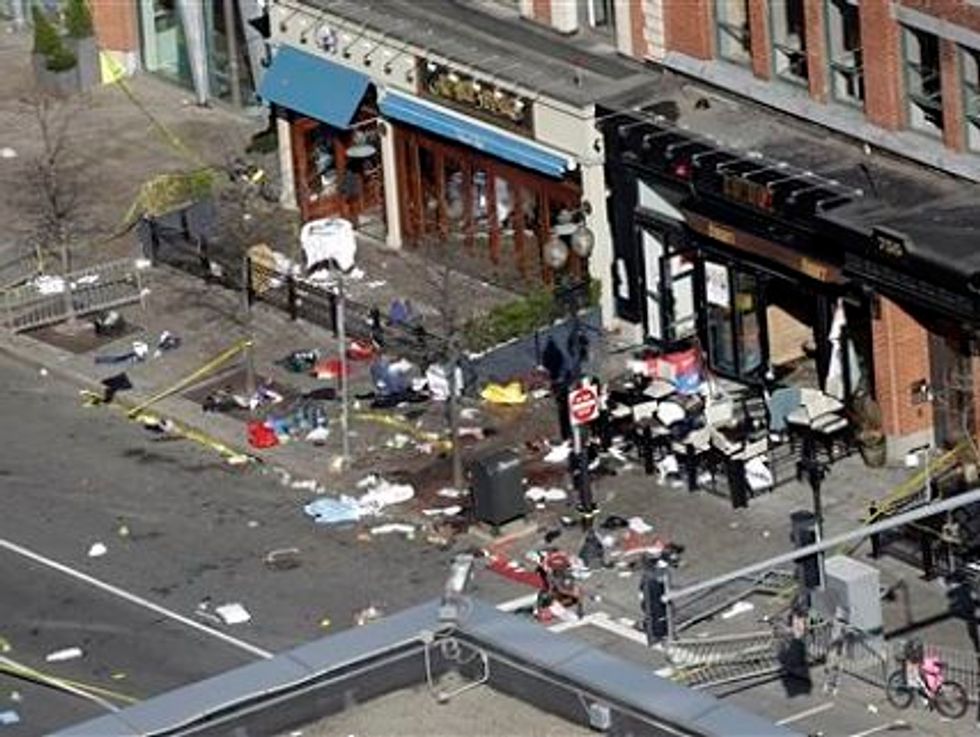 By Richard A. Serrano, Tribune Washington Bureau (TNS)
BOSTON — Defense attorneys for convicted Boston Marathon bomber Dzhokhar Tsarnaev on Wednesday tried to downplay prosecution claims that their client had shown anger and defiance at the U.S. when he raised his middle finger at a surveillance camera, and said he may instead have been upset or depressed over a conflict with a guard.
That image of Tsarnaev has become a crucial piece of evidence in the trial's penalty phase, in which the jury must decide whether to sentence him to death or life in prison with no possibility of parole.
Wednesday was the second day jurors saw the image, which dates from July 10, 2013. On Tuesday, prosecutors showed them a photo, which turned out to be a still from a video.
Defense lawyers won permission to show two minutes of the video, which clearly shows an anxious then-19-year-old Tsarnaev pacing around his jail cell, sitting and standing, fussing with his hair, scratching his neck and clearly agitated.
At one point, he approaches the front of the cell and talks to someone, presumably a guard. One of Tsarnaev's attorneys, Miriam Conrad, suggested to jurors that he may have wanted to lodge a complaint about the way he was being treated.
But Deputy U.S. Marshal Gary Oliveira, who testified to authenticate the photo and video, said he did not know what Tsarnaev was unhappy about. That left Conrad and the defense team with the option of exploring the incident further when they open their case in the penalty phase next week.
"Had anything occurred right before this that he was reacting to?" Conrad asked Oliveira. "Did anything occur which he seemed to be reacting to?"
"Not that I know," Oliveira said. "I don't recall."
The video was made before Tsarnaev's arraignment on charges of killing three people and wounding more than 260 others with two pressure-cooker bombs at the marathon finish line, and killing a Massachusetts Institute of Technology police officer days later as he and his elder brother, Tamerlan, tried to flee. Tamerlan was killed during the ensuing manhunt and Dzhokhar was wounded.
Tsarnaev, now 21, was convicted this month for his role in the attack. The defense contends that Tamerlan was the leader and Dzhokhar his acolyte.
It was the worst terrorist attack on U.S. soil since Sept. 11, 2001.
Also Wednesday, the government introduced more testimony from victims and their families.
Joe and Kelley Rogers rushed to Massachusetts General Hospital after learning their son, MIT Police Officer Sean Collier, had been shot five times, including once between the eyes.
"He was shot to pieces," Joe Rogers said of his stepson. "And he's laying there. They don't really clean him up much yet. And my wife is touching him and his blood is coming up in her hands."
Collier's death left his mother suffering from post-traumatic stress disorder and unable to work as a medical administrator. His siblings cannot sleep, Rogers said, and some moved away from Boston. Family holidays and vacations are grim. "It's been a terrible two years," he said.
Eric Whalley of Boston lost sight in one eye. A ball bearing remains embedded in his brain. His wife, Ann, lost a heel from her foot. Together, they endured about 40 surgeries.
"There was an almighty boom and the smell of fireworks," he testified. "We were blown backward. My wife was blown behind me."
Neither one realized the other had survived until three days later, when they were reunited in a hospital.
"She thought I was dead. I thought she was dead," he said. "I just held her hand and we realized we were both in this together. We were alive."
(c)2015 Tribune Co., Distributed by Tribune Content Agency, LLC.
One of the blast sites on Boylston Street near the finish line of the 2013 Boston Marathon is seen in Boston, Tuesday, April 16, 2013, one day after bomb blasts killed three and injured over 140 people. FBI agents searched a suburban Boston apartment overnight and appealed to the public for amateur video and photos that might yield clues to who carried out the Boston Marathon bombing. (AP Photo/Elise Amendola)