Box Office: 'Ant-Man' Tops With $58 Million, 'Trainwreck' Impresses With $30.2 Million
@reuters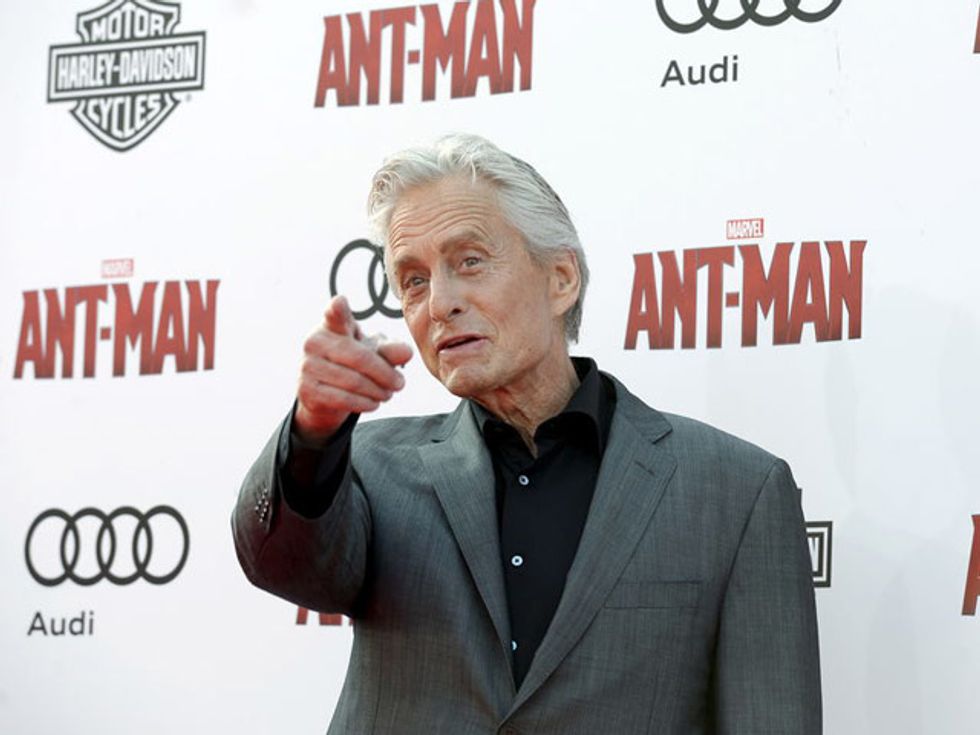 By Brent Lang
LOS ANGELES (Variety.com) – Marvel's Ant-Man landed with a solid $58 million at the weekend box office, while Trainwreck's Amy Schumer put her own raunchy spin on romantic comedies to the tune of a $30.2 million debut.
It marks Marvel's 12th consecutive first place opening, although Ant-Man isn't at the level of other, bigger-name costumed heroes like Captain America, Thor, and Iron Man, all of whom performed better out of the gate with their solo adventures. Going into the weekend, some analysts expected Ant-Man to top $60 million, but its opening is similar to The Incredible Hulk, which earned an initial $55 million on its way to a $134 million U.S. haul.
Disney distribution chief Dave Hollis admitted that he wished the movie had done a little better, but still praised Marvel as a model of consistency.
"No one else could take what is really an obscure character and launch it in such a big way," said Hollis. "It's a sign that they're doing so much right and that it's a brand that has overwhelming momentum."
Universal's Trainwreck bested initial projections which had it debuting to roughly $20 million. The story of a commitment-phobic woman who falls for a sports doctor got a boost from strong reviews and a long and winding promotional tour that saw Schumer doing everything from posing provocatively with C3PO to sexting Katie Couric's husband.
"Amy Schumer is absolutely a star," said Nick Carpou, Universal's domestic distribution chief. "Based on exit polling, after the humor, she's the second biggest reason people went out to see the film."
Trainwreck kicks off Schumer's film career on a high note and marks the second biggest opening for director Judd Apatow, behind only Knocked Up's $30.7 million debut. Crowds were primarily comprised of women, as females represented 66% of ticket buyers. Universal produced the comedy for a modest $35 million, so it should make a healthy return on its investment.
That's a fraction of the $130 million that Marvel spent on the story of a thief (Paul Rudd) who becomes a hero after donning a suit that gives him the powers of an arthropod. The superhero film will lean heavily on foreign crowds as it looks for profits. Internationally, Ant-Man opened in 37 markets, including Mexico, the U.K., France, and Russia, pulling in $56 million.
Ant-Man, which employs a more tongue-in-cheek, lighter tone than most superhero movies had hoped to pull in younger crowds. To that end, the domestic audience for Ant-Man was 28% comprised of families. Fifty eight percent of ticket buyers were male, 59% were adult, and 13% were teens.
In its second weekend, Universal and Illumination Entertainment's Minions captured runner-up status, pulling in $50.2 million. The Despicable Me spin-off has racked up $216.7 million stateside since it debuted, while selling boatloads of merchandise.
In milestone news, Jurassic World became just the fourth film in history to top $600 million domestically. The dinosaur thriller added $11.4 million to take fifth place on the box office chart and propel its North American total to $611.1 million.
Meanwhile, Inside Out pushed past $300 million domestically, joining Toy Story 3 and Finding Nemo as the third Pixar film to reach that mark. Domestically, Inside Out racked up $11.6 million for a fourth place finish, bringing its North American gross to $306.4 million.
Among art house releases, Woody Allen's Irrational Man pulled in $188,115 on five screens during its first weekend, for a per screen average of $37,623. Also opening, Mr. Holmes with Ian McKellen as an aging super sleuth, grossed an estimated $2.5 million on 363 screens, for a per screen average of $6,856.
Overall box office numbers are still being tallied, but it looks like ticket sales will be up more than 30% over the same period last year. It marks the sixth consecutive weekend of gains, a sign that business is booming at the multiplexes. That cuts both ways, as Disney and Marvel discovered.
"It's great for the business, but what it means is that it's more competitive," said Hollis.
Photo: Cast members Michael Douglas poses at the premiere of Marvel's "Ant-Man" in Hollywood, California June 29, 2015. (REUTERS/Kevork Djansezian)