Brand Experts Doubt Controversy Will Hurt Trump Businesses In The Long Run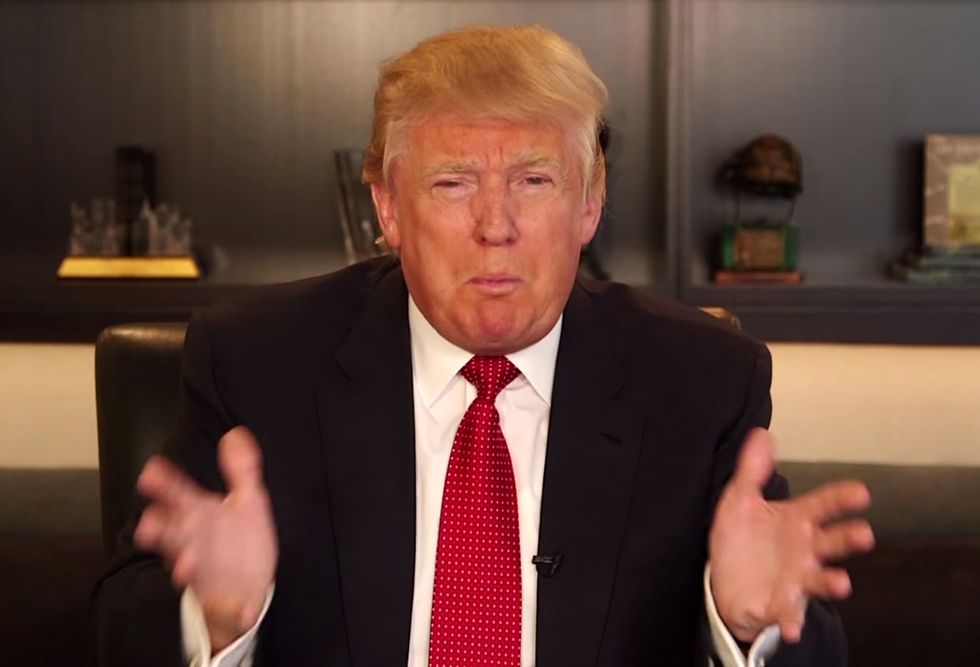 By Kevin G. Hall, McClatchy Washington Bureau (TNS)
WASHINGTON — Despite calls to boycott Donald Trump's businesses, Brand Trump is likely to escape lasting damage, analysts say.
"Trump is Trump. He is completely acting 'on brand,' " said Deb Dib, a brand coach. "And whether you like his brand or don't like his brand, he is coming across as someone he has always been — someone who doesn't pander, doesn't take a back seat."
It may seem counterintuitive that there would be little long-term consequence for Trump's June 16 comments that disparaged Mexicans entering the United States illegally. "They're bringing crime. They're rapists," Trump said.
Branding and reputation-building experts said Trump's case is unique.
"This is exactly what you would expect from him as a brand," said Jim Joseph, an international branding expert for global communications giant Cohn & Wolfe, noting that backtracking at this point would damage Brand Trump. "People would be commenting on how inauthentic he was. I think he is being very transparent about who he is as a brand. I think he's incredibly consistent."
The disparaging comments didn't hurt Trump within the Republican Party. He's in second place for the Republican 2016 presidential nomination, according to two recent polls for CNN and Fox.
Trump's remarks have had some high-profile business consequences.
NBC and the Spanish-language Univision network dropped plans to carry the Miss USA beauty contest, which Trump helps bankroll. Macy's dropped the Donald Trump clothing line. Acclaimed chef Jose Andres abandoned plans to operate a restaurant in the luxury hotel Trump plans to open in Washington next year.
But the Trump fortune is in commercial real estate, and it appears unlikely that he will lose wealthy buyers who snap up his condos, office space and luxury hotel rooms.
"Whether or not it affects his businesses … probably the jury is out on that. My sense is it will blow over," Joseph said.
Trump is more than a presidential candidate. He's a cultural reference, a synonym for over-the-top garishness. There are perhaps a dozen or so individuals instantly recognized by their first name alone. There's Oprah, the TV and film mogul. Golf has Tiger. In business, there's The Donald, as famous for his mane as his name.
"He is a great example, love him or not, of clearly defined branding," said Lida Citroen, whose Lida360 is a Denver-based reputation-management and personal-brand strategy firm. "I don't think he is batting an eye over any kind of impact."
Consistency of viewpoint has been a hallmark of Trump for decades, said Citroen, who has not represented Trump or his companies. "I think if you saw him apologizing or backpedaling or soft-pedaling, you might say, 'That's not the Donald Trump I know from TV or his businesses.' "
Trump's words may even have been planned for maximum branding impact, she suggested.
"He makes business decisions, so this was obviously well thought out and discussed well before he made any sort of statement," Citroen said. "In the long term, this more about his legacy than being politically correct."
Insulting Hispanics and firing up an important demographic group sought by both political parties makes for a high hurdle if Trump wins his party's nomination and runs in a general election.
"The odd thing about brands is that really, really strong brands are really polarizing," said Dib, co-author of book Ditch, Dare, Do.
(c)2015 McClatchy Washington Bureau. Distributed by Tribune Content Agency, LLC.