Brazil Celebrates Rival Argentina's World Cup Defeat
@AFP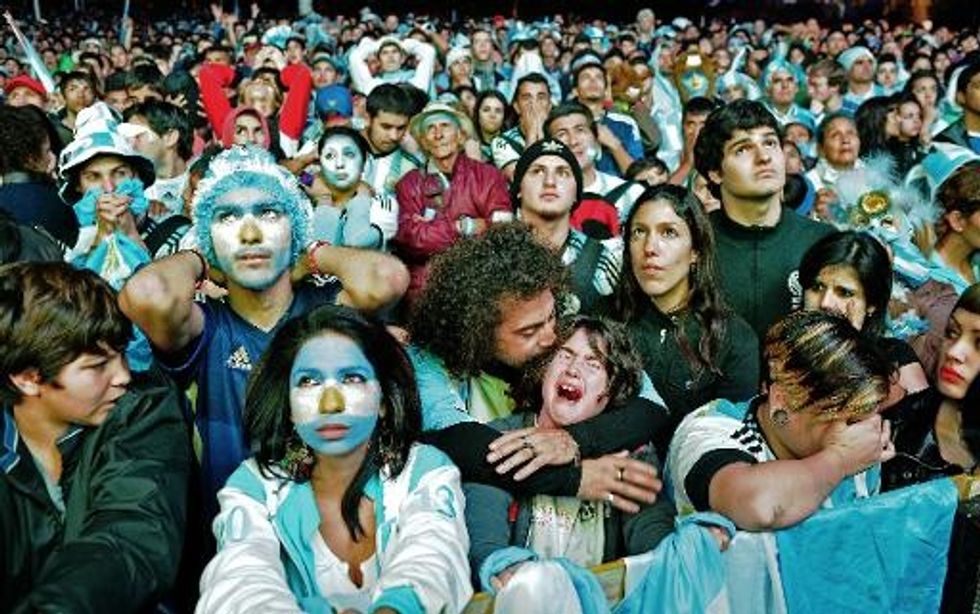 Rio de Janeiro (AFP) – Brazilians bitter about their team's disastrous World Cup celebrated Argentina's defeat to Germany in the final Sunday by dancing and launching fireworks, relieved that their arch-rivals failed to triumph on their soil.
In Brasilia and Sao Paulo, fireworks exploded after Mario Goetze scored in extra-time to give the Germans a last-gasp victory at Rio de Janeiro's Maracana Stadium.
At a bar near the stadium, Brazilians chanted "Cry! Cry! Argentina!" in a nod to the song "Don't cry for me Argentina."
Tens of thousands of Argentine fans who had swarmed Rio's Copacabana Beach to watch the game on a jumbo screen fell silent while Brazilians broke into song and danced. Some even waved German flags.
"Thank God, thank God that Germany won," said Caio Ferraz, 45, a Brazilian looking up at the stars on the legendary beach.
"If Argentina had won, they would have made fun of us for years," said Ferraz, who wore the jersey of Rio club Flamengo, whose red and black stripes match Germany's away jersey.
Tensions rose with some fights reportedly breaking out between Brazilians and Argentines in Copacabana and outside the Maracana.
Police used tear gas to disperse fans near the stadium, the G1 news website reported.
In Copacabana, some 50 people tossed beach chairs and bottles at each other, causing several injuries, according to local media.
Germany became the first European country to win the Cup in Latin America, but that was not enough to convince many Brazilians to support their southern neighbors.
Germany even humiliated Brazil in the semi-finals, trouncing the hosts 7-1.
But seeing their rivals win in their temple of football would have deepened the nightmare for Brazilians still dizzy from their team's semi-final defeat and 3-0 third-place play-off loss to the Netherlands.
Brazilians painted the German flags on their cheeks and even wore the European team's jersey.
On its website, the sports daily Lance asked "Tell me how you feel now?" in a response to a similar Argentine chant.
"With Brazil in their hearts, Germany are four-time world champions," it said.
At a Rio bar, dozens of Brazilians cheering for Germany wore the Flamengo club's shirt.
Brazilians and Germans hugged each other, with Europeans saying they wanted their team to win the tournament for their hosts.
"We never want Argentina to win here in Brazil. Never," said Cassio Conceicao, 51, wearing his beloved Flamengo jersey. "Germany respected us even though they thrashed us."
Other Fla fans, as the local club is known, said Argentines should be content with having Pope Francis.
"They have the best pope, a wonderful pope. That's enough," said Barbara Dias, who watched the final with her husband Diego.
German fan Julian Deutz was happy to have Brazilian backing.
"It feels really great that Brazilian are supporting us," he said. "But we also felt sorry for Brazil with regards to the semi-final."
But Argentines had not pulled punches either.
Since the tournament kicked off on June 12, legions of Argentines who flooded Brazilian cities taunted their hosts with chants that their hero Diego Maradona was better than Brazil legend Pele.
After Brazil's loss to Germany, Argentines held up seven fingers and chanted "They ate seven goals!" Brazilians chanted back that they had won a record five titles.
After the loss to the Netherlands took the two-game tally to 10 goals, a group of Argentines walked down a Rio street in the dead of night and loudly counted to 10.
But now it Argentina's turn to cry.
Diana Rochman, a 55-year-old wearing a jersey of Argentine star Lionel Messi, fought back tears after watching the game at a public screening in Sao Paulo.
"It was a very good game but I'm very sad. Depressed. It was sure they would win and Brazilians wanted us to lose," she said.
A few Brazilians did back their South American "hermanos" (brothers), wearing the Argentina jersey and hoping the Cup would stay in their continent.
AFP Photo/Carl De Souza