Brazilian Enclave Takes Root, Boosted By World Cup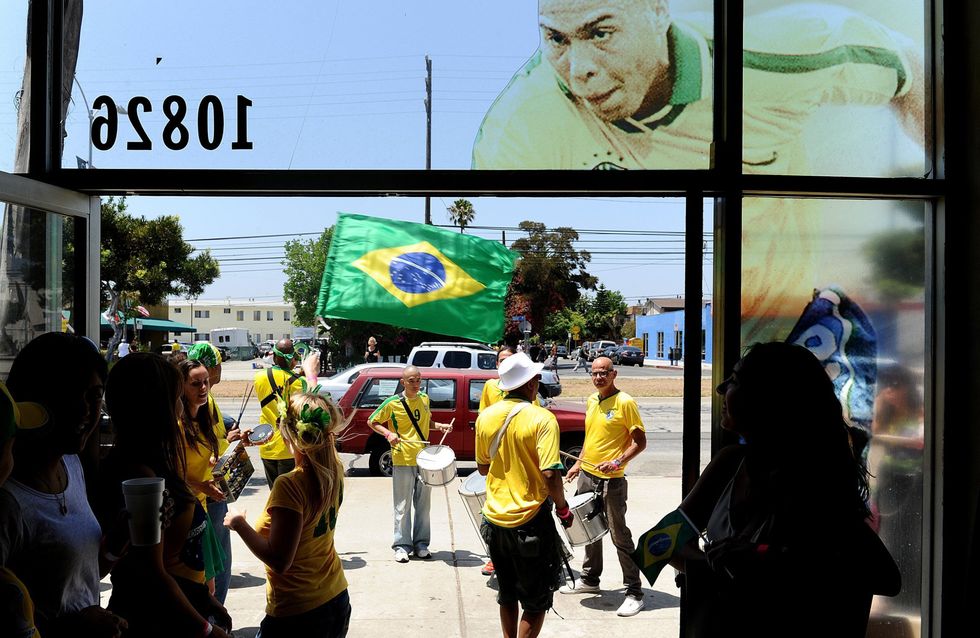 By Matt Stevens, Los Angeles Times
LOS ANGELES — This corner of the Westside is one of Los Angeles' most unlikely ethnic enclaves.
During the 1994 World Cup, Brazilian soccer fans flooded the Zabumba nightclub restaurant to watch their home country win the sold-out championship game about 20 miles away in Pasadena.
So many Brazilians came together that summer that the patchwork of businesses on Venice Boulevard along the border between Culver City and Palms grew into a full-blown neighborhood, with a market that specialized in Brazilian delicacies, a bakery, as well as perfume and clothing stores.
A few years ago, though, tragedy struck. Monica Burgos, the nightclub owner, was killed in a case that became tabloid fodder. The nightclub — the heart of the neighborhood — closed. The recession caused more stores to shut down.
Now, with another World Cup in full swing in Brazil, and the Brazilian soccer team holding its nation's hopes, some local Brazilian business leaders are ecstatic that futbol fever has brought the crowds back to the boulevard.
"It's beautiful to see everybody together," Claudia Passos, 46, shouted over raucous applause at the end of the Brazilian national anthem. "Our community has had its ups and downs, but I think we are in a better place now."
On Monday, about 100 people spilled out of the Brazilian Mall shopping center to rally around their team.
A band of drummers, trumpeters, and tambourine players made a noisy celebration the moment Brazilian star Neymar put his team ahead with a goal in the 34th minute. The noise practically drowned out the screams and claps of the delirious fans who twirled their flags and threw their fists into the air.
Brazil beat Cameroon, 4-1, to continue its march through the tournament.
"What excites me the most is that the community is backing us up," said Marcello Gomez, a merchant and community activist who organized the viewing parties. "The World Cup is the biggest event for Brazilians living abroad, and the response we've gotten has been really energized."
The Brazilian Consulate estimates that 30 percent of about 10,000 Brazilian immigrants in Los Angeles County live in the Palms and Culver City areas, drawn in by the Brazilian businesses as well as the area's relative affordability and proximity to the beach.
However, Brazilians say that their enclave doesn't have the same pull of other ethnic neighborhoods for a variety of reasons. Many Brazilians arrive in the United States already speaking English, and most who choose to settle in expensive California "aren't coming to support their families in Brazil — they're coming here to see how far they can go," Brazilian Vice Consul Tiago Almeida said.
Still, the World Cup presents a rare opportunity for Brazilians to unite.
"It brings back the emotion and experience of being in Brazil," Fabio Viana, 43, of West Los Angeles said at one of Gomez's viewing parties last week. "It feels a little bit like you're there."
___
For much of its existence, the district's main draw was the Zabumba nightclub. Monica Burgos and her sister Carla opened the restaurant months before the 1994 World Cup. Brazilians mobbed it during the games and many kept coming back after the games ended.
Men formed weekend soccer groups, and some would migrate to Zabumba after games for a beer. Even Brazilian soccer legends such as Pele and Romario would stop by for a drink and good company.
By 2000, newly arrived Brazilians knew to visit the area to meet people and get settled. Gomez saw the burgeoning community as a business opportunity and said he bought a small shop on Venice Boulevard to sell Brazilian wares. About seven years later, Gomez said, he also took control of the surrounding mini-mall, adding Brazilian clothing and cosmetics stores.
He said he poured hundreds of thousands of dollars into a remodel, adding large silver block letters that christened the space Brazilian Mall.
"I wanted to have a good representation of Brazil," Gomez said. "A lot of people think of Brazil as naked girls and watch movies about poverty, violence, drugs. I wanted to show Brazil for its qualities."
But the recession hit the area hard. The Brazilian cosmetic store and clothing boutique closed, Gomez said.
Then in 2010, Monica Burgos was found dead at a resort in Cancun, Mexico. Her husband, Bruce Beresford-Redman, was later charged with her slaying and extradited to stand trial in Mexico. Her sister Carla refurbished the restaurant, adding a fresh paint job, and renaming it Kikafulo in honor of Monica, whose nickname was Kika. But by the time the renovation was complete, she had no money for marketing or for employees.
At first, Burgos said, longtime customers would occasionally show up at the bar to reminisce about Monica's bubbly personality and good nature. There were usually tears, with some customers insisting Monica was their best friend.
"I was working like 11 a.m. to 2 a.m. every day," Carla said. "It was like I was fighting for my sister, until I was killing myself."
The restaurant closed in 2012, and the space sits empty, with weeds growing in the cracks of the sidewalk. But Carla said people still call her to ask if there will be a World Cup party.
"We used to call it the party place in L.A.," she said. "Everything was a reason for a party."
The loss of Monica still reverberates at this year's World Cup festivities, which are being held down the street at Gomez's pizza buffet restaurant.
Photo: Los Angeles Times/MCT/Wally Skalij
Interested in sports news? Sign up for our daily email newsletter!