Surprise Lead For Conservatives In UK Election Exit Poll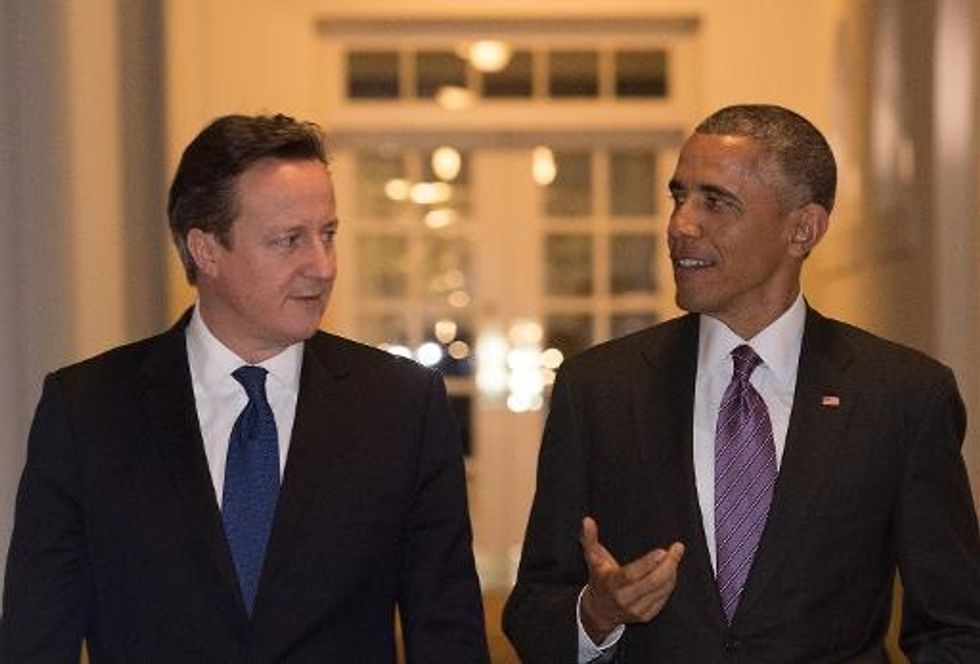 London (AFP) – Prime Minister David Cameron's Conservatives have defied expectations to win the most seats at Britain's general election while falling just short of the clear majority needed to govern alone, exit polls indicated Thursday.
The centre-right Conservatives were projected to win 316 seats compared to 239 for Ed Miliband's centre-left Labour party, in a result that tore up pre-election predictions.
Opinion polls had indicated for months that the Conservatives and Labour were virtually tied.
If the results are borne out, they could put Britain on a collision course with the European Union as Cameron has promised an in-out referendum on membership.
In what would be another big shock, the pro-independence Scottish National Party (SNP) has taken 58 out of 59 seats north of the border, according to the poll issued by Britain's main broadcasters as ballot boxes closed at 2100 GMT.
That would represent a ninefold surge in support from the six seats the SNP held in the last parliament.
While the Conservatives may not have the clear majority of 326 seats in the House of Commons, the results, if confirmed, would put Cameron in a strong permission to remain in Downing Street, potentially as leader of a minority government working with smaller parties.
"If they are right, it will mean the Conservatives have clearly won," Michael Gove, a key ally of Cameron and chief whip in his government, told the BBC.
Professor Patrick Dunleavy of the London School of Economics said the exit polls indicated that Cameron "looks like he's there for five years" — the full length of a parliamentary term in Britain.
"The paradox is David Cameron survives as prime minister but prime minister of a minority government which doesn't have the votes to do anything radical," he added.
City workers cheered, broke out in smiles and threw their arms up in the air at the Draft House pub near the Tower of London as they watched the exit poll on a large screen set up for election night.
"Why would you change? The economy is doing well after five years with the Conservatives," said Grant, who works in Britain's financial hub — a traditional stronghold of Conservative support.
If correct, the exit poll would mean the Conservatives — in power since 2010 in a coalition government — had increased their number of seats in the House of Commons by 14.
The Liberal Democrats, junior partners in Cameron's coalition, slumped to 10 seats from 56 currently, according to the poll.
Ed Balls, one of Labour's most senior figures and finance spokesman, insisted Cameron could still fail to build enough support to form a government, opening the door for Labour.
"The question will be, do the SNP and the Liberal Democrats support a progressive (centre-left) agenda or not?" he told the BBC.
The exit polls put Nigel Farage's anti-EU UK Independence Party (UKIP) on two seats, the same figure as the Greens.
Northern Ireland's Democratic Unionists had eight, Welsh nationalists Plaid Cymru were on four and other parties picked up the remainder.
The outcome of the general election could determine Britain's future in the European Union and whether Scotland remains part of Britain.
Cameron has promised a referendum on EU membership by 2017 if he wins, while the SNP has said it would work with Labour in return for policy concessions.
Scots rejected independence in a referendum last year but the SNP has seen its support surge since and has not ruled out pushing for a fresh referendum.
SNP leader Nicola Sturgeon warned on Twitter the exit polls should be treated with "HUGE caution". She added: "I'm hoping for a good night but I think 58 seats is unlikely!"
Most results in the election will emerge overnight but the final tally of seats will not emerge until Friday afternoon.
Under Britain's electoral system, a party needs to be able to command a majority in the 650-seat House of Commons in order to form a government.
Strictly speaking, the Conservatives or Labour would need to have 326 seats to have a majority.
In practice, though, this figure is likely to be more like 323 because Irish nationalists Sinn Fein do not take up the seats they win and the speaker of the House of Commons does not take part in votes.
If neither the Conservatives nor Labour wins an outright majority, they will have to start negotiations with smaller parties in a bid to attract their support.
It is thought the Conservatives could again team up with the centrist Liberal Democrats and the Democratic Unionists.
Labour, meanwhile, could attract support from the SNP although they have ruled out a formal deal.
The Liberal Democrats say they could also be open to working with Labour.
The negotiations are likely to be complex and experts say they are likely to last for days or even weeks.
U.S. President Barck Obama (R) and British Prime Minister David Cameron at the White House in Washington on January 15, 2015 prior to a working dinner (AFP Photo/Nicholas Kamm)
This post has been updated.