Boehner Re-Elected As Speaker, But Control Over GOP Majority Precarious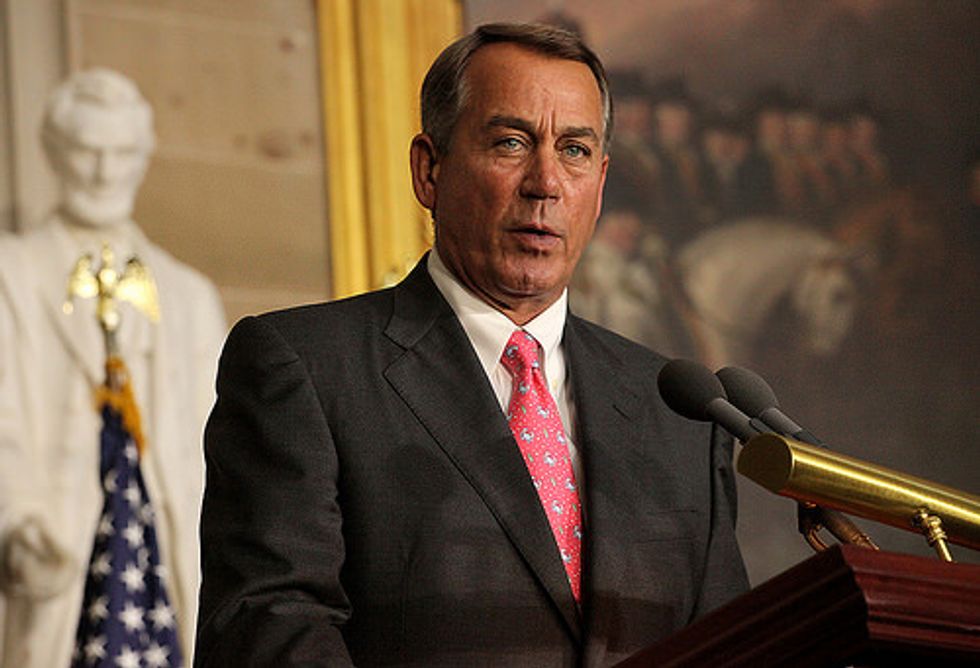 By Lisa Mascaro and Michael A. Memoli, Tribune Washington Bureau (TNS)
WASHINGTON — John A. Boehner secured a third term as House speaker on Tuesday, overcoming a brazen revolt by GOP conservatives to oust him but renewing questions about his hold over the chamber's often rambunctious majority.
A total of 24 rank-and-file Republicans voted against Boehner and another voted "present," making the Ohio Republican the most-challenged speaker candidate by his own party in modern House history and setting the new GOP-controlled Congress off to a rocky start. A similar protest erupted during his last election as speaker two years ago.
The drama punctuated an otherwise ceremonial day on Capitol Hill, where new members of the House and Senate — many with families and children in tow — took the oath of office. Among them will be 58 new members of the House and 13 new senators.
Vice President Joe Biden gaveled the Senate into session as the House convened on the other side of the Capitol building at noon.
After 34 elected and re-elected senators took the oath of office, officially giving Republicans control of the body for the first time since 2007, Sen. Mitch McConnell (R-KY), beginning his sixth term, was formally recognized as the new majority leader.
Sen. Harry Reid (D-NV), who surrendered the majority leader title to McConnell, worked from home in D.C. as he recovers from injuries sustained while working out in Nevada last week. Reid's office said he had suffered a concussion and was advised by doctors to remain at home.
It represented the capstone of McConnell's long career as a Senate insider. As in the House, the Republican majority in the Senate includes a group of conservatives who could complicate the Kentuckian's plans, but he assumed the leadership smoothly.
In contrast, the message from the House, in the first votes of the new Congress, was clear: The speaker's hold over his majority remains precarious.
Boehner's troubles come as his No. 3 leader, Majority Whip Steve Scalise, is fighting for political survival after having addressed a white supremacist group 12 years ago about his budget plans in his home state of Louisiana.
Scalise, who only recently joined leadership ranks, has apologized and won backing from the GOP leadership team.
But Democrats have been relentless in using the crisis to tie the Republican Party, which is trying to expand its outreach to minority populations, to the group's leader, the former Ku Klux Klansman David Duke.
White House spokesman Josh Earnest piled on Monday with some unsolicited political advice, saying rank-and-file Republicans will have to decide whether elevating Scalise to leadership is in their best interests.
"Who those elected leaders are says a lot about who the conference is and what their priority and values are," Earnest said.
Opposition to Boehner has been fueled by internal frustrations and outside pressures, including from tea party groups that believe Boehner is too pragmatic and willing to compromise with the White House.
One Tea Party group said that a vote for Boehner was the same as one for President Barack Obama — a rallying cry usually targeted at Democrats.
"America deserves better," said Rep. Thomas Massie (R-KY), who is among a band of renegade conservative lawmakers who also opposed Boehner two years ago.
Massie said as many as 50 Republicans have signaled their unrest with the speaker, but he expected fewer to go on the record during the public vote. Boehner's challenge, he added, has nothing to do with politics, but process. Members want a greater say in bill-making.
Boehner and McConnell have promised an ambitious agenda as they confront Obama with control of both chambers of Congress for the first time in his presidency.
First up in the House are a pair of bills that would dismantle parts of the Affordable Care Act. Repealing the law remains a top GOP priority, even though Obama would likely veto those efforts.
The House was expected to quickly vote Tuesday on a bipartisan bill, which may find favor in the Senate, that would encourage small businesses to hire more veterans by making a tweak in Obama's health care law.
By Thursday, the House plans to vote on a more substantive measure that would gut a key provision of Obamacare — the requirement that employers offer insurance to employees who work 30 hours a week.
Raising the workplace rule to 40 hours has been supported by a handful of Democrats in the past, but it may not have enough support in the Senate to clear a likely filibuster from Democrats. Last year, the White House said it would veto a similar measure.
More likely to win swift approval in both chambers and land on the president's desk is legislation to green-light the controversial Keystone XL oil pipeline.
The House is expected to pass the Keystone measure Friday, sending it to the Senate as the first order of business next week.
Keystone's approval would likely present Obama with his first opportunity to sign significant GOP legislation into law — or use his veto pen.
The Senate is likely to dispatch with mostly procedural votes this week, but as part of the ceremonial opening, Republicans in the House plan to continue what has become a newer tradition — a full reading of the Constitution, scheduled for two hours on Friday morning.
___
(Tribune Washington Bureau staff writer Kathleen Hennessey contributed to this report.)
This story has been updated.
Photo: Talk Radio News Service via Flickr