No Breakthroughs As Kerry Joins Talks For Gaza Cease-Fire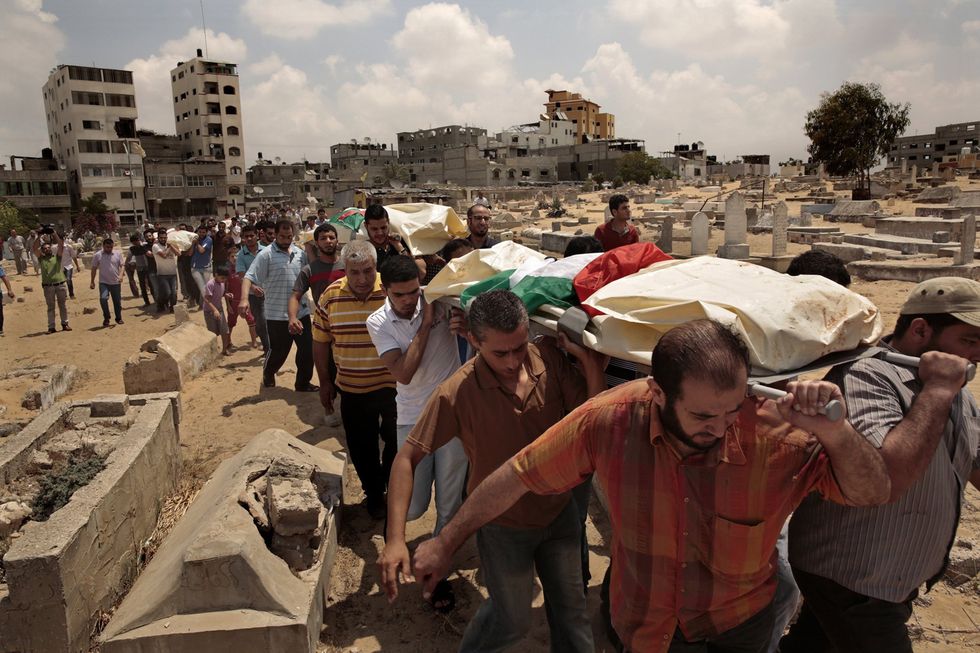 By Laura King, Los Angeles Times
CAIRO — Diplomatic efforts to achieve a cease-fire in the Gaza Strip yielded no apparent breakthrough on Tuesday, but Secretary of State John F. Kerry reiterated U.S. support for an Egyptian-authored truce initiative, while also opening the door to wider negotiations.
More than 600 Palestinians and at least 29 Israelis have died in a blistering two-week Israeli offensive against Hamas, the militant group that controls Gaza. A rising international chorus has called for a halt to the hostilities, which have exacted a heavy toll on civilians in the impoverished coastal territory.
"We are continuing to work, and there is more work to be done," Kerry said after a round of high-level meetings in Cairo with officials including Egyptian President Abdel-Fattah el-Sissi, Arab League president Nabil Elaraby, and the intelligence chief for the Palestinian Authority, Majid Farraj.
Egypt's Foreign Minister Sameh Shukry, who also met with Kerry, said at a joint news conference that his government had no plans to alter the terms of its truce proposal, which was accepted by Israel but spurned by Hamas.
Israel's stated aim is to destroy infiltration tunnels leading out of Gaza and wipe out Hamas' ability to fire rockets and missiles at Israel.
But with round-the-clock bombardment hitting homes and mosques in tightly packed residential neighborhoods, there have been numerous instances of whole families being killed and wounded. About three-quarters of the Palestinian dead in Gaza are civilians, many women and children among them.
In Tel Aviv, meanwhile, Israeli Prime Minister Benjamin Netanyahu met with U.N. Secretary-General Ban Ki-moon and declared afterward that "the international community must hold Hamas accountable" for repeatedly rejecting cease-fire offers and using Palestinian civilians as human shields.
Ban, who has sharply criticized Israel's actions in recent days, said he recognized its right to self-defense, but also stressed that all combatants had a responsibility to protect civilians.
"My message to Israelis and Palestinians is the same: Stop fighting," he said.
In Cairo, Kerry and Shukry took no questions from reporters, but said they shared the goal of not only achieving a swift truce to halt the fighting, but also crafting a durable accord to prevent periodic outbreaks of conflict in Gaza. The current fighting is the third round of warfare in the strip since 2009.
"We have a common vision," said Shukry, citing the need to "put an end to the bloodshed and killing of innocent children."
He praised a U.S. pledge of $47 million in humanitarian aid to Gaza, announced by Kerry when he arrived in the Egyptian capital late Monday.
Kerry did not publicly commit to an attempt to revive overall Israeli-Palestinian talks that collapsed in April, but said "just reaching a cease-fire, clearly, is not enough." He said it was imperative to also address "all the concerns that have brought us to where we are today" in Gaza.
Photo: Los Angeles Times/MCT/Carolyn Cole
Interested in world news? Sign up for our daily email newsletter!