Brett Kavanaugh Exposed As Ken Starr's Designated Leaker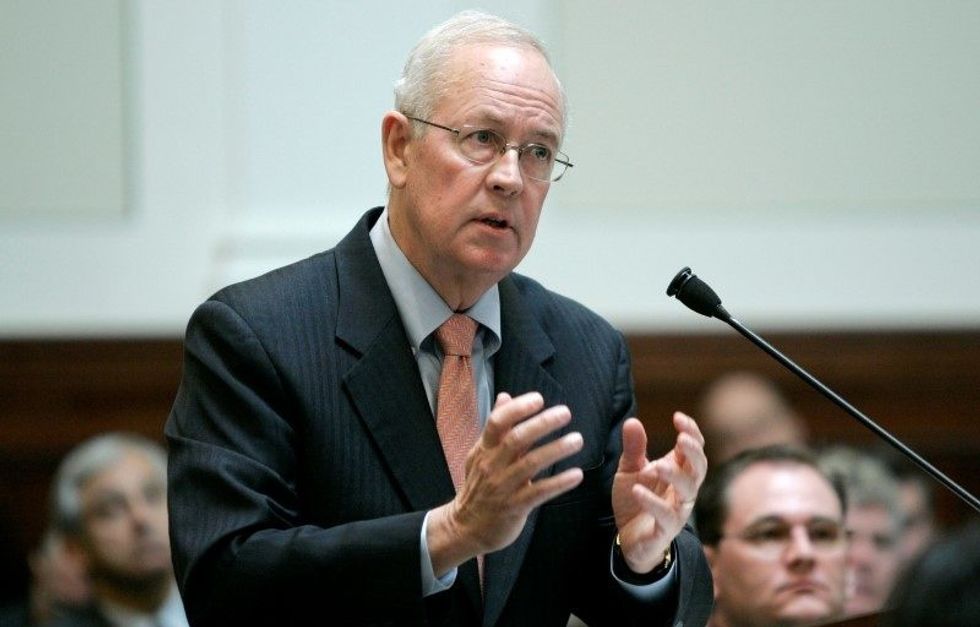 During the lengthy investigation that led to President Bill Clinton's impeachment in 1998, the Office of the Independent Counsel (OIC), led by Kenneth Starr, leaked non-public information — including grand jury information whose release was allegedly illegal—to a stable of selected journalists, some of whom were identified by the OIC as "confidential informants."
One of the OIC officials tasked to provide this non-public information — designed, in part, to smear Bill and Hillary Clinton — was Brett Kavanaugh, an accomplished Republican political operative whom Donald Trump has nominated to the U.S. Supreme Court.
During the spring of 1997, I received an offer of a $100,000 advance from a conservative publisher, Regnery Publishing, to research and write a book about the controversial death of Vincent Foster, President Clinton's deputy White House counsel. Regnery, which wanted a real crime reporter with good contacts in the law-enforcement community, gave me an end-of-the-year deadline.
In December 1997 I completed my manuscript, concluding that Foster had committed suicide. My book described a group of right-wing propagandists, posing as nonpartisan authors and journalists, who had maliciously attempted to portray Foster's death as a murder — presumably arranged, enabled, and covered up by Bill and Hillary Clinton.
That same month, I heard that Kenneth Starr and the OIC, which was investigating the Clintons, were preparing to release a report about Foster's death just before the publication of my book. Because I didn't want my work to be dead-on-arrival after the release of that report, I went to the OIC to make sure that my book would be timely, as well as fair and accurate. Years earlier the OIC had released a report confirming that Foster had committed suicide, but Starr had since reopened that investigation.
At the time, Starr employed two top deputies: Hickman Ewing and Jackie Bennett.
On December 10, 1997, I spoke with Ewing, who told me that the OIC provided non-public information on an off-the-record basis to certain reporters — if the OIC knew where they were "coming from" and Ken Starr personally approved of them.  He noted that the OIC had spoken to two of the writers who had published conspiracy-mongering anti-Clinton books on Foster's death.
At the time, all Ewing knew about me — a pro-police, politically liberal crime reporter — was that Regnery was my publisher, which apparently qualified me for his time and attention. Ewing drew whatever conclusions he wanted from that information.
Ewing specifically offered to introduce me to Brett Kavanaugh, a young attorney who would supposedly supply me with the information I needed.
By the second week of January 1998, I had not heard back from Ewing. Concerned that I had lingering problems with the OIC due to an earlier conflict with Starr, I sought an introduction to Starr's other deputy, Jackie Bennett.
On January 12, 1998, I spoke with Bennett who also knew me only as a Regnery author. When Bennett specifically asked me if I was looking for "substantive information," I replied that I was not. Yet, he offered it to me anyway — as indicated in the following exchange in which I asked for an introduction to Kenneth Starr:
Moldea: I wanted to come and pay my respects to the independent counsel — and spend, maybe, twenty minutes with him, asking him a few questions.

Bennett: Okay. That's really why I was calling. I talked to Judge Starr about this. And the question I had was, sort of, the ground rules: that this is just, you know, coming by as a courtesy. It's . . .

Moldea: It's to pay — It's a respect call.

Bennett: It's not looking for substantive information?..

Moldea: No.

Bennett: …Because if you are, then there are other people who really are better to talk to.

Moldea: Well, I'd like—What I'm hoping is that I can come by and see him, pay my respects to him, show him some things, and then, hopefully, he can lay hands on me and then lead me to the people with the more substantive material. I figured if I can—if I can win him over, then he would introduce me to the people who could give me the more substantive information.

Bennett: Okay, here is my thinking: If you make this request to really get access to substantive information contingent on meeting with [Starr] first, it'll make it more difficult, because his schedule is more difficult. He travels a lot. What we can do is make the substantive person or people available to you earlier, and then . . .

Moldea: That would be fine.

Bennett:   . . . And we — we're not trying to stage manage this.

Moldea: No, no, no. That's fine. That's fine. Please, stage manage it. Yeah.

Bennett: But we have — the people who are most hands-on on this really have better knowledge than Ken does.

Moldea: Yeah. Oh, I'm sure that's true. Yeah.

Bennett: And, if that's what you're looking for, I think that's an easier thing to manage. And you can meet with him later. And it'll be . . .

Moldea: That's fine. That will be fine.

Bennett: Okay, let me—Let me make some calls for you. . . .
Shortly thereafter, I received a call from Brett Kavanaugh during which we arranged a meeting at the Old Ebbitt Grill near the White House on January 19, 1998.
Notably, I taped my on-the-record conversations with Ewing and Bennett. However, my conversation with Kavanaugh was off the record, and I have kept that conversation off the record for the past 20 years.
Just hours after my meeting with Kavanaugh, the Monica Lewinsky story broke, provoking an avalanche of news about the scandal.
On February 6, 1998, the President's attorney, David Kendall, filed a complaint with Ken Starr, alleging that the OIC was violating federal law by illegally leaking non-public information to the media in an effort "to pressure, manipulate, and intimidate witnesses and possible witnesses, affect public opinion in your favor, and cause political harm to the President."
That same day, Starr denied the charges.
During my 44 years as a crime reporter, I have learned from experience that prosecutors who leak have weak cases and are trying to recruit those journalists receiving their leaks as shills for their investigations, expecting those reporters to feed the prosecutors with information from their own sources.
Until Monica Lewinsky came into Ken Starr's life, the OIC had very weak cases against the Clintons, revolving around Whitewater, Travelgate, and Filegate, among other political-media dramas. Consequently, the OIC started leaking heavily, hoping to solicit its own stable of cooperative reporters.
On May 19, 1998, shortly after the release of my Foster book, I delivered a speech at the Martin Luther King Memorial Library in downtown Washington, D.C., during which I discussed the process of leaking by the OIC in unsparing terms, based on my conversation with Hick Ewing:
"This [practice] runs contrary to the OIC's public statements about its relationship with the media and is further proof that the OIC's investigation of the Clinton White House, regardless of merit, is political, partisan, and punitive—built upon a series of well-timed leaks which have turned gossip into gasoline and some of these talented approved journalists into lapdogs who are dependent on their sources' access and goodwill."
Prompted by the President's lawyers' detailed complaints of probable OIC leaks of non-public information regarding the Lewinsky case, U.S. District Judge Norma Holloway Johnson, who oversaw Starr's grand-jury probe, ruled that the evidence of illegal leaking was persuasive. She ordered Starr and his deputies at the OIC to appear at a "show cause" hearing—where the burden of proof would be on the Starr team to show that they didn't leak grand-jury information.
In addition, Judge Johnson appointed a "special master"—Judge John Kern III, a senior D.C. federal judge—to investigate the allegedly illegal leaks that influenced reporting about the Lewinsky matter. In court documents, Starr and the OIC identified cooperative reporters as "confidential informants," a curious way to describe putatively independent journalists.
On August 24, 1998—a week after the President's appearance before the OIC's federal grand jury—I attached the transcripts of my conversations with Ewing and Bennett to an affidavit I filed with Judge Johnson.
On the Ewing recording, the OIC deputy counsel had referred by name to Brett Kavanaugh. But, because I had had an off-the-record interview with Kavanaugh, I originally identified him in the Ewing transcript only as "OIC #2."
…
On July 9, 2018, Donald Trump, amid his declared war on leaks and leakers, nominated Kavanaugh to replace Anthony Kennedy as an Associate Justice of the U.S. Supreme Court. Earlier in his legal career, Kavanaugh had clerked for Justice Kennedy.
From November 1997 to April 1998, Kavanaugh appears to have been furloughed from the OIC to Kirkland & Ellis, Starr's own law firm, and reportedly was not an official member of the OIC staff during those months. This included the period in February 1998—after David Kendall's complaints against the OIC—when Robert Bittman, another OIC prosecutor, was collecting sworn statements from members of the OIC staff, attesting that they had not leaked grand-jury information to the press.
However, I had spoken to Ewing in December 1997 and Bennett in January 1998—while Kavanaugh, whom I had interviewed on January 19, 1998, was supposedly on his five-to-six-month hiatus. Clearly, Kavanaugh was playing some role for the OIC. And it remains unclear whether he ever signed a sworn statement, as did 96 of his OIC colleagues, both past and present.
During all the post-nomination speculation about Kavanaugh's role with the OIC, I found the 20 year-old recording of my conversation with Ewing and unredacted it, revealing Kavanaugh's name.
Below is a portion of that unredacted transcript in which Ewing also made references to Miguel Rodriguez, a staff attorney who suspected that Foster had been murdered and, in the midst of the resulting controversy, resigned from the OIC:
Ewing: And, so, I—Listen, I will talk to Ken. He's due here in about thirty minutes. But I think what he's going to tell me is to let you have at it with me and [OIC #1], for sure, and maybe Brett. Brett Kavanaugh, the main guy that authored the—

Moldea: Okay, Brett Kavanaugh, let me write that down.

Ewing: He did all the writing and was the guy that continuously [inaudible]. He's a young guy. He's never tried and prosecuted a case, but a brilliant guy.

Moldea: Oh, he's a prosecutor? He's a lawyer?

Ewing: Oh, yeah.

Moldea: Oh, Okay.

Ewing: Yeah, yeah, yeah.He's the main guy. Once Miguel left, Brett ended up—

Ewing: But, basically, when Miguel left, I got called to Washington. So, I went up there and spent, you know, a couple of months on the ground myself in the grand jury, etcetera. And then I got [OIC #1] to come up later, because we needed somebody who had been a murder prosecutor to look at it again, just to cross t's and dot i's and be sure everything was right. So, you know, I know I would be glad to talk to you. I'm sure [OIC #1], if Ken says it's okay, will. I know Brett — we put Brett with several of these book reviewers and let — because Brett — of course, in those cases, some of them were, "Why didn't you do this? Why didn't you do that?" Brett says, "Here's the answer to that."

Moldea: Uh-huh.

Ewing: In other words, some of these questions that are raised that maybe it's not even in our report.

Ewing: Well, it may. You know, I don't know. But I know we've—There are a number of people who have done reviews. And we talk very freely with them.

Moldea: Uh-huh. Well, that's terrific. Like I said—

Ewing: Especially those who we—when we heard where they're coming from.
I arranged a meeting with a friend, Professor Mark Feldstein, a distinguished former journalist who teaches ethics at the Philip Merrill College of Journalism at the University of Maryland. In response to one of my questions, Feldstein replied that if the Ewing conversation was on the record, then anything he said during that conversation was also on the record, including the name of Brett Kavanaugh, aka "OIC #2."
Soon after, in separate meetings, I played the recordings for two attorneys on the staff of the Senate Judiciary Committee and two reporters at the Washington Post at their request.
From the outset, I told the committee attorneys and the Post reporters that I was in possession of materials that helped to provide a roadmap about the process of leaking by the OIC during the investigations of President Clinton. However, I cautioned — and the Post reported — that I was not in possession of a smoking gun about anything illegal, nor was I prepared to accuse Kavanaugh of any illegal act.
On August 23 — the day after the story about my disclosure appeared in a front-page story in the Washington Post — the special master's report about the Lewinsky leaks, prepared by Judge Kern, was unsealed and released. Kavanaugh's name was not mentioned in the report and Kern failed to find any proof of the OIC specifically leaking grand-jury material.
Declaring victory, the Trump White House and the Republicans claimed complete vindication for the OIC and Kavanaugh.
Those triumphant claims were utterly misleading. The special master only investigated the period after the Lewinsky scandal was revealed — when Starr and the OIC had their strongest case and didn't need to entice reporters with legal and/or illegal leaks.
The Kern report did not address the numerous leaks that had preceded the Lewinsky revelations, when the OIC was pursuing its weakest cases. It also did not investigate Kavanaugh's specific role during that earlier period of providing non-public information, off the record, to selected members of the press who were personally approved by Ken Starr.
But the damage was done. Even though I agreed to a request from the judiciary committee's attorneys to provide them with digital copies of my two recordings — and executed an accompanying sworn declaration on September 3 — the investigation of Kavanaugh's role in the OIC leaks was not pursued any further by the committee or the mainstream media.
During the Kavanaugh confirmation hearings on September 6, Senator Sheldon Whitehouse (D-Rhode Island) confronted the nominee with a request that I had proposed in my affidavit, asking Kavanaugh to provide a waiver to all reporters, like me, with whom he had arranged pledges of off-the-record confidentiality.
In response, Kavanaugh claimed, "I talked, of course, on the record."
If he meant that literally, then Kavanaugh's reply was simply not true.
Dan E. Moldea, a specialist in organized-crime investigations, is the author of A Washington Tragedy: Bill & Hillary Clinton and the Suicide of Vincent Foster, among many other books.