Brian Schatz Sworn In As Senator For Hawaii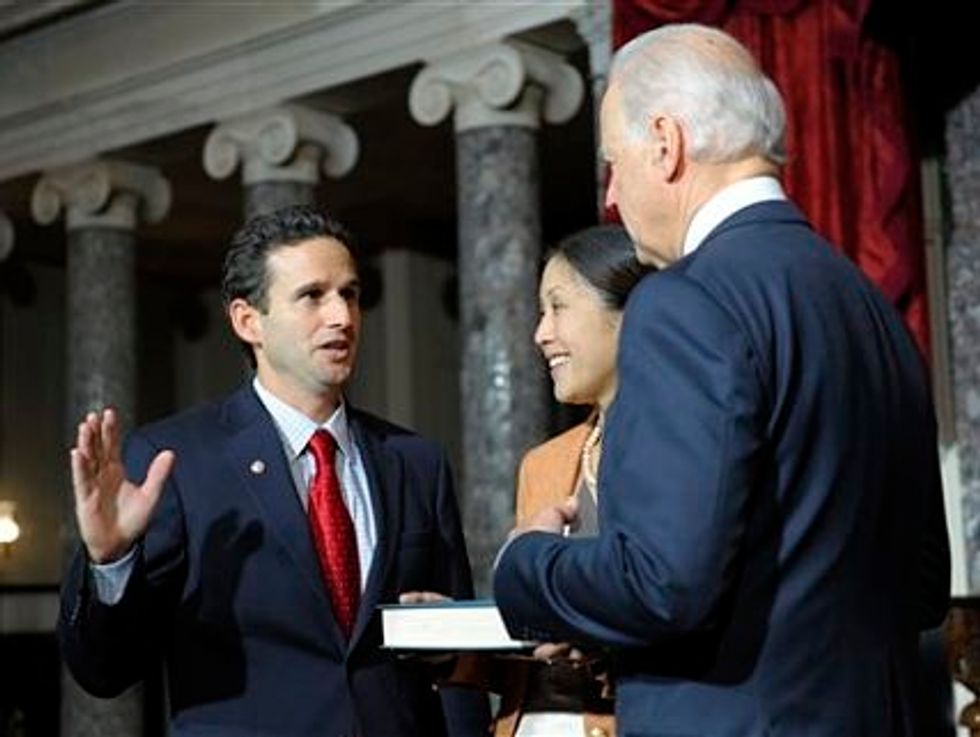 Vice President Joe Biden swore in Hawaii lieutenant governor Brian Schatz as a United States senator Thursday, filling the seat left vacant by Daniel Inouye's death.
Schatz, a former state representative and Democratic Party of Hawaii chairman, was selected for the seat by Hawaii governor Neil Abercrombie on Wednesday. Later that night, he flew to Washington on Air Force One with President Barack Obama, who was returning to the nation's capital to continue the "fiscal cliff" negotiations. Senate Majority Leader Harry Reid had requested that Abercrombie make a quick appointment to replace Inouye, so that he could have as many Democratic votes as possible in the ongoing budget debate.
"Brian Schatz is young man with a future full of promise and opportunity," Reid said on the Senate floor Thursday. At 40 years old, Schatz is currently the youngest U.S. senator, although he will lose that title to 39-year-old senator-elect Chris Murphy of Connecticut after his inauguration. Because Schatz is being sworn in a month before senator-elect Mazie Hirono, he will serve as Hawaii's senior senator.
Schatz was a rather surprising pick to replace Inouye; U.S. Rep. Colleen Hanabusa was generally considered to be the front-runner for the appointment. Shortly before his death, Inouye had written a letter to Abercrombie stating that his "last wish" was for Hanabusa to succeed him.
In a statement released after Abercrombie's choice was announced, Hanabusa said she "will continue to work to serve the people of our state, and support our delegation's efforts," adding that "Having served as chair of the Hawaii Senate Judiciary Committee when the succession law was passed, I fully respect the process and the governor's right to appoint a successor."
U.S. rep-elect Tulsi Gabbard, who will become the first American-Samoan and first Hindu member of Congress, had also lobbied for the appointment. Should they so choose, Hanabusa, Gabbard, or any other Hawaiian will have two upcoming opportunities to challenge Schatz for the seat: in a 2014 special election to fill the remaining two years of Inouye's term, and in the 2016 election for a full six-year term.
Schatz, who served as a state spokesman for Obama's 2008 presidential campaign, is expected to be a reliable supporter of the president's agenda. He is likely to take a particular interest in environmental issues; during his brief remarks after being selected on Wednesday, Schatz noted that "I believe global climate change is real and it is the most urgent challenge of our generation."
Photo credit: AP/Susan Walsh