Broad Immigration Reform Is Obama's Goal For Second Term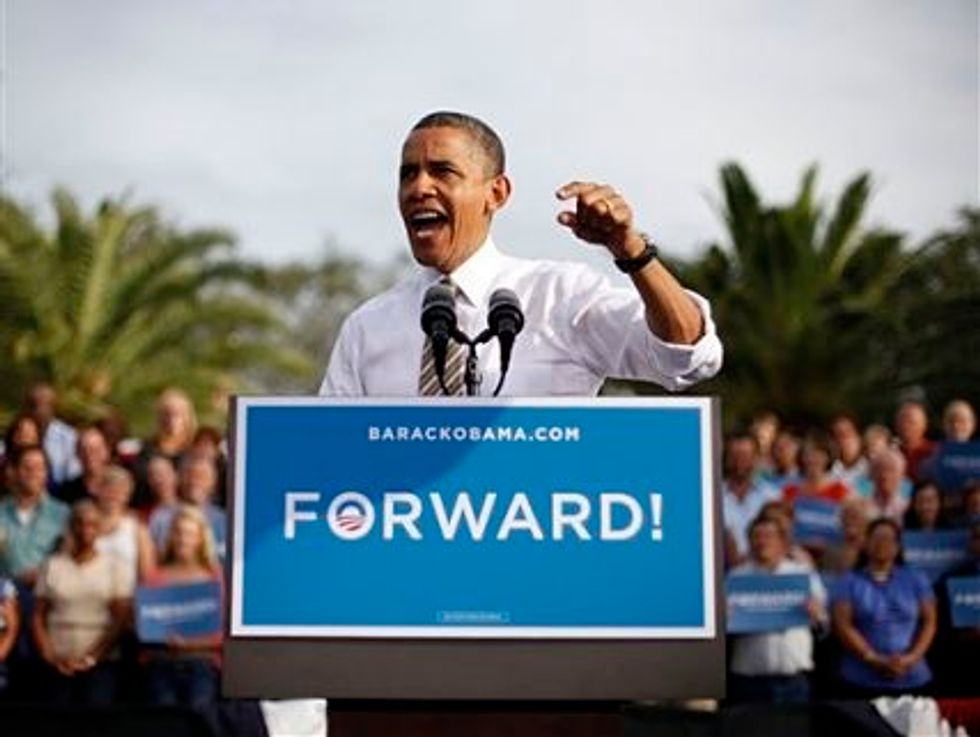 Among Latinos, President Obama's broken promise to fix the nation's dysfunctional immigration system remains a bitter reminder of the limits of politics. The president shored up his support among that critical demographic with his DREAM Act Lite, a presidential directive that could give about a million young undocumented persons work permits for two years.
But the larger problem remains: Millions of people who hope to become American citizens, or at least documented residents, are stuck in a miserable shadow existence — unable to legally drive, work or fly. They are subject to exploitative bosses because they cannot complain about unsafe working conditions. They are victimized by brigands because they are afraid to report crimes to the cops. They dare not travel to their native countries because border patrols have tightened, and they may not be able to return. Many have family members who are American citizens and registered voters.
So it's no wonder that Obama has set his sights on broad immigration reform in a second term. According to an interview with an Iowa newspaper, he pledged to turn first to a budget deal that would start to eliminate the deficit, and then to quickly pivot to legislation that would set illegal immigrants on a path to papers.
That should have happened long ago. Republican nominee Mitt Romney has tried to blame Obama for failing to keep his word even though he started his administration with a Democratic Congress. Romney knows better. The simple truth is that Republicans in the Senate set a high bar for any bill that passed: enough votes to overcome a threatened filibuster. And once Obama had managed to pass a stimulus bill and health care legislation, the GOP was determined to stymie any other accomplishments.
They had blocked immigration reform even under a Republican president. It wasn't that long ago that George W. Bush, who had a decent relationship with Latinos as governor of a border state, tried to push through a deal that would have given illegal immigrants a pathway to citizenship. At first, he had tepid support among a core group of Republicans in Congress.
But the GOP base, drifting further rightward even then, wasn't having it. Republican voters rebelled. Republican senators panicked. Immigration reform died.
That's not to say that Democrats don't deserve some of the blame for the impasse. They might — with emphasis on the uncertainty — have persuaded a small group of Republicans to vote for the DREAM Act in the early days of the Obama administration. That legislation, first introduced about a decade ago, would allow young undocumented immigrants who came to the United States as children to gain citizenship under certain conditions, including records free of criminal acts and completion of two years of college or military service.
But several Latino legislators were dead set on passage of comprehensive reform — a bill that would extend a path to citizenship to grandmothers as well as their teenage kin. They thought a smaller bill would only delay a broader deal. It's now clear they should have gone for the DREAM Act, even if it too ended up stalled by GOP intransigence.
Obama believes that Republicans would be forced to change their stance on immigration reform if he is re-elected. Giving an interview that he initially believed was off the record, he spoke bluntly about the politics:
"Should I win a second term, a big reason I will win a second term is because the Republican nominee and the Republican Party have so alienated the fastest-growing demographic group in the country, the Latino community," Obama said, according to a transcript at the website of Iowa's Des Moines Register.
(Obama spoke last week to the editor and publisher of that newspaper. After the editor complained in a blog post that the president wouldn't allow his remarks to be published, Obama relented.)
Obama is right on at least one count: Should he win, his victory will owe no small part to the loyalty of Latino voters, who have been turned off by the disrespect and maltreatment they've received from GOP candidates. Perhaps Republicans would finally understand the need to court that critical constituency.

(Cynthia Tucker, winner of the 2007 Pulitzer Prize for commentary, is a visiting professor at the University of Georgia. She can be reached at cynthia@cynthiatucker.com.)
Photo credit: AP/Pablo Martinez Monsivais