Brutal Murders Of Three Fishermen In China Put Spotlight On Rise Of Islamic Terrorism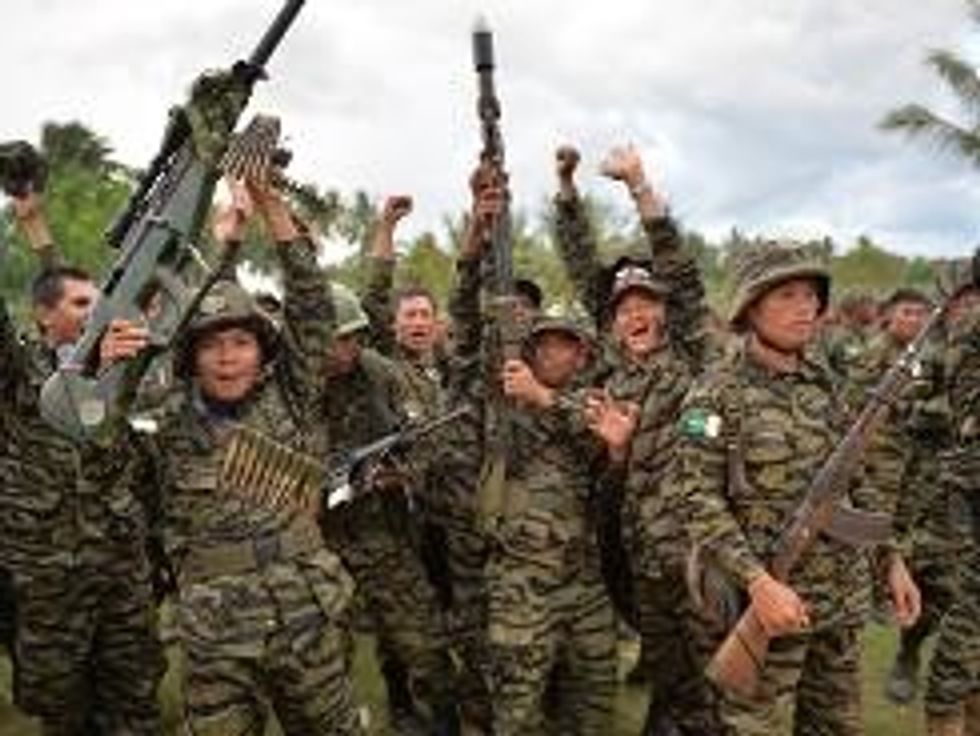 By Barbara Demick, Los Angeles Times
BEIJING — The three men's bodies were found bloodied on the banks of a lake where they had been fishing last month, one of them slashed in the neck so deeply he was almost decapitated.
The April 27 triple slaying of the Chinese men in an ethnic Uighur section of the Xinjiang region has raised once again the specter of a new wave of Islamic terrorism roiling China.
The killings, first reported Thursday by Radio Free Asia, took place in a rural area about 100 miles southwest of Kashgar, one of the westernmost cities in China. President Xi Jinping was visiting that day to promote the fight against separatists and delivered a speech calling Kashgar the "front line in anti-terrorism and maintaining social stability," state media reported. Xi's visit was also punctuated by a bombing and knife attack at a train station in Urumqi, the regional capital.
Relatives of the slain men have accused Chinese authorities of covering up the details in order to downplay the extent of ethnic violence in the region.
"Anyone with common sense can tell this is a terrorist attack…. What are they trying to hide?" they said in a letter signed by the widows of the three men.
The letter was posted on an Internet site May 3 but removed shortly afterward, presumably on orders of Chinese authorities. Comments about the letter in a Kashgar online forum were also removed, and the accounts of the people who commented were blocked.
The three men were employees of state-owned companies, one with a bank and two with an automobile repair company. They reportedly liked to fish on weekends and had gone to a pond near their homes in Yecheng county. Their mutilated bodies were discovered by a fourth man who had traveled with them but was fishing alone at another section of the pond.
"Their car was there. Their money was there. It was definitely not a robbery," said Zhou Jianlai, manager of the Zepu County Tongda Transportation Co., where some of the men worked. "The police have not solved the case yet. They are taking it as a regular criminal case for now."
Experts in Xinjiang say there has been a surge in ethnic violence, much of which has gone unreported.
"The tempo and tone of the attacks has increased very significantly in the last two years," said Rohan Gunaratna, a Singapore-based terrorism expert. "These are really low-tech attacks using knives, sticks, stones and gasoline. The Chinese government likes to classify them as criminal incidents, but they are not regular crimes."
Figures leaked last year by public security officials to state media showed that there had been 200 attacks in 2012 and that the numbers were increasing.
"There is no clear definition of what is a terror attack. You have to know what the motives were of the killers," said another expert, Yang Shu of the Institute for Central Asian Studies at Lanzhou University. In the case of the triple slaying, Yang said, the extreme brutality made it likely that it was not a classic terrorist attack but a "racially profiled attack targeting Han Chinese."
Xinjiang, which borders disputed Kashmir, is one of China's most ethnically fraught regions. The Uighurs, a Turkic-speaking people, often resent the influx of China's majority Han and restrictions on the practice of Islam.
Uighurs were blamed for one of China's deadliest incidents in recent years, a March 1 rampage at a train station in Kunming that left 33 people dead.
Yang said his institute had tracked 169 deaths from publicly reported attacks in China since the beginning of 2013, with many other incidents unreported.
In the letter accusing authorities of a coverup, family members of the slain men said there had been another killing that same day in Yecheng county: a 13-year-old girl getting out of a taxi who was stabbed by a woman wearing a black veil.
Details of that incident could not be confirmed, and a family member contacted Thursday declined to comment.
Photo via Ted Aljibe