How Burger King's Palm Oil Addiction Is Devastating Local Communities—And Planet Earth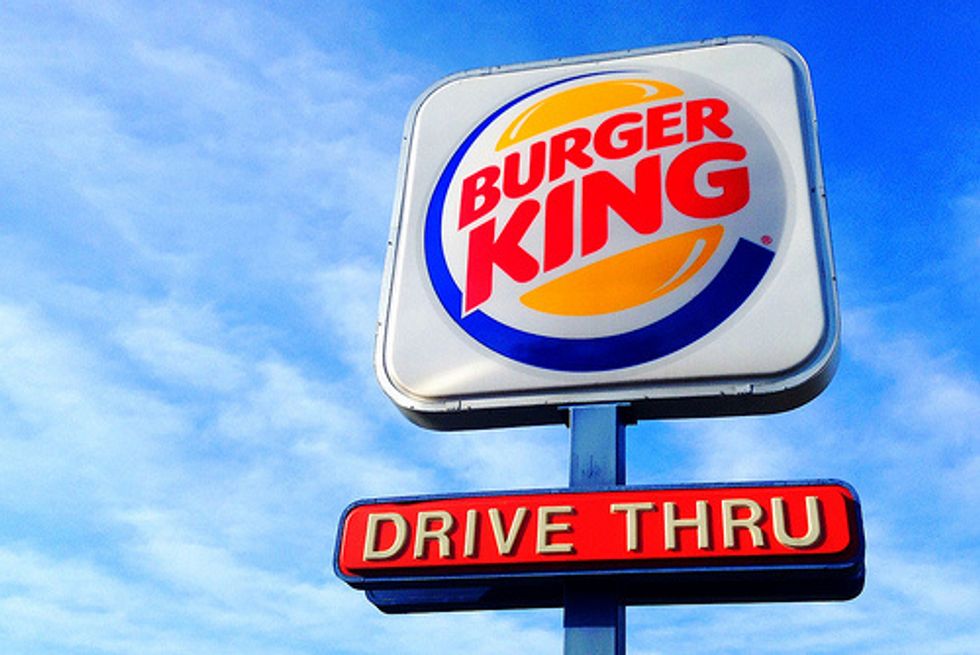 Reprinted with permission from Alternet.
There's nothing new about fast food corporations unleashing environmental chaos to maximize their profits. But the recent explosion of palm oil usage is a new threat. Burger King is at the front of the pack of corporations abusing human rights and the environment to satisfy its ever-growing appetite for the oil.
Burger King has always been a corporation defined by its competition. But now it is in danger of becoming the leader in a competition nobody should want to win: fueling the development of rapacious oil palm plantations. Burger King is one of a number of food and drink corporations that rely on palm oil for everything from fry oil to puddings. The recent increase in its use has been exponential: 485 percent in the last decade alone.
A brief review of the human and environmental impacts of palm oil production makes it no surprise that Burger King—like other corporations—has gone to some lengths to avoid disclosing the ways in which it sources its ingredients. Burger King certainly isn't concealing anything of which it can be proud, and indeed has more to hide than many of its competitors.
Take the human consequences of palm oil production, experienced most acutely in countries such as Malaysia and Indonesia where palm oil production is highest. An Amnesty International report has found children as young as eight working in the palm oil industry, and uncovered horrifying stories of forced labor. Other communities report land-grabbing and grossly unfair wages. Farmers responsible for producing palm oil have reporting "bullying" practices from the corporations that buy the oil they produce.
The impacts on children and communities are only the tip of a very large iceberg when it comes to the effects of the current approach to palm oil production.
In 2010, palm oil accounted for 10 percent of the world's permanent cropland, and the industry is rapidly expanding. This pressure to increase production frequently creates an incentive for rapid deforestation on breathtaking scale, leading to destruction of the rainforests so essential in the fight to slow dangerous climate change.
Alongside the human and climate implications, current palm oil production also has conservationists seriously concerned. Oil palm plantations destroy thousands of miles of rainforests, and by threatening the habitats they rely on to thrive, puts animals on the endangered species list every year. The World Wildlife Fund explains that of all the agricultural commodities it campaigns upon, "palm oil poses the most significant threat to the widest range of endangered megafauna"—big animals like tigers, elephants, rhinos and orangutans.
But that's not where the conservation threat ends. Current farming practices reduce the areas over which animals can breed, diminishing the genetic diversity of animal populations. As a final insult, wild animals near plantations also die when they consume poison intended to target the rats that might threaten the palm oil crop.
Palm oil consumers in Europe and North America might seem far removed from the problems palm oil creates in countries where it is produced. But they won't remain unmoved by the simple truth that human rights abuses anywhere are an attack on human rights everywhere. Also impossible to ignore will be the very real consequences of climate change that current palm oil production helps to accelerate: rising sea levels, extreme weather or disruption to domestic food supplies as farmers struggle to adjust to volatile temperature shifts.
Perhaps it's no surprise that members of leading environmental and corporate accountability groups like Rainforest Action Network, Mighty Earth, the Union of Concerned Scientists, and my organization, SumOfUs, have challenged current palm oil consumption practices. These activists know what big corporations frequently choose to ignore: it simply isn't that hard to avoid the worst human and environmental consequences of palm oil production. It might put a small dent in their profits, but sustainable sourcing practices around palm oil are well understood—and corporations the size of Burger King have the market power to force them to become the industry standard.
Recently, SumOfUs members have challenged some of the world's largest food and drink corporations to commit to responsible palm oil sourcing. Our members have contacted major corporations like Starbucks, PepsiCo and McDonald's, sharing brand-jamming videos that expose the connections between the everyday household products made by these major multinationals and the trail of destruction their palm oil habit leaves behind.
Now we're turning our attention to Burger King. By stepping up to the plate on palm oil sourcing, Burger King has a real opportunity to lead. If it chooses to do so, it will not only change the lives of the children and families currently suffering abuse in the name of palm oil today, but also protect wildlife and safeguard essential natural resources for generations to come.
Sign the petition urging Burger King to end palm oil deforestation in its supply chain.
This article was made possible by the readers and supporters of AlterNet.