Business Groups Denounce Trump's 'Devastating' Mexico Tariffs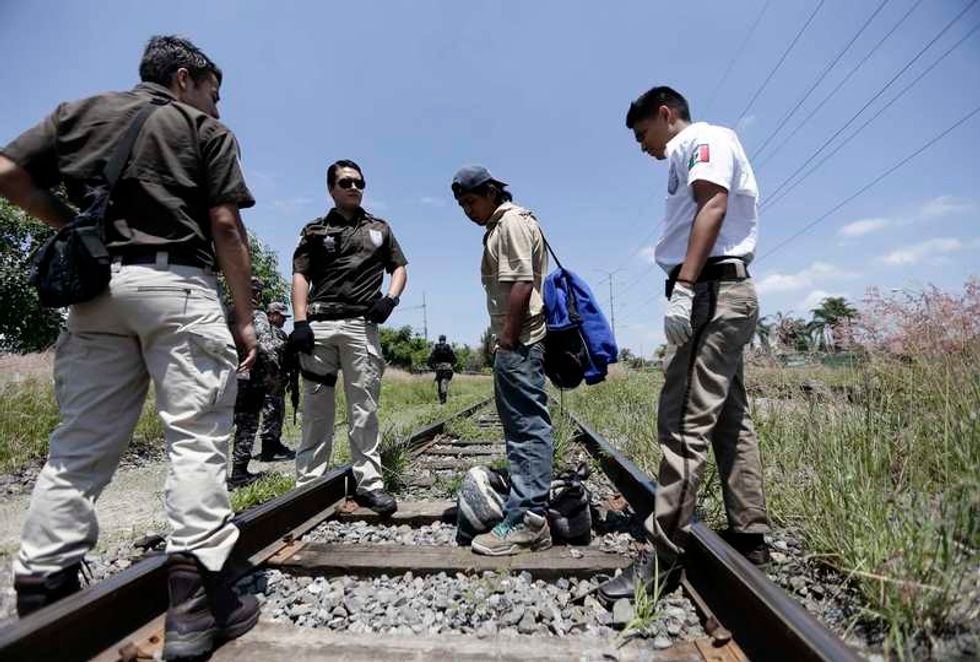 Business groups warned on Friday that Trump's threat of a new trade war with Mexico will hurt Americans.
"These proposed tariffs would have devastating consequences on manufacturers in America and on American consumers," Jay Timmons, president and CEO of the National Association of Manufacturers, said in a statement. "We cannot afford to put the livelihoods of millions of Americans at risk at the same time."
Timmons is referring to Trump's latest scheme to deal with immigrants coming across the U.S.-Mexico border.
"On June 10th, the United States will impose a 5% Tariff on all goods coming into our Country from Mexico, until such time as illegal migrants coming through Mexico, and into our Country, STOP," Trump said Thursday night. "The Tariff will gradually increase until the Illegal Immigration problem is remedied, at which time the Tariffs will be removed."
On Friday, the White House clarified, saying the tariff would increase by an additional five percent on the first of every month starting on July 1, capping at 25 percent in October.
The new tariff is nothing more than a "tax U.S. workers, farmers, consumers and businesses," according to the Business Roundtable. The group called Trump's actions "a grave error" and said he should focus on solutions that "will benefit Americans, not cause economic damage."
Battleground states like Arizona and Michigan could face the brunt of damage from Trump's decision, according to CNBC. The auto industry in Michigan could be his especially hard, costing auto makers like GM and Ford billions of dollars because many auto parts are imported from Mexico. If the car manufacturers passed along their increased cost to Americans, the cost of a new car could soon soar by up to $2,400, according to experts.
Some of Trump's congressional allies, including Iowa Republican Senators Chuck Grassley and Joni Ernst, have put out tepid statements opposing his latest action. But Ernst has praised Trump's other trade wars as "doing the right thing," despite their devastating consequences for Iowa's economy.
There is no evidence the GOP-led Senate would stand up to Trump in any meaningful way if he follows through on his threats.
Trump's trade war with China has helped lead to the highest rate of bankruptcies by farmers in a decade. And other tariffs imposed by Trump have increased the cost of a range of household goods, from washing machines to children's toys.
Mexico's foreign minister called the tariffs "unfair" and said they make "no economic sense for anyone."
Former Federal Reserve chair Janet Yellen once said Trump does not understand economics and how global trade works. Trump's reckless expansion of trade wars is one more piece of evidence proving her correct.
Published with permission of The American Independent.
IMAGE: Mexican immigration officers talk with a man whom they suspect to be an illegal immigrant during a search operation in Zapopan near Guadalajara, Mexico. REUTERS/Alejandro Acosta/File Photo