Cable News Completely Ignores The Economic Benefits Of DACA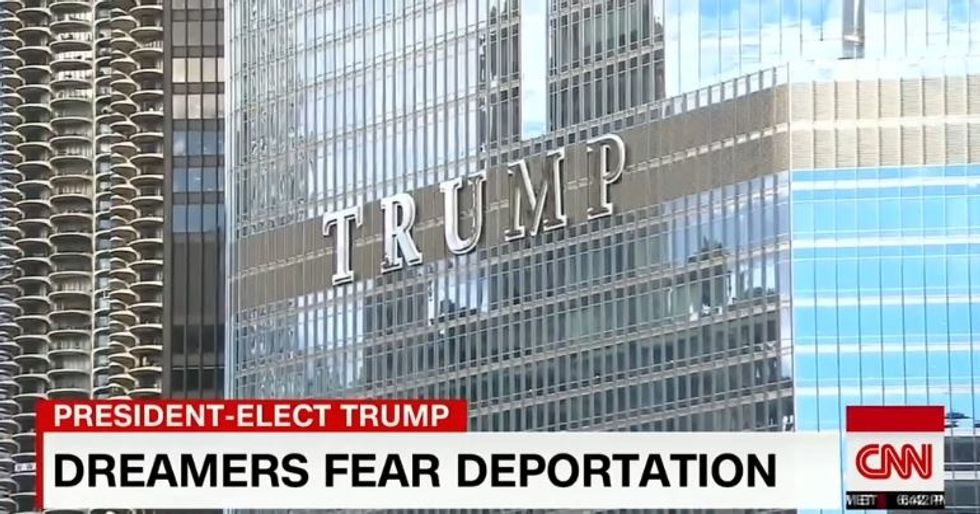 Reprinted with permission from Media Matters for America.
After President-elect Donald Trump pledged during his presidential run to rescind an executive action on immigration that protects from deportation thousands of undocumented immigrants brought to the U.S. as minors, cable news outlets routinely discussed the program as a political tool without explaining how it benefits Americans and the American economy.
The 2012 executive action known as Deferred Action for Childhood Arrivals, or DACA, allows almost 800,000 people to study, work, and live their lives in the United States without fear of deportation. As a result of not being forced to live in the shadows, DACA recipients have generated more government revenue in the form of sales and property taxes, and created new jobs through increased consumer spending and boosted wages. The program has benefited the entire economy, but cable news coverage of DACA depicts the program as if it impacts only those who it protects from deportation.
Media Matters reviewed how evening news programs on Fox News, CNN, and MSNBC covered DACA from August 31 — when Trump announced he would put an end to the program — to December 15. Of the 20 qualifying segments on DACA during that time period, its economic impact was mentioned only once. Even then, the discussion failed to provide many facts on the scope of the program's benefits.
Meanwhile, new reports investigating the effect of rescinding DACA conclude that doing so would do more harm than good for all Americans, not just the thousands of undocumented immigrants protected by the program. On December 13, Univision reported on a study from the Immigrant Legal Resource Center, which found that ending DACA would reduce contributions to Social Security and Medicare by $19.9 billion and $4.6 billion, respectively, over 10 years. On December 15, Telemundo reported that if approximately 3.4 million undocumented immigrant homeowners, many of whom are protected under DACA, lost protections from deportation, the resulting mass deportation "could hit the housing market, causing losses of up to $9.3 billion." Additionally, a November 18 report by the Center for American Progress estimated that "ending DACA would wipe away at least $433.4 billion from the U.S. gross domestic product" over the next 10 years.
Cable news networks' failure to connect the dots on how anti-immigration policies would negatively affect the economy is a disservice to voters whose decisions at the polls were guided by a desire for a strong economy.
Methodology
Media Matters conducted a Nexis search of transcripts from Fox News, CNN, and MSNBC using the search terms "allcap(DACA) or dreamer or Deferred Action for Childhood Arrivals" for programs airing between 5 p.m. and 11 p.m. from August 31 through December 15. We reviewed the transcripts for segments discussing the economic impact of DACA. This included reports from correspondents and guest panels and excluded brief mentions of DACA that did not generate meaningful discussion between hosts or guests.