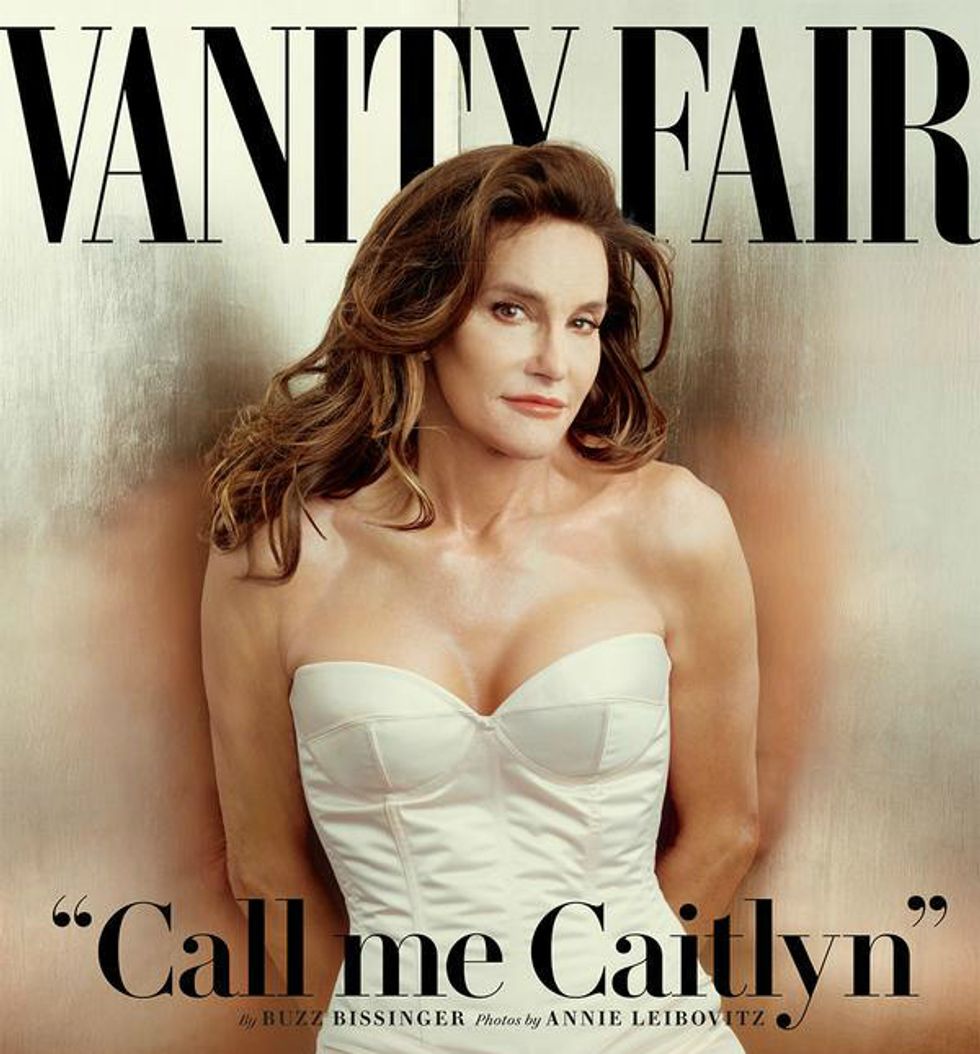 Bruce Jenner broke an Olympic world record in 1976.
Yet while that's an accomplishment to be proud of, it doesn't compare to how Jenner feels about the person she has become.
Caitlyn Jenner.
Caitlyn Jenner — née Bruce — was introduced to the world Monday via a Vanity Fair cover and a subsequent tweet from the woman herself:
I'm so happy after such a long struggle to be living my true self. Welcome to the world Caitlyn. Can't wait for you to get to know her/me.

— Caitlyn Jenner (@Caitlyn_Jenner) June 1, 2015
Jenner officially came out in an interview with Diane Sawyer in April on 20/20, which was hailed as a breakthrough for transgender individuals.
The Vanity Fairstory and accompanying photo shoot with iconic photographer Annie Leibovitz showcase how Bruce became Caitlyn, both physically and psychologically.
The story reveals that Jenner's March 15 surgery for facial feminization — a process where a face is shaped to look more stereotypically feminine — was a turning point. Although he (before the Vanity Fair story, Jenner had requested that male pronouns still be used) had been dressing like a woman beforehand — in Sawyer's interview he had noticeably longer hair — the surgery, which took 10 hours, made Bruce look more like Caitlyn.
The interview — which was seen by 20.7 million — was covered breathlessly by the media. In preparation, GLAAD put out a tip sheet for the media on how to report specifically on Jenner (they released an update after the Vanity Fair story was released).
Pronoun confusion often trips up even the most well intentioned. Even for Jenner and her interviewer, Friday Night Lights author Buzz Bissenger, it's an issue. But Jenner — who has spent the past 65 years answering to Bruce — said it's not something she's hung up on.
"It's just habit, I said, 'Hi, Bruce here,' and I went, Oh f**k, it ain't Bruce, I was screwing up doing it."
In fact, her children, according to the Vanity Fair report, have known about her feelings, some for years.
Her two oldest children, now in their mid-30s, learned from their mother, Chrystie, Jenner's first wife, when they were teenagers.
The response to Jenner's transition by fans, onlookers, and the media has generally been positive. (Not entirely, however.)
In an age where social issues are increasingly being brought to the forefront of discussions in American life and by activists' demand for change, Jenner's story has spotlighted trans issues and put a human — if not immediately recognizable — face on people who are often marginalized.
ESPN confirmed that Jenner will receive the Arthur Ashe Courage Award with all 10 of her children and stepchildren on stage.
Arthur Ashe's story makes an apt comparison to Jenner's. Ashe was forced to go public with the news that he had contacted HIV after USA Today effectively bullied him into responding to rampant speculation about his health. Ashe was angry about the forced disclosure. At a press conference in 1992, he objected to the infringement on his privacy: "…I didn't commit any crime. I'm not running for public office. There was certainly no compelling medical or physical necessity to go public with my medical condition."
That type of behavior would be derided by many news outlets today as unethical, even if USA Today purported that Ashe's illness was a matter of great public concern. Sensitivity to individuals and what constitutes breach of confidentiality — especially in reference to identity concerns — continue to be an issue when covering newsworthy people.
Despite the timing of the announcement — June is LGBT Pride Month — Jenner dismisses criticism that she's doing this for the publicity.
"It's not about the fanfare, it's not about the people cheering in the stadium, it's not about going down the street and everybody giving you an 'Attaboy Bruce,' pat-on-the-back OK. This is about your life. …As soon as the Vanity Fair cover comes out, I'm free."
Image: The best way to announce a new identity: with a fancy photo shoot by a world-renowned photographer in a glossy mag. (Vanity Fair)