California Billionaire May Be Democrats' Savior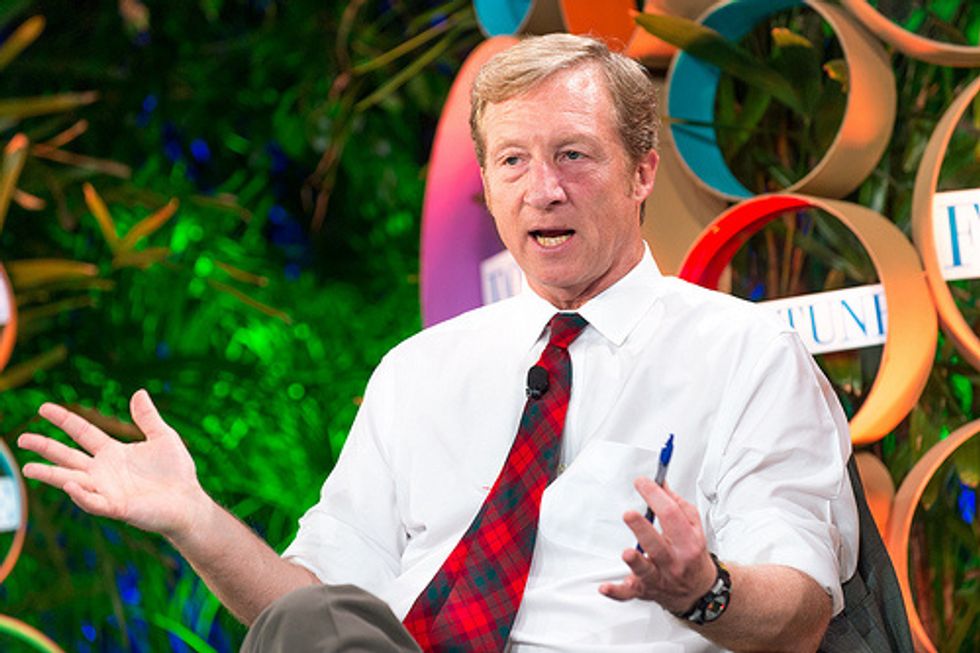 By Christopher Cadelago, McClatchy Washington Bureau
SACRAMENTO, Calif. — He's about $98 billion short of the competition. But Tom Steyer is the angel the Democrats have been looking for.
The former hedge fund executive from San Francisco is worth a relatively paltry $2 billion, hardly in the $100 billion league of the Koch brothers of Kansas, whose spending to help conservatives has alarmed Democrats.
But since starting to finance campaigns and causes in 2006, Steyer has grown more and more ready to help, particularly on issues related to climate change. This year, he's pledging to spend or raise $100 million to help Democrats and Democratic-leaning causes.
That's a valuable commodity in this year's elections for control of Congress. But a deep-pocketed contributor such as Steyer is particularly important as the party fears being swamped by ads financed by Charles and David Koch, whose Kansas-based company deals in refining, chemicals and other interests and is the nation's second largest privately held firm.
"All Tom is trying to do is really to balance and level the playing field," said Chris Lehane, a veteran of presidential campaigns and Steyer's political strategist.
"We are never going to have as much money as the other side. But all we need is enough for David's slingshot to fire true and to fire fast and to fire quick to be able to reach the big-oil Goliath."
Republicans counter that Steyer is an out-of-town political gun with no real connection to the voters he's trying to influence.
"The problem, of course, is that Tom Steyer doesn't vote in New Hampshire, Michigan, Colorado or Iowa," said Brook Hougesen of the National Republican Senatorial Committee, the Washington-based political operation for Republican Senate campaigns.
She said Steyer "bought off Democrats for $100 million," a plan that she said she doubted would work.
Steyer, 56, started writing checks to Democratic candidates in 2006. He was a substantial contributor to President Barack Obama's campaigns.
And this isn't Steyer's first run as a multi-million-dollar contributor. Between Governor Terry McAuliffe's Virginia gubernatorial campaign and Massachusetts' special election to fill Secretary of State John Kerry's Senate seat, Steyer has donated more than $9 million.
With a focus on the environment and climate change, and opposition to the proposed Keystone XL pipeline, he's already contributed more than $11 million in the 2014 election cycle.
He's promised to spend more than $100 million for the pro-environment Democrats, pledging $50 million and promising to raise a second $50 million for his NextGen Climate super PAC.
Beyond seeking to help Democrats this year, Steyer is working to lay the groundwork for them in the 2016 presidential election.
His multi-state blitz includes the Senate races in Colorado, Iowa, Michigan and New Hampshire and governors' races in Florida, Pennsylvania and Maine. His effort will rely on everything from television ads to polling and opposition research, Lehane said.
"Tom has made clear that NextGen is not a drive-by" PAC, he said.
Steyer clearly sees himself as a counter to the money and interests of the Kochs.
Lehane said Steyer's spending amounted to "a drop in the big-oil bucket," singling out the Kochs as GOP donors with special interests of their own. Last month, Steyer challenged the Kochs to a debate on the science of climate change. When they declined, NextGen Climate officials released a Web video calling them out.
Although Steyer's critics question whether a climate-change agenda will resonate in states with vulnerable incumbents such as Alaska, Louisiana and North Carolina, Lehane said he welcomed a discussion about why some candidates were "taking and adopting an anti-science position."
In California, Steyer contributed about $5 million against an unsuccessful 2010 ballot measure sponsored by oil companies that would have suspended the state's greenhouse-gas emissions law. Two years ago, he spent more than $32 million on a voter-approved initiative that changed the way multi-state corporations are taxed in California and directed the proceeds toward energy-saving projects in schools and public buildings.
"At the end of the day, Tom is spending his money in the public interest in advance of an issue that is going to impact people today and our kids tomorrow, whereas the other side is spending money to advance their own economic self-interest," Lehane said.
The nonprofit Center for Responsive Politics reported that the Koch brothers have contributed more than $22 million since 1990 — and have spent $87 million on lobbying. A joint Washington Post-Center for Responsive Politics investigation said that in the 2012 election alone, the duo amassed more than $400 million from an undisclosed network of donors.
According to The Washington Post, the Koch brothers organized this coalition of 17 conservative groups, which are a hodgepodge of tax-exempt and limited liability companies.
Photo: Fortune Live Media via Flickr