California's Central Coast Is Amazing At Every Turn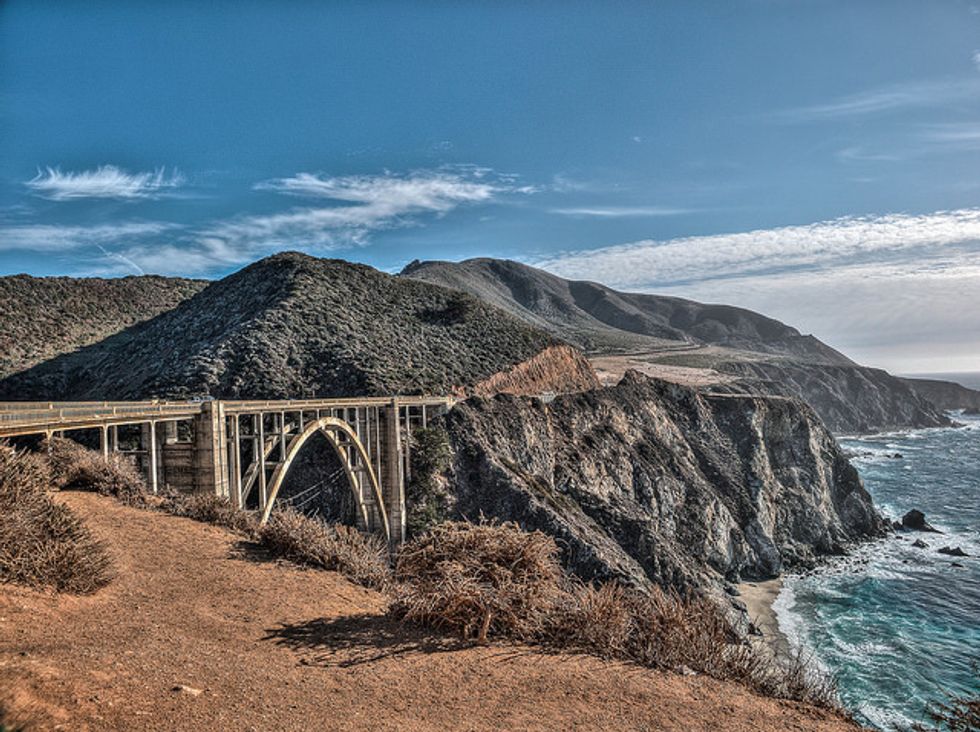 By Gretchen McKay, Pittsburgh Post-Gazette (TNS)
BIG SUR, California — Marked by precipitous cliffs and hairpin curves that leave drivers (and their passengers) white-knuckled and breathless, this rugged stretch of California's Central Coast has enthralled sightseers for decades with its natural beauty. Yet there comes a point on a leisurely afternoon drive on scenic Highway 1 when enough is enough. Could Big Sur get any more stunning?
Each turn along its 90-mile stretch of coastline seems to reveal an increasingly spectacular view of volcanic rock hugging deep-blue ocean. Less than an hour in, I'd already snapped dozens of images with my iPhone. Don't even ask my husband how often I scared the bejesus out of him by leaning precariously far over the hillside to get said pics.
I wasn't the only wild soul. While we rarely encountered bumper-to-bumper traffic during our April visit, expect mini-traffic jams any time the road widens enough for drivers to pull off for an impromptu photo session. It's especially crowded just north of Bixby Bridge, one of world's tallest (260 feet) single-span concrete bridges. A stunning piece of architecture that blends seamlessly into the craggy terrain, it's one of the most photographed structures along the Pacific Coast. (Don't expect to Instagram your view in real time, because there's no cell service.)
Before the bridge's construction over a steep-sided valley in 1932, the drive from the Monterey peninsula to Big Sur Valley took three days by wagon because of a 30-mile one-lane dirt "detour" through a thick redwood forest. These days, it's an easy day trip, thanks to the 714-foot-long structure and a concrete highway that hugs the steep, chaparral-covered hillside like a wet shower curtain.
Named one of the world's most scenic drives by multiple publications, Big Sur's highway to heaven is a designated All-American Road. It also has its own postage stamp.
Even if you don't think you know Big Sur you probably do, at least a little: Its rocky coastline has been featured in numerous car commercials and movies. It's also made for some memorable pop-culture moments: It's where Don Draper found spiritual enlightenment in "Mad Men's" season finale, and last spring a vacationing Taylor Swift posted Instas from Pfeiffer Big Sur State Park.
In the '50s and '60s, Big Sur became famous as a haven for artists and writers such as Hunter S. Thompson, Jack Kerouac and Henry Miller, whose work and spirit is immortalized in an offbeat memorial library. New Age and bohemian types followed when the fabled spiritual retreat Esalen Institute opened in 1962 to those seeking to "push the envelopes of their own and society's existing limits."
While it has a post office, Big Sur isn't actually a town but rather a region that stretches from Mal Paso Creek in the Carmel Highlands to Ragged Point in San Luis Obispo County, just north of Hearst Castle at San Simeon. This was pretty much inaccessible wilderness until Highway 1 made travel easier and family farms and ranches gave way to tourism. Today, it draws more than 3 million visitors each year.
Big Sur is a quirky place; that's part of its charm. The area's most popular beach is almost impossible to find if you don't get directions from a local. Its post office doesn't sell postcard stamps, even though the adjoining general store is full of the touristy items. At the Big Sur River Inn–where guestrooms have neither phones nor TVs–visitors sit in bent willow Adirondack chairs in the Big Sur River to listen to music. And at Esalen, the hot springs don't open to the public for bathing until 1 a.m.
We planned our trip to coincide with one of the running world's premier (and toughest) sporting events, the Big Sur International Marathon. Our leisurely drive up and down the coast, with a few short hikes and some sunbathing tucked in, was the perfect way to stretch my tired legs afterward.
You can't visit the coast without sticking your toes in the ocean, so Pfeiffer Beach was our first stop when we set off from our rental in Pacific Grove. It's known for its secluded, wide beach and huge rock formations that lie just offshore and we couldn't wait to run barefoot on its purple sand. Yet finding the road to the parking lot is a challenge. Only because we stopped at Big Sur Deli for directions did we know to look for unmarked Sycamore Canyon Road (turn right at the stop sign a few feet beyond a yellow "narrow road" sign, half-mile past the Big Sur ranger station).
A narrow dirt road winds two miles down a steep hill to the park entrance ($10), then it's a short hike to the beach. Yes, the water was too cold for wading, and no, I wasn't brave or stupid enough to try scaling its giant arch rock, although it was fun to watch others do it.
From there it was 12 miles down Highway 1, past Big Sur Coast Gallery (fine art, great coffee) and the famed Nepenthe restaurant (sit outside and order the Ambrosia Burger) to Julia Pfeiffer Burns State Park ($10 parking, or on the highway for free). One of the draws here is a cliffside trail overlooking McWay Falls. It cascades 80 feet onto a sandy cove that's maddeningly inaccessible by foot. The half-mile wheelchair-accessible path also takes you to the remains of Waterfall House, built in 1924 by U.S. Rep. Lathrop Brown of New York and his railroad heiress wife, Helen. (It was one of the first electrified dwellings in Big Sur.)
On the other side of Highway 1, the park stretches some 3,000 acres on land carpeted with giant oak and madrone trees, and tangled shrubs and bushes. A mecca for hikers, the park also is home to towering redwoods, some of which rise 300 feet into the sky and are more than 2,000 years old. Outdoor types can pitch a tent here, but campsites are hike-in only and must be reserved (1-800-444-7275; $30/night).
Or exercise your imagination at the Henry Miller Memorial Library, surely one of the oddest tributes to the writer who lived in Big Sur between 1944 and 1962. It's quirky and funky to the extreme. Original copies of Miller's correspondence are stapled to the wall, there's coffee available if you want to fix yourself a cup, and the "librarian" seems to live right outside the front door–in a tent. In summer, the library hosts fashion shows, theater, lectures and other community events.
The lighthouse at Point Sur State Historic Park was closed the day we drove by, but if you're there on a Wednesday or weekend and have the time, the three-hour guided walking tours ($12; 1-831-625-4419) are recommended _ it's the only complete turn-of-the-century lighthouse open to the public in California.
For night owls, there are also Moonlight Tours ($20) twice monthly.
But we still managed to work in a really great view from above at Rocky Point Restaurant, where I'd started my Big Sur adventure the day before just after dawn. As the sun disappeared into the ocean, bathing Bixby Bridge in shades of orange, we toasted our day with glasses of California sauvignon blanc. And vowed our return.
IF YOU GO
Getting there: The Big Sur region is on the Central California Coast. It stretches about 85 miles along the Pacific Coast Highway (State Route 1) from Point Lobos State Reserve, just south of Carmel, to Ragged Point in the northern tip of San Luis Obispo County.
Nighty, night: Do you like sleeping under the stars or in close proximity to the Hollywood variety? Accommodations in Big Sur range from uber-luxury hotels such as the clifftop Post Ranch Inn south of Carmel (rooms start at $825) to quaint inns such as Deetjen's Big Sur Inn, which is listed on the National Register of Historic Places ($115 and up), to rustic campgrounds and cabins.
We rented a 1930s Pueblo Revival-style adobe cottage within spitting distance of Lovers Point Beach in Pacific Grove for a week ($1,500; montereybayrentals.com), which allowed us to save on a few restaurant meals by cooking and enjoy our morning coffee with an ocean view.
Table for two: If you're planning a picnic or need camping supplies, the Big Sur Deli & General Store (47520 Hwy 1, next to the post office) will please with its made-to-order sandwiches, burritos and desserts; there's also craft beer at the adjacent Big Sur Taphouse. You'll also find locally sourced soups and salads, great coffee and world-famous BLTs at Big Sur Coast Gallery Cafe (49901 Hwy 1).
For sit-down service, Ragged Point Restaurant (19019 Hwy 1) offers upscale California cuisine with ocean views; the gourmet Nepenthe (48510 Highway 1) also sits high above the Pacific and has breathtaking scenery. We drank in the sunset, along with views of the landmark Bixby Bridge and glasses of California sauvignon blanc, at Rocky Point Restaurant (36700 Hwy 1). We also enjoyed the small bites and charming outdoor patio at Big Sur Roadhouse (47080 Hwy 1).
When you tire of driving: Julia Pfeiffer Burns State Park (37 miles south of Carmel on Hwy 1: parking $10 or free on the west side of the highway) offers two must-do trails. McWay Waterfront Trail is an easy .64-mile out-and-back that takes you past the sparkling blue waters of McWay Falls. The 4.6-mile Ewoldson Trail leads you through an old-growth redwood forest. You'll also find well-marked trails at Pfeiffer Big Sur State Park (26 miles south of Carmel) and Andrew Molera State Park (20 miles south of Carmel). Some have mountain bike access.
Big Sur also caters to wine lovers, with more than 40 wineries nestled in the sparsely populated Santa Lucia range producing red and white varietals. We had a delightful tasting at Holman Ranch Vineyards' tasting room in Carmel Valley, one of 20 wineries nestled along West/East Carmel Valley Road, about a 20-minute drive from the coast.
More into yoga, massage or self discovery? Esalen's oceanside institute (55000 Hwy 1) offers dozens of workshops and programs devoted to making one a better person. For night owls, Esalan's cliffside hot springs are open for public bathing from 1 to 3 a.m. ($30, reservations required).
Big Sur has many art galleries and gift shops. We found Big Sur Garden Gallery (47540 Hwy 1), with its quirky mix of consignment clothing, original photography and one-of-a-kind art pieces, especially charming. Bonus: It's next door to Big Sur Bakery.
Photo by Brandon via Flickr