A Campaign Finance-Minded Don Quixote Of Congress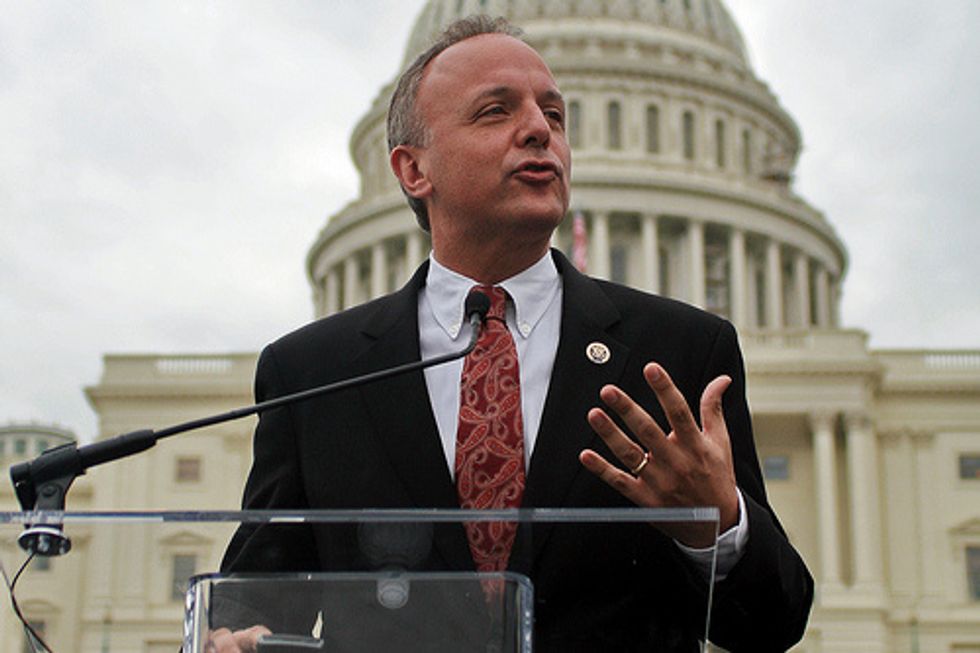 By Hannah Hess, CQ-Roll Call (TNS)
WASHINGTON — Ask Rep. Ted Deutch about the fresh kiwi-hued paint job in his Rayburn office, and the Florida Democrat has a schtick: "Green, like the money we want to get out of politics."
Deutch is taking a month long timeout from fundraising, putting the permanent campaign on hold when he is in Washington and Congress is in session. That amounts to 12 days, but he's using the "Fundraising Free February" stunt to try to get people talking about campaign finance reform.
His communications director has watched her Google Alerts flourish, as the plot has garnered local media attention in Alabama and the Quad Cities. And, as Deutch will remind you, February is far from over.
"Random editorial boards, in places in the country where I am quite certain that nobody has a clue who I am, have read some of the press about it and were wondering why this isn't something that everyone is doing," the three-term congressman told CQ Roll Call. "It's still the beginning of the month and my hope is that as we go on, more random communities will have an opportunity to learn about this and it will give us the chance to broaden the debate that's already taking place."
Deutch said the idea is popular among his constituents in Palm Beach and Broward counties, who sent him back to Congress with 99 percent support in 2014. He's received feedback along the lines of, "Why is this one month? Why aren't you spending 11 months doing what you were sent to Washington to do and maybe leaving a month to raise money?"
On Capitol Hill, reaction has been less rosy. Deutch declares Democrats broadly support diminishing the influence of money in politics, but he couldn't convince any of his colleagues to join the challenge. He tried, unsuccessfully, to twist some arms in Philadelphia during House Democrats' late January retreat.
No other lawmakers are participating in the challenge. Deutch said a Republican, who he declined to name, was close to signing on until he conferred with his office and realized he had an important fundraiser scheduled for February.
"There's an appreciation for the idea that I've put forth, for the notion that we should try spending a month doing this," Deutch said, when asked if Democratic leadership is on board with taking a pause in party fundraising. "There's also the realization that there's an enormous amount of money that's going to come into the campaigns and nobody wants to be at a disadvantage. … There's tension there."
Inside the Beltway, Deutch's push for campaign finance reform makes him akin to Don Quixote.
"Boy this is great, but you're really just tilting at windmills here," Deutch said he's been told. Others say, "Don't kid yourself, we all know this is the way it works," to which Deutch pleads a certain naivete.
Deutch began talking about campaign finance reform in 2010, as a state senator. He was running in a special election for Congress when the Supreme Court handed down its groundbreaking Citizens United decision, changing the debate during the heat of the primary race. Deutch won the seat, but never got the standard freshman welcome from the Democratic Congressional Campaign Committee.
"I was elected on April 13 and sworn in two days later, so I had no orientation. I had to figure things out as I went along," Deutch said when asked about pressure to make fundraising calls. "Pressure for the most part comes from this overarching concern that if I head into the election season without sufficient resources, then any outside group, any individual, any SuperPAC may choose to come in to my district and overwhelm it, and take over the airwaves and control the debate.
"That's a terrible situation that we find ourselves in," Deutch said. "That's why, again, the idea that Congress should be able to regulate the amount of money in politics shouldn't be so — seem so radical."
Early in his congressional career, he introduced an amendment aimed at overturning the decision that deregulated independent campaign spending. He's since partnered with Senators Bernie Sanders (I-VT) and Tom Udall (D-NM) to press constitutional amendments that would give Congress and individual states the power to regulate campaign finance. He admits such legislation won't pass this session of Congress, and even if it did win two-thirds of the House and Senate, states might not immediately ratify the change.
"I don't think it's a pipe dream," Deutch said. "I just think it's gonna take a little time."
Those in Washington who see the constitutional amendment push or Fundraising Free February as a gimmick are "way behind the American people on this issue," Deutch said. In the meantime, he suggests greater disclosure and changes at the FEC could be small steps to changing the system.
Deutch has dreamed up a few other stunts to change the way Congress works. After accidentally walking into the Republican cloakroom when he first arrived at the Capitol, he's decided it would be a good idea to blur the partisan divide for a period of time by designating one cloakroom for members from even-numbered districts and the other for members from odd-numbered districts. Deutch also thinks every member should wear a name tag on the House floor, though some people "thought it sounded too much like kindergarten."
Photo: cliff1066 via Flickr