Can Bernie Sanders Improve His Odds In The South?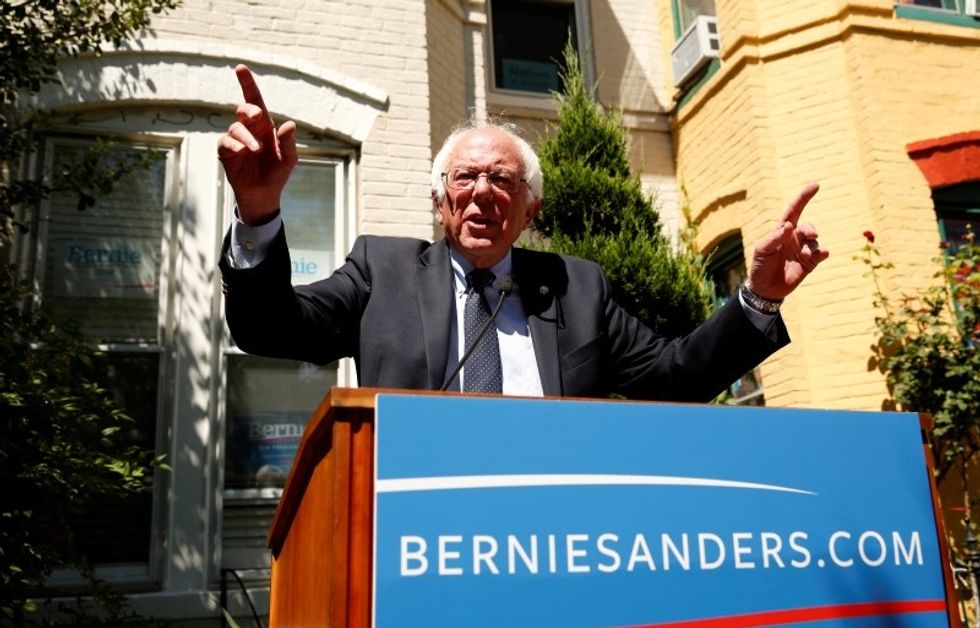 Bernie Sanders spent last weekend on a Southern swing, which makes sense. The Vermont senator's failure to connect with enough core Democratic voters the last time around — in the South, that means black voters, and black women in particular — stalled his campaign for the party's presidential nomination. He hit a wall in the early primary state of South Carolina, losing badly to Hillary Clinton , and he never recovered.
Sanders' trip south took him through North Carolina, South Carolina, Georgia, and Alabama, to large rallies and more intimate town halls, focusing his message on "justice." At a time when Trump-appointed judges are declining to declare their support for the landmark Supreme Court decision that ruled segregated public schools unconstitutional — and are winning Republican approval nonetheless — Sanders in South Carolina on Saturday, 65 years after Brown v. Board of Education, unveiled his "Thurgood Marshall Plan for Public Education and Educators" to reform the K-12 education system, with a focus on reversing racial and economic segregation.
The senator's support in 2016 broke down not only along racial lines, but by age as well, with younger voters, even younger African American voters, reacting to his message with far more enthusiasm than their elders.
In 2020, with electability, an elusive and unknowable quality, at the top of many Democrats' checklist, Sanders in most polls ranks below former Vice President Joe Biden , a man with a past to both celebrate and explain, and also one who exudes familiarity.
Sanders has steered clear of personally attacking Biden, but has not hesitated to claim the progressive mantle and point out the distance between the two men on policy. He has not lost an ounce of passion, and one other thing is certain: Bernie Sanders can still pack them in, or out, in the case of a rally on Friday in Charlotte, North Carolina, where more than 1,500 stood on a hot, sunny, humid late afternoon to listen.
They heard his message promoting economic, social, racial and environmental justice, denunciations of the recent wave of restrictive abortion laws in states around the country ("they are forcing women back into the arms of quacks") and warnings about the "insane" possibility of a U.S. attack on Iran ("I don't know how many wars these people want").
Classic Bernie. But opinions in the crowd on the lawn at Central Piedmont Community College showed the challenges that await the Sanders campaign and the Democratic Party.
Some of those who voted for Sanders in the primary and Green Party candidate Jill Stein in the general election were not at all chastened by the election of Donald Trump.
Eliyahu BenYsrael, a Charlotte artist, and his wife, Elizabeth BenYsrael, in the culinary field, were two of them, and were not sure they would vote for the eventual Democratic nominee if it's not Bernie or maybe Elizabeth Warren , Marianne Williamson, or Tulsi Gabbard .
"Policy-wise, he's the best candidate, the only one who has a chance of beating Trump in a landslide," Eliyahu said. He placed Biden and Clinton in the same "neoliberal" category, in a Democratic Party that has moved too far to the right on issues important to him, he said, from Medicare for All to removing money from politics. Elizabeth said she just wished Sanders would "be a lot more forward, more aggressive" in getting his message out.
However, not all of Sanders' die-hard supporters circa 2016 have drawn that line in the sand for 2020.
For Jeanine Chmielewski, 27, of Charlotte, it was personal. "I came out of college with $100,000 in loans." So Sanders' plan for free public college made sense for her. The Michigan Tech grad also said she felt strongly about the issues of civil rights and women's rights. "The heartbeat bills scare me," she said. The project control specialist in construction and hydropower was and is a Sanders supporter, and said she is interested in Pete Buttigieg as well. ("He's a Rhodes scholar, a military veteran and a millennial like me.") And Chmielewski said she liked what she was hearing from Warren.
Mikki Harris-Douglas, a Sanders supporter in 2016, said many fellow African Americans are approaching her now and starting to listen to the candidate's message. "His voting record speaks for itself; he's been doing what's right," she said. She said that though she is an accountant at Atrium Health, she has no health benefits because she is a temp worker, so is enthusiastic about Sanders' health care policy. Warren's window was in 2016, Harris-Douglas said, but she said she was studying Cory Booker 's proposals.
Both said they would lean toward voting for any Democrat, and just hoped the party fights against any GOP voter suppression tactics.
Gordon Walls, 66, a semi-retired postal services employee, was there with his 23-year-old son — they talk politics a lot. Walls said he was a registered independent who voted for Hillary Clinton in 2016, with climate change, income inequality, health care and criminal justice reform among his top issues. "I don't dislike Bernie's ideas; I do have issues with some of the politics," he said, and believed a "more pragmatic approach" would play better in more conservative states.
"I place a huge value on people who have governing experience," he said, especially looking at the current president.
That's one reason he said he liked former Vice President Biden. "Running for office is like the wedding day. After, it's like being married; you've got to do the work." He said he would like to see that experience mixed with youth and enthusiasm, and was still listening to other candidates, including some, like Julián Castro, who have not yet had much media attention.
One thing many Democrats can agree on is that Sanders changed the playbook, and they give him credit for that.
But now that the stakes are higher than ever and the game has changed, can Sanders retain the enthusiasm of his millennial base and broaden his appeal while competing with a double-digit field of candidates he didn't have in 2016?
He has lots of competition for the enthusiastic base of black female voters, including Warren with her targeted plans, such as her calls for HBCU funding , and Sen. Kamala Harris , who on Wednesday reintroduced a bill addressing the black maternal health crisis .
Instead of a place on the presidential ticket, will the man who is both insider and outsider have to settle for knowing how much his policies have set a new image for the Democratic Party?
Mary C. Curtis has worked at The New York Times, The Baltimore Sun, The Charlotte Observer, as national correspondent for Politics Daily, and is a senior facilitator with The OpEd Project. Follow her on Twitter @mcurtisnc3.