Can Finland Beat Austerity With Public/Private Stimulus?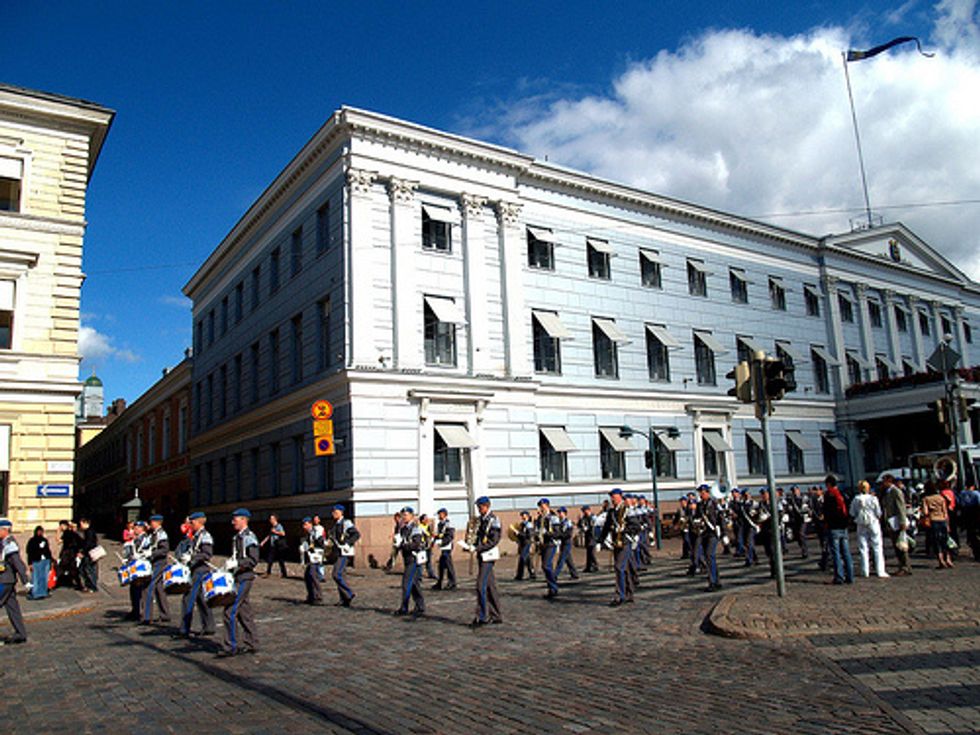 Finland's educational system is often rated the best in the world, which has made it the envy of U.S. reformers on both the right and left.
America's right loves the Finns' "whatever it takes" attitude, believing it justifies approaches like for-profit charters and online schooling. The left loves that there are no — none — private schools in the Nordic country, and Finnish educators focus most of their energy on helping the most challenged students.
"Children from wealthy families with lots of education can be taught by stupid teachers," said Kari Louhivuori, principal of Kirkkojarvi Comprehensive School in West Helsinki. "We try to catch the weak students. It's deep in our thinking."
The Finns' recent approach to their federal budget, however, is only likely to be praised on the right.
It is the only country in the European Union (EU) that has retained its AAA credit rating from every major ratings agency, and it did so with minimal austerity compared to some of Europe. It is also the only country in the EU that demanded "collateral payments" from Greece in exchange for its contributions to the Mediterranean country's bailout. Those payments were negotiated when Finland's ruling coalition faced two no-confidence votes over its role in the Euro rescue.
The Finns share a belief in a social democracy with their Scandinavian neighbors. Workers enjoy what Americans would consider extraordinary benefits, protections and maternity leave, along with nationalized health care.
But it's their belief in their own work ethic that has made the thought of rescuing their fellow European Union members in the south feel a bit unsettling.
"Europe is very important to us. We know there are problems, but if everybody does their bit, we can get through," Kari, a Finnish student, told The Financial Times in May of 2012. "But those Greeks — have they really worked hard? Should we have to pay for them too? I don't know."
The country of about five million has been shaken not just by the financial crisis that rocked the globe, but also the sudden, nightmarish decline of Nokia, which had been Finland's best-known global brand throughout the 20th century.
The firm that became the Nokia Corporation first began employing Finns in 1865 as a paper manufacturer. That one factory grew to become the country's biggest industrial conglomerate. Nokia went on to dabble in dozens of different businesses, finding its greatest success in the electronics and networking industries, and eventually becoming the world's largest smartphone provider.
But the industry leader was blindsided by the development of the iPhone and then Google's acquisition and rapid development of the Android mobile platform. The iPhone replaced Nokia's Symbian as the world's most popular mobile OS in 2011 and the company's phone sales collapsed, leading to nearly 40,000 layoffs in Finland and the announcement in 2012 that it would be closing its last factory in the country.
The Finnish government reacted to the last round of layoffs immediately, offering a $379,000,000 growth package of incentives for entrepreneurs.
Finland has become the Silicon Valley of the Arctic. It's the home of several tech startups including Rovio, which produces the world's most popular mobile game — Angry Birds. However, along with some tax incentives for business, the government also implemented deep spending cuts and tax increases.
Basically they spiced their austerity with a bit of stimulus.
The result?
"Finland's economy shrank last year as Europe's debt crisis deepened, hurting exports and eroding consumer confidence in the northernmost Euro nation," Bloomberg reported in March of 2013. "The country is now mired in its second recession in four years, making the government's budget goals less attainable and adding to the cost of caring for Europe's fastest-aging population."
As usual, instead of cutting debt as planned, austerity increased it, while killing jobs.
Leaders in the government have found themselves seeking some way to return to growth without risking their precious AAA credit rating. Their immediate answer is to keep the cuts and tax increases but add some supply-side stimulus into the mix by reforming corporate taxes at a lower rate.
But Finland's Economy Ministry sees that lower corporate taxes likely wouldn't spark needed funding for startups.
So it has decided to launch a $1,280,000,000 investment fund that doesn't add to its deficit. The goal is to lure in private investors who will share in the losses and profits with the taxpayers up to about six percent. Any returns over the that amount will go to the investors.
It's a solution that typifies the contradicted spirit of the country. Growth is necessary, but deficits needed to be warded off like evil spirits.
In the country that does "whatever it takes" to help its kids, there are limits to what it will do to help their parents. But in our deficit-obsessed era, public/private stimulus is the only kind of stimulus possible.
And it's certainly better than nothing.
Photo: k.ivoutin via Flickr.com