Canada Officials Start To Get A Handle On Largest Wildfire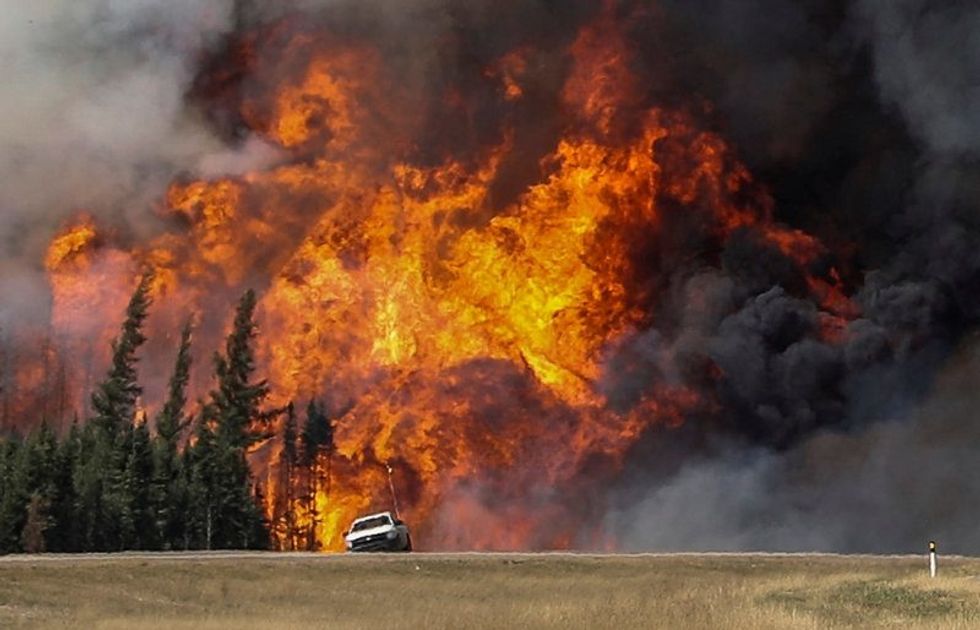 Canadian officials on Sunday showed some optimism for the first time that they were beginning to get on top of the country's biggest wildfire, as cooler weather and light rain stopped the blaze from growing as much as feared and winds took the flames away from oil sands boomtown Fort McMurray.
"It definitely is a positive point for us, for sure," said Alberta fire official Chad Morrison in a news briefing, when asked if the fight to contain the flames had a reached a turning point.
"We're obviously very happy that we've held the fire better than expected," said Morrison. "This is great firefighting weather, we can really get in here and get a handle on this fire, and really get a death grip on it."
The wildfire scorching through Canada's oil sands region in northeast Alberta had been expected to double in size on Sunday, threatening the neighboring province of Saskatchewan, as it moved into its seventh day.
But favorable weather helped hold it back, giving officials hope that they can soon begin assessing the damage to Fort McMurray, close to where the fire started, causing its 88,000 inhabitants to flee.
"As more and more fire has burned out around the city and the fuel around the city starts to disappear… we are starting to move into that second phase of securing the site and assessing the site," said Alberta Premier Rachel Notley, during the same media briefing.
Officials said it was too early to put a timeline on getting people back into the town safely.
The broader wildfire, moving southeast through wooded areas away from the town, would still take a long time to "clean up," Morrison cautioned. Officials had previously warned that the fire could burn for months.
An Alberta government statement issued on Saturday night said the fire had consumed 200,000 hectares (500,000 acres) – an area the size of Mexico City – and would continue to grow.
Fort McMurray is the center of Canada's oil sands region. About half of the crude output from the sands, or one million barrels per day, had been taken offline as of Friday, according to a Reuters estimate.
The inferno looks set to become the costliest natural disaster in Canada's history. One analyst estimated insurance losses could exceed C$9 billion ($7 billion).
Officials said on Sunday the fire had done minor damage at CNOOC unit Nexen's Long Lake facility, in the site's yard. It was the first reported damage to an energy industry asset since the crisis began.
Morrison said the fire was southwest of a Suncor Energy Inc facility, which Suncor identified as its base oil sands mining site north of Fort McMurray, and also near an unidentified Syncrude facility.
Air tankers, helicopters and bulldozers had kept the fire from reaching those sites, said Morrison: "We'll see how the day goes, but with the cooler weather, I do expect to hold the fire there."
FORT MCMURRAY STILL OFF LIMITS
Even though the fire has largely pushed through Fort McMurray, the town is still too dangerous to enter.
Thousands of evacuees are camped out in nearby towns but stand little chance of returning soon, even if their homes are intact. The city's gas has been turned off, its power grid is damaged, and the water is undrinkable.
Provincial officials said displaced people would be better off driving to cities such as Calgary, 655 km (410 miles) to the south, where health and social services were better.
The provincial government has promised evacuees pre-paid debit cards to cover immediate costs, with C$1,250 per adult and C$500 per dependent, expected to cost about C$100 million.
After the scare of her life escaping the fire on Tuesday, housekeeping supervisor Susie Demelo got some welcome good news on Saturday. New satellite images showed the house she rents in Fort McMurray was still standing.
Demelo and her partner had no insurance on their belongings.
"I'm very blessed and grateful," she said. "And nobody has died in the fire."
Through Friday and Saturday, police escorted thousands of evacuees who had been forced to flee north from Fort McMurray back through the burning town, to allow them to head south to Alberta's major cities. By Sunday morning, a Royal Canadian Mounted Police spokesman said that process was complete.
Some residents were complaining about the lack of news from the town, fire chief Darby Allen said in a video posted online late on Saturday.
"We know from all the calls that you're getting frustrated because you don't have any information on your homes. We're really working hard on that, it's a complicated process," he said.
More than 500 firefighters were in and around Fort McMurray, along with 15 helicopters, 14 air tankers and 88 other pieces of equipment, officials said.
(Additional reporting by Ethan Lou, Allison Martell and David Ljunggren; Writing by Bill Rigby; Editing by Digby Lidstone and Alan Crosby)
Photo: Smoke and flames from the wildfires erupt behind a car on the highway near Fort McMurray, Alberta, Canada, May 7, 2016. REUTERS/Mark Blinch