Canada Wildfire Explodes In Size, Approaches Oil Sands Project
@reuters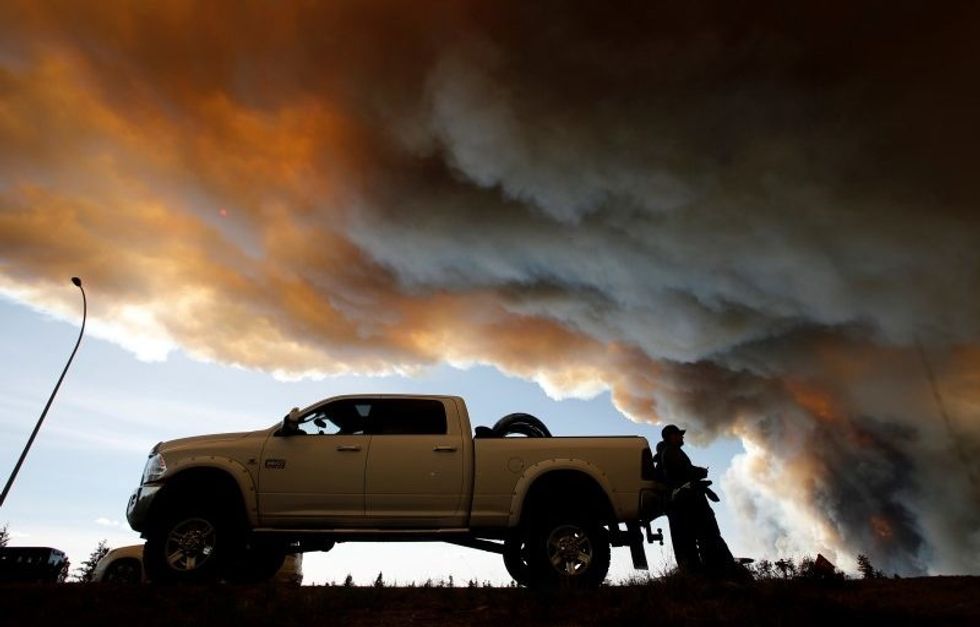 By Rod Nickel and Liz Hampton
A raging Canadian wildfire grew explosively on Saturday as hot, dry winds pushed the blaze across the enbpdergy heartland of Alberta and threatened to burn close to an oil sands project.
The fire that has already prompted the evacuation of all 88,000 people who lived in the city of Fort McMurray was set to double in size on Saturday, the seventh day of what is expected to be the costliest natural disaster in Canada's history.
Provincial officials praised evacuees for their patience and, in a sign of how long the crisis could drag on, said the cities of Calgary and Edmonton, many hundreds of miles to the south, were the best place to receive longer-term support such as medical care and emergency payments.
Firefighting officials said the inferno, propelled northeast towards neighboring Saskatchewan by high winds and fueled by tinder-dry forests, was set to double in size to 740,000 acres – almost twice the size of Houston – by the end of Saturday.
Fort McMurray is the center of Canada's oil sands region. About half of the nation's crude output from the sands, or one million barrels per day, had been taken offline as of Friday, according to a Reuters estimate.
Officials said they expected the fire would burn up to the edge of a project operated by Suncor Energy Inc, but noted the site and others like it were resilient to fire damage.
"They are clear of vegetation and trees … they also have highly trained industrial fire departments that know how to respond to these incidents," said Chad Morrison, the province's manager of wildfire prevention.
At least 10 oil sand operators have cut production due to evacuations and other emergency measures.
Syncrude oil sands project said it would shut down its northern Alberta operation and remove all personnel from the site due to smoke. There was no imminent threat from the fire.
Morrison told a briefing that firefighters started tackling the fire as soon as it was spotted south west of the city at 6 p.m. eastern last Sunday. The blaze is now expected to reach the border with Saskatchewan, some 50 miles away, by the end of the day.
Cooler weather forecast for Sunday could then help keep the blaze under control, said Morrison, predicting that without substantial rain the fire might easily last for months.
The full extent of property losses in Fort McMurray has yet to be determined, but one analyst estimated insurance losses could exceed $7 billion.
Alberta's Municipal Affairs Minister Danielle Larivee said the fire was still out of control and warned residents not to try to return.
"I know … how very hard it is to be patient and how difficult it is not to know so many things. I know what it's like to wonder what is left from your home," she told the briefing.
More than 500 firefighters are battling the blaze in and around Fort McMurray, along with 15 helicopters and 14 air tankers, the Alberta government said.
Police escorted another convoy of evacuees out of the oil sands region north of Fort McMurray on Saturday, on a harrowing journey through burned-out parts of the city and billowing smoke.
Around 25,000 residents who initially went north found themselves cut off in overcrowded conditions. Larivee said she hoped the entire group would have been moved south by the end of Saturday.
Entire neighborhoods were reduced to ruins, but most evacuees fled without knowing the fate of their own homes. The majority got away with few possessions, some forced to leave pets behind.
Stephane Dumais, thumbing through his insurance documents at an evacuation center, said he has thought about moving away.
"To me that's like giving up on my city," he said. "As long as it takes to rebuild it, let's work together. It's not going to be the same as it used to be."
Quite how quickly Fort McMurray can recover is unclear. Earlier in the day Alberta premier Rachel Notley said the city's gas had been turned off, its power grid was damaged and the water undrinkable.
Later on, Scott Long of the Alberta emergency management agency said planning had started for residents to return once the city was safe.
"There is no timeline on that but I am not looking at months," he told the briefing later on Saturday.
(Additional reporting by Ethan Lou in Toronto and David Ljunggren in Ottawa; Writing by Jeffrey Hodgson and David Ljunggren; Editing by James Dalgleish and Diane Craft)
Photo: People wait at a roadblock as smoke rises from wildfires near Fort McMurray, Alberta, Canada, May 6, 2016. REUTERS/Chris Wattie