Canada 'Will Not Be Intimidated' By Parliament Attack
@AFP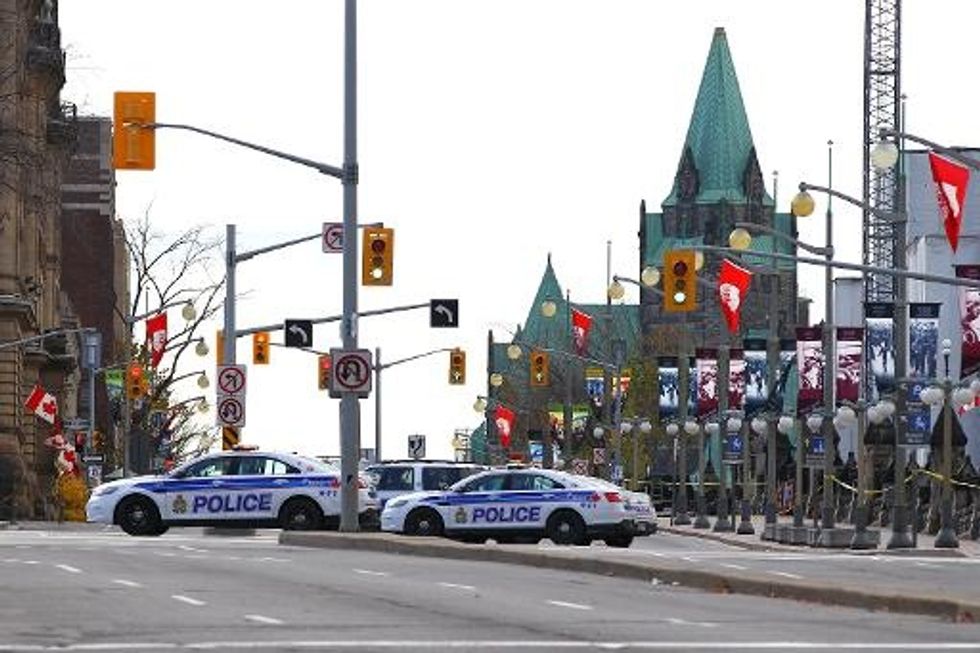 Ottawa (AFP) – Canada's prime minister vowed the country would "not be intimidated" after a reported Muslim convert killed a soldier and stormed parliament, the nation's second 'terrorist' attack in days.
The gunman, whose name was on a terror watch list, attempted to force his way into Canada's parliament Wednesday before the assembly's sergeant-at-arms shot him dead.
The attack — the second this week targeting Canadian military personnel — came as Canadian jets were to join the U.S.-led bombing campaign against Islamist militants in Iraq.
"Canada will never be intimidated," premier Stephen Harper told the nation in a televised address after the shootings on Wednesday.
"In fact, this will lead us to strengthen our resolve and redouble our efforts and those of national security agencies to take all necessary steps to identify and counter threats and keep Canada safe," he said.
The spectacular security breach came two days after an alleged Islamist ran over two soldiers in Quebec, killing one of them, in what officials branded a terrorist attack.
In audio of the attack on parliament, repeated shots could be heard booming through its chambers.
The suspect, Michael Zehaf-Bibeau who was said to be a convert to Islam, had a record of drug offenses and robbery.
Dave Bathurst, who met the 32-year-old Zehaf-Bibeau in a mosque about three years ago, said his friend did not at first appear to have extremist views, the Canadian Broadcasting Corporation reported.
But he said at times he exhibited a disturbing side.
"We were having a conversation in a kitchen, and I don't know how he worded it. He said the devil is after him," Bathurst told the the CBC. He said his friend frequently talked about the presence of Shaytan in the world –- an Arabic term for devils and demons. "I think he must have been mentally ill."
Bathurst last saw Zehaf-Bibeau praying in a mosque in the Vancouver area six weeks ago and said he spoke of wanting to go to the Middle East.
He insisted he was only going abroad with the intent of learning about Islam and to study Arabic, Bathurst said.
Zehaf-Bibeau was considered a "high risk" suspect, according to reports, whose passport had been confiscated to prevent him joining jihadists abroad.
He first shot and killed a Canadian soldier who was on ceremonial guard at a war memorial on Parliament Hill in downtown Ottawa, before storming into the nearby parliament building.
The slain soldier was named as Corporal Nathan Cirillo. At least three people were admitted to hospital with minor injuries.
The attacker was killed, reportedly by a shot fired by the bearer of the House of Commons' ceremonial mace, Sergeant-At-Arms Kevin Vickers, who was hailed as a hero by lawmakers.
Ottawa Mayor Jim Watson said it appeared the shooter had acted alone.
Lawmakers, staff and reporters, evacuated from the historic building, spoke of intense gunfire inside.
Paul Clarke, a builder who was working in parliament at the time, said, "It's just been a nightmare."
A member of parliament, Maurice Vellacott, told AFP that House of Commons security had told one of his aides the suspect had been killed inside parliament.
"I heard this 'pop, pop' — possibly ten shots, I don't really know," Liberal Party member John McKay told reporters outside.
Passers-by told reporters that a bearded man had gunned down the soldier and hijacked a passing vehicle to take him the short distance to parliament.
Local media reported that the suspect, raised in Laval, Quebec, about 10 miles from Montreal, had an extensive criminal record, including robbery and drug charges to which he pleaded guilty.
A photo of Zehaf-Bibeau circulated in the Canadian media, showing him with a scarf over the lower half of his face aiming a rifle straight ahead.
Harper had been scheduled to bestow honorary Canadian citizenship on Nobel Peace prize winner Malala Yousafzai, who was shot by the Taliban in Pakistan for campaigning for girls' right to education, on Wednesday in Toronto. The ceremony will be rescheduled, his office said.
On Monday, 25-year-old Martin Couture-Rouleau mowed down two soldiers near Montreal, killing one of them, before being shot dead by police as he emerged from his wrecked car wielding a knife.
Couture-Rouleau was reportedly a supporter of the jihadist Islamic State group operating in Iraq and Syria, and on the same watch list as Zehaf-Bibeau.
The two attacks came days after Canadian authorities warned they were tracking 90 suspects, and "intelligence has indicated an individual or group within Canada or abroad has the intent and capability to commit an act of terrorism."
AFP Photo/Lars Hagberg