Why Can't Alabama Republicans Admit Doug Jones Won Fair And Square?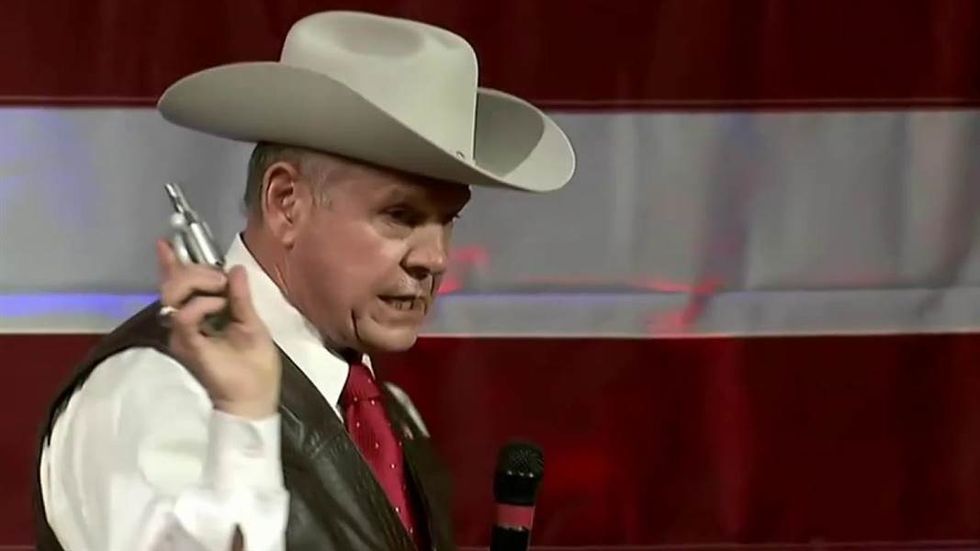 Reprinted with permission from AlterNet.
Roy Moore cannot get a recount under state law, a growing chorus of legal scholars said Wednesday, despite what the state's top election official and the Senate candidate himself might have you believe. (Moore told rallygoers Tuesday night that the race is "not over," and that it will "take some time.")
"It looks like Roy Moore cannot request a recount in the Alabama Senate race if the margin is greater than 0.5 percent (there's an automatic recount for the 0.5 percent range)," wrote Rick Hasen, a University of California Irvine law professor and curator of the nation's most influential election law blog. "Last night on CNN, Alabama SOS [Secretary of State] John Merrill got it wrong, saying that Moore could pay for a recount in the larger range. The statute does not allow this for federal offices."
As of midnight Wednesday, Democrat Doug Jones had 671,151 votes to Moore's 650,436 votes, a margin of victory of 1.5 percent. The election also included 22,819 write-in votes, which is what Sen. Richard Shelby (R-AL) suggested Sunday that his fellow Alabama Republicans submit.
Hasen's comments—which were affirmed by other election lawyers on his listserv—highlight the latest dubious behavior by high-ranking Alabama officials surrounding the controversial U.S. Senate election.
On Monday, a Montgomery County court issued an order telling Merrill to instruct all county election officials to preserve the digital images of every ballot that is scanned and counted. That involves checking one box on a software window after turning on the scanners. Merrill appealed the ruling to the Supreme Court of Alabama, which reversed the lower court order and undermined any chance of creating a full public record for a possible recount.
The Supreme Court of Alabama quickly issued its order without hearing from attorneys representing the four Alabama citizens seeking to preserve the ballot images.
"It appears that the court issued its order within minutes after the stay request, without giving the other side a chance for briefing," Hasen blogged. "How could they have had a chance to fairly consider the issue?…It is very disturbing because the AL Supreme Court's order effectively decides the case. The ballot images will be destroyed, even if plaintiffs ultimately win on the merits weeks later. Goes against principles of preserving the status quo."
If that wasn't bad enough, later on Tuesday Merrill told CNN that Moore could pay for a recount, when as Hasen and other election lawyers have noted, the state's election law does not allow a recount unless the victory margin is under 0.5 percent.
"I understand that Merrill may have made an error in the heat of the election (but truly, this is something he should have known going into such a high profile and closely watched election)," Hasen wrote. "But what explains his failure to correct things now? We are moving from a mistake to possibly something else."
Merrill didn't respond to Hasen, but blocked him on his Twitter account Wednesday.
The Washington Post's Philip Bump took a closer look at the preliminary vote results, which have not been officially certified. Before Moore spoke on Tuesday night and refused to concede, his campaign chairman said there were still uncounted ballots from overseas military personnel.
"To [CNN's Jake] Tapper, Merrill said it would be 'highly unusual and highly unlikely for that number of ballots'— the 20,715 margin between Jones and Moore—'to be outstanding' from service members. It might, however, be enough to draw Moore within 0.5 points, he said," Bump wrote, before debunking Merrill's assertion.
"We can be confident, though, that it wouldn't," Bump continued. "As of May 2016, there were only about 8,700 people from Alabama serving in the armed forces. Assuming that's held fairly steady, even 100 percent turnout from that group would account for only about 42 percent of the gap that Moore needs. Even if all of those servicemembers voted and all of them voted for Moore, Jones would still have a lead of 0.9 percentage points. Not enough."
Alabama counties also have to verify and count so-called provisional ballots, which are given to people who are not on polling place voter lists. However, as the University of Florida's Michael McDonald, a nationally known turnout expert, tweeted Wednesday, those ballots are likely to break for Jones, not Moore.
While the election is not officially over until Merrill certifies the results and Jones is sworn in—which under the electoral calendar, must happen by January 3—it's very unlikely that the most partisan Alabama Republicans can stop Jones from taking office. While some Senate Democrats have already demanded he be sworn in immediately, the most likely timetable is after the GOP-led Congress rams through its only major legislative action this year, a regressive and widely reviled tax bill.
On the other hand, Bump said no one should hold their breath for Moore to concede.
"In situations like this, when a candidate is favored to win after months of campaigning but comes up short, it's hard to tell if a refusal to concede is motivated by sincere concern over the result or simply a dogged refusal to accept reality," he wrote. "In 2014, Chris McDaniel narrowly lost a Senate election to Sen. Thad Cochran (R-Miss.) and, according to the Clarion-Ledger's Sam Hall, simply never conceded. Perhaps that's Moore's eventual fate: Always being the guy who almost won but never admitted it."
"The evidence at hand makes one thing seem pretty clear, though: He's not likely to suddenly become the guy who actually did win."