Capitol Police Crack Down On The Media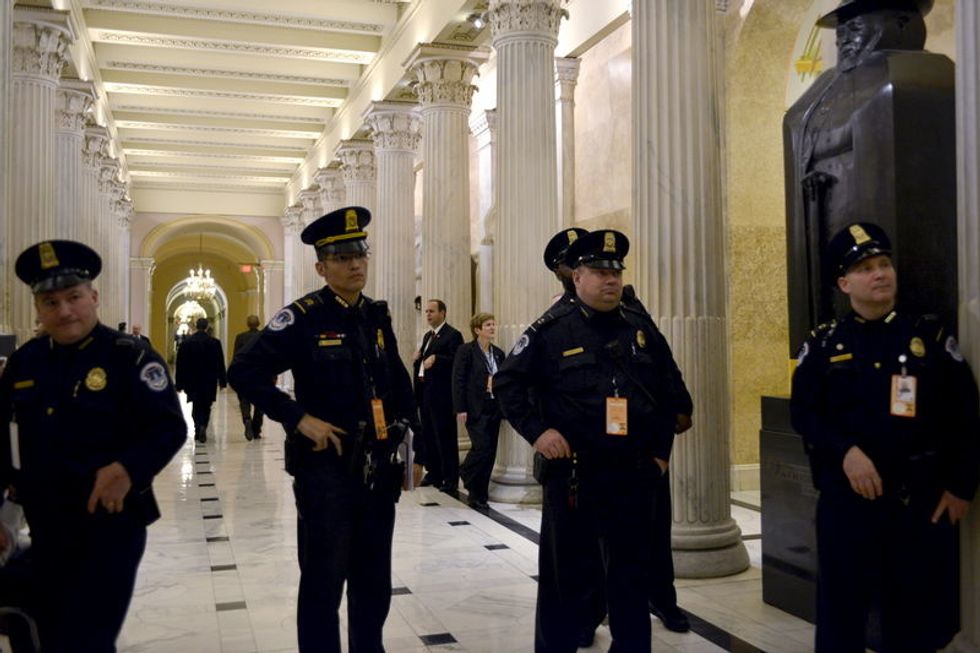 Reprinted with permission from AlterNet.
Chants of "Kill the bill, don't kill us" echoed through the Senate visitor galleries Tuesday afternoon while lawmakers cast votes to move forward on debate surrounding the possible repeal of the Affordable Care Act. Capitol police officers arrested a number of protesters, many of them members of the disability rights group ADAPT, and even admonished some journalists who were covering the demonstration to stop taking photos and videos.
According to multiple tweet reports from journalists present at the galleries, Capitol police demanded that journalists—including those from the Daily Beast, the Huffington Post and the New York Post—delete photos and videos of the demonstration.
Capitol Police made me delete the video I recorded. https://t.co/NQH2fLFYiO

— Andrew Desiderio (@desiderioDC) July 25, 2017
Huffington Post reporter Jennifer Bendery said journalists were barred from hallways where officers were arresting activists and demonstrators, adding that an officer pushed her.
Reporters blocked from Senate halls where protesters being arrested, shouting, "Kill the bill!" Being told, "no photos. Delete your photos."

— Jennifer Bendery (@jbendery) July 25, 2017
Just tried to get a look at Senate protesters but officer blocked me & said hall closed. Asked why, she gave no reason & pushed me. Really?

— Jennifer Bendery (@jbendery) July 25, 2017
One Capitol Hill staff member said the area was a "crime scene" and told journalists not to take photos, according to Gabby Morrongiello, Washington bureau chief of the New York Post.
About 10 protesters were handcuffed & removed from hallway outside Senate chamber. We were told it's a "crime scene" & not to take photos

— Gabby Morrongiello (@gabriellahope_) July 25, 2017
In defending the actions of police Tuesday, Senate Daily Press stated in a tweet that "photos and videos are prohibited on the third floor of the Senate wing of the Capitol, and have been for decades." Joseph Morton, reporter for the Omaha World-Herald and secretary of the Senate gallery's standing committee of correspondents, also reiterated the no-photos rule.
Nobody should be forced to delete photos but also rule is no photos on 3rd floor. Reporters agree to follow rules by accepting credentials. https://t.co/X2ROAEq0rt

— Joseph Morton (@MortonOWH) July 25, 2017
These reports have drawn criticism from the ACLU, as the organization said via Twitter that police cannot delete photographs without a warrant. Further reporting from the Columbia Journalism Review notes that journalists are protected by the First Amendment to document what occurs in public spaces as well as the Fourth Amendment "against unreasonable searches and seizures of their persons and equipment." The Privacy Protection Act also protects journalists by requiring law enforcement to obtain a subpoena to search or seize a journalist's materials, including photos and videos.
"Similarly, calling a public space a 'crime scene' does not magically transform it into something that cannot be photographed and whose images must be deleted," CJR continued.
Attempts to muzzle journalists in the Capitol have proliferated in recent months and are undoubtedly bolstered by President Trump's constant berating of news outlets like the Washington Post and New York Times as part of the "fake news" media. Last month, in the midst of Republican senators secretly drafting a health care bill, reporters were temporarily barred from interviewing senators in the hallways. The Senate Rules Committee quickly reversed the rule following fierce outcry from the media. That same month, a female reporter was kicked out of the White House for reportedly breaking House dress code rules. And prior to his resignation, former Press Secretary Sean Spicer prohibited on-camera press briefings multiple times.
Celisa Calacal is a junior writing fellow for AlterNet. She is a senior journalism major and legal studies minor at Ithaca College in Ithaca, New York. Previously she worked at ThinkProgress and served as an editor for Ithaca College's student newspaper. Follow her at @celisa_mia.