Advertising
Start your day with National Memo Newsletter
Know first.
The opinions that matter. Delivered to your inbox every morning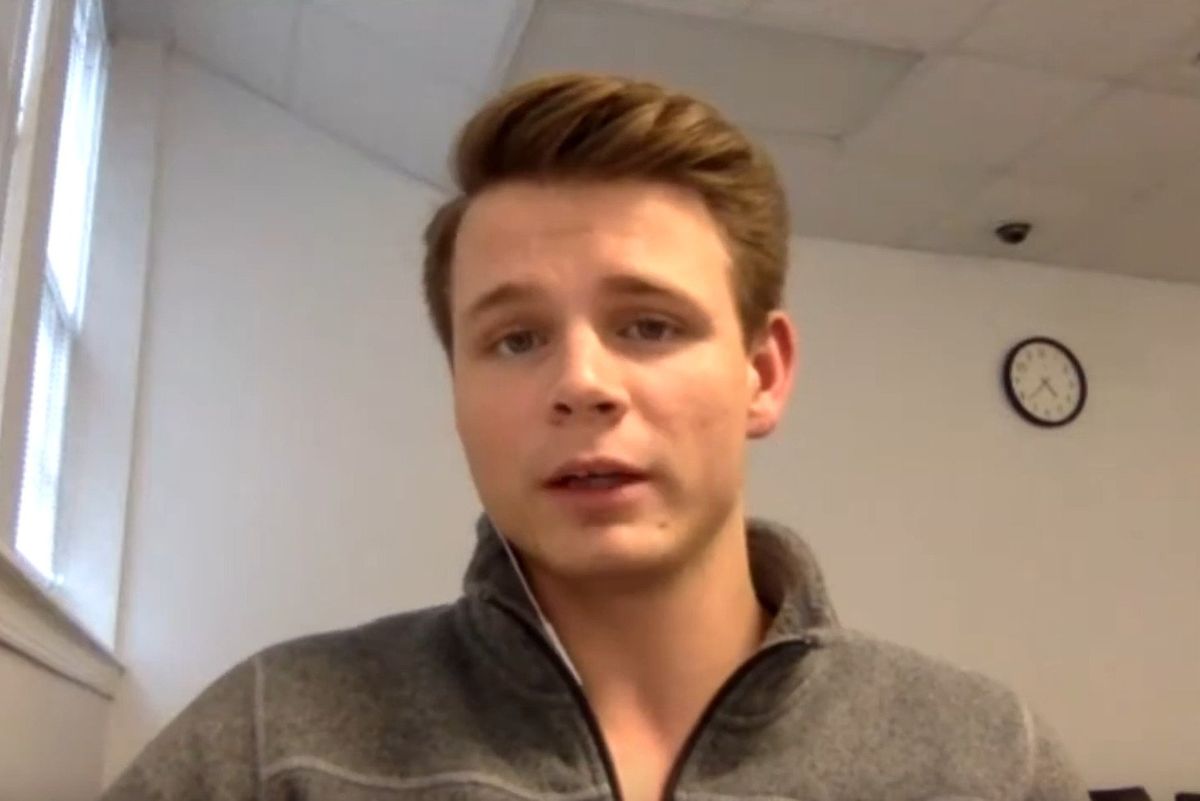 Ryan Fournier, the co-founder of the North Carolina-based Students for Trump, has been charged with two counts of assault. According to a magistrate's order filed in the Johnston County District Court, Fournier is accused of "grabbing [his girlfriend's] right arm and striking her in the forehead with a firearm." Fornier, who is 27, was reportedly released on the same day as his arrest, Nov. 21, posting a $2,500 bond. A hearing is scheduled for December 18.
One wonders if The Washington Post's editorial board will add this to its hand-wringing about right-wing men not being able to attract female partners.
Fournier began Students for Trump in 2016 along with fellow Campbell University student John Lambert, but it quickly became apparent that the two were running a real shady operation. In 2018, The Daily Beastreported that the young MAGA group was ignoring requests from federal investigators to explain how their operation ran and was funded, leading many to believe the organization was violating federal election laws.
It turned out that Lambert was breaking more than just election laws—he was an epic fraud. In 2021, at the age of 25, Lambert was sentenced to 13 months in prison for being what the sentencing judge described as a "cold-blooded fraudster." According to The Daily Beast, Fournier was involved in the fraudulent scheme but ratted out Lambert when the feds confronted him in 2018.
Fournier's personal website refers to him as "Ryan Fournier. Commentator. Entrepreneur. Realist." Apparently, it should also have something about being someone who allegedly uses firearms to assault women.
Reprinted with permission from Daily Kos.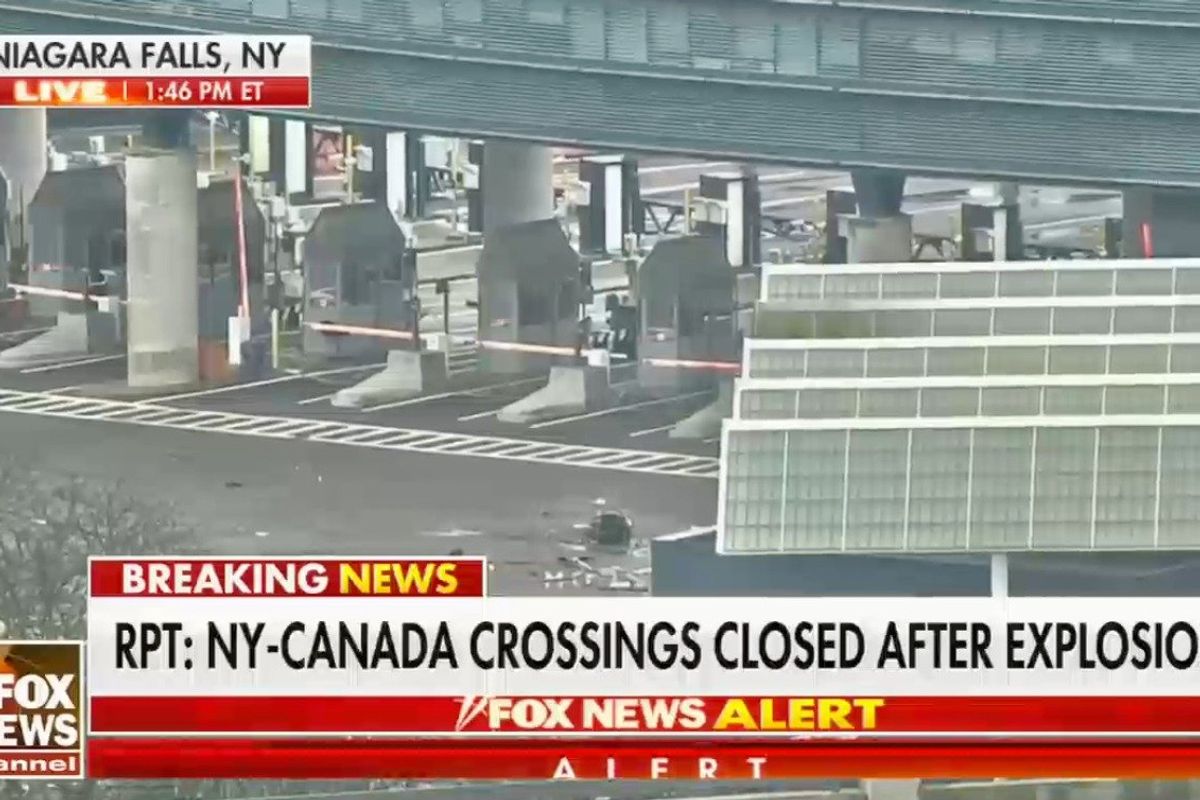 Fox News falsely reported last Wednesday that a car accident at the Rainbow Bridge in Niagara, New York, was an act of terrorism. Much of the network's coverage was based on reporting from correspondent Alexis McAdams, who attributed her information — later debunked — to anonymous law enforcement sources. A close look at Fox's treatment of this event shows how the network manufactured a terrorist event out of thin air, and then blamed it on Muslims, Arabs, Palestinians, and their supporters.
Fox News personalities and guests made at least 97 claims alleging or speculating that the crash was an act of terrorism or an attack from when the incident happened at 11:30 a.m. ET, until about approximately 5:15 p.m. ET, when Gov. Hochul stated that the explosion was not related to terrorism. From when the network first began reporting the crash, around 1:15 p.m. ET, through Gov. Hochul's statement, Fox News aired 1 hour and 45 minutes of on-screen text that speculated that the car crash at the U.S.-Canada border was an act of terrorism or an attack. Several Fox guests and personalities backpedaled their statements over the course of the timeframe.
The incident occurred on November 22, one of the busiest travel days of the year, at a border checkpoint between the United States and Canada. By 9:40 p.m. ET Wednesday evening, the FBI had concluded its investigation, determining that "no terrorism nexus was identified." Local police have now taken over the investigation, and a cause of the crash has yet to be released. The Niagara police chief criticized media outlets for spreading misinformation about the crash, which he said had "created significant and unnecessary anxiety in the community."
Right-wing media outlets including Fox News have consistently fearmongered about the purported threat of Muslims and Arabs looking to cross into the United States to carry out violence following an attack in Israel on October 7 by the armed wing of Hamas, the Palestinian organization that governs the occupied Gaza Strip. An estimated 1,200 people were killed in the Hamas attack; Israel responded with a bombardment and invasion of Gaza that has reportedly killed more than 14,000 Palestinians, an estimated 10,000 of whom are women and children. Incidents of anti-Muslim discrimination in the United States have skyrocketed over this period.
Fox quickly suggests Niagara crash was terrorism
Fox News was an early source to falsely claim the accident in Niagara was an act of terrorism, with the clear implication that it had been carried out by Islamists.
"High level police sources tell me this is an attempted terrorist attack," Fox's McAdams posted on X (formerly Twitter) at 1:53 p.m. ET on Wednesday, November 22. "Sources say the car was full of explosives. Both men inside dead." By 3:16 p.m. ET, The New York Times reported, "A preliminary investigation has found that the car did not contain explosives," which users on X added to McAdams' post as a community note.
Fox's claim spreads, and a Fox anchor suggests Hamas may be to blame
McAdams' post spread fast. Fox News border reporter Bill Melugin shared McAdams' post to his more than 350,000 followers and made his own post paraphrasing and citing his colleague. Melugin later deleted that post, but his repost of McAdams' initial message is still viewable on his timeline.
Around the same time, Fox News anchor John Roberts read McAdams' reporting on air, including information not contained in her post.
"Alexis McAdams is reporting that according to high-level police sources, the explosion was an attempted terrorist attack," Roberts said. "A lot of explosives in the vehicle at the time, the two people who were in the car are deceased, one Border Patrol officer was injured. Driving from the U.S. apparently to Canada, and were trying to drive toward the CBP [Customs and Border Protection] building."
Roberts also suggested that Hamas might be behind the attack, claiming the "unrest in the Middle East that has spilled out past Israel" means there "could be operatives in this country sympathetic to terrorists who want to send a message here in the United States."
Supercharged misinformation
From there it was off to the races, as other Fox News on-air talent and guests began pushing the narrative that the incident was an act of terrorism. "When you are talking about radical Islamic terrorism and the attacks against the United States, this has happened before," said senior correspondent Eric Shawn.
During the 2 p.m. hour of America Reports, Roberts speculated whether the two people involved were "acting alone" or if the explosion was "part of a larger plot."
"How long have these people been in the country — are they American, are they foreign-born, are they radicalized, are they just trying to make a statement here?" he continued. "I mean, there's so many possibilities."
McAdams joined the program as well, reporting that there may have been a "second car possibly involved" and that the original car was "full of explosives, according to those high-level sources." She added that "there's going to be big crowds of people coming here to New York City for the Macy's Thanksgiving Day Parade," insinuating it could be a target, and also repeated that the explosion was "a planned terrorist attack, according to high-level police sources who were on the ground."
Former Homeland Security adviser suggests "jihadists" may be behind it
Later that hour, former Homeland Security adviser Frances Townsend suggested, like Shawn before her, that Hamas or another group of "jihadists" may be to blame.
"We don't know yet whether or not this is attributed — can be attributed to Hamas or another terrorist group, but I will tell you from our own experience we know that this sort of bomb, this kind of a vehicle bomb is sort of a classic technique of, you know, jihadists," Townsend said. "So I don't think law enforcement yet understands who it was or what the intended target was, but the detonation of an explosive, a vehicle explosive this size, is regrettably — look, there could have been many more casualties — but as I say, very much a hallmark of jihadists."
Roberts interviewed Republican presidential candidate Vivek Ramaswamy, who used the opportunity to go on an anti-migrant tirade. "We have a number of people, by the tens of thousands, who have entered this country with bad intentions," Ramaswamy said.
Fox reporter stands by the terrorism claim even as it falls apart, before finally retracting it
At 4 p.m. ET, McAdams joinedYour World with Neil Cavuto to double down on her initial reporting, only to then retract it — all over the course of a few minutes.
"We've been checking in with police sources who were very confident just in the past hour or so saying that they believe this was a terrorist attack there, at that border crossing," McAdams said. But the story had already started to fall apart."
The bomb techs, who have lots of experience, thought that this was an explosive — that the car, I was told, had explosives in it, several explosives were in that vehicle," she continued. "Now they're backing that up, saying it was the way that the car landed that caused such an explosion.
"Finally, McAdams was forced to retract her initial claims. "We started seeing those conflicting reports, but that's what happens with breaking news," McAdams said. "They get new information, they give it to us, and we bring it back to the viewers."
"So as of now, they've walked back that it was a possible terrorist attack," she concluded.
Even after the report was retracted, Fox used the crash to attack Palestinians and migrants
Still, McAdams' walkback didn't prevent Fox from continuing to weaponize the incident against Palestinians and migrants.
On The Ingraham Angle, guest host Jason Chaffetz acknowledged the explosion might not have been an act of terrorism, but used it to argue for a nativist immigration policy anyway.
"Today's explosion at the border, regardless of the motive behind it, is a chilling reminder that we are all on high alert and living in a post-9/11 mindset, which means that our borders need to be secure," Chaffetz said, adding, that the Biden administration doesn't "have the political will to actually shut down the border."
Later that evening, Fox's Kayleigh McEnany insinuated that it was only natural to assume the explosion was tied to Hamas or connected with Palestinian solidarity demonstrations.
"The crash was so fierce and in such a sensitive location that everyone's mind of course went to the same place — terror," McEnany said on Jesse Watters Primetime. "With war in the Middle East, violent domestic protests, radicals calling for days of jihad, the FBI director telling us to be vigilant — we are all on edge."
Fox's false reporting spread beyond Fox
McAdams' misinformation reached far beyond the confines of Fox News.
On The Clay Travis and Buck Sexton Show, host Clay Travis interviewed former New Jersey Gov. Chris Christie about the incident, also citing McAdam's reporting. "Alexis McAdams, who is at Fox News, says: 'High-level police sources tell me this is an attempted terror attack,'" Travis told his listeners.
"This should not be surprising to any of us," Christie concluded.
On X, a paid X Premium account called The Insider Paper posted Fox News' supposed confirmation that the car crash was an "attempted terrorist attack," which was reposted by right-wing media figures including Richard Grenell and Colin Rugg, racking up thousands of reposts and millions of views.
Right-wing sites American Greatness, The Gateway Pundit, The Daily Caller, and PJ Media also amplified McAdams' false report, only to be forced to update their stories after she retracted her initial claims.
There was no terrorist attack at the U.S.-Canadian border on Wednesday, November 22. But Fox News' manufactured panic was very real, and risks exacerbating the threats that Muslims and Arabs in the United States already face.
Methodology
Media Matters searched transcripts in the SnapStream video database for all original programming on Fox News Channel for any of the terms "U.S," "America," "Canada," "New York," "Ontario," "Niagara," "Buffalo," "border," "rainbow," "bridge," "cross," "checkpoint," "FBI," "CPB," or "Villani" (including misspellings) within close proximity if any of the terms "car," "vehicle," "sedan," "luxury," "Bentley," "crash," "blast," or "flame" of any variations of any of the terms "explosion," "fire," or "terror" from 11:30 a.m. ET November 22, 2023, when a luxury vehicle fatally crashed into a checkpoint at the U.S.-Canada border, through approximately 5:15 p.m. ET November 22, 2023, when New York Gov. Kathy Hochul held a press conference indicating that the crash was not a terror attack.
We included claims, which we defined as instances when an uninterrupted block of speech from a single speaker speculated that the car crash at the U.S.-Canada border was an act of terrorism. For host monologues, correspondent reports, and headlines, we considered a single claim to be the speech between played clips or read quotes. We did not consider the speech within the clip or quote unless a speaker in the segment positively affirmed said speech either directly before or after the clip was played or the quote was read.
We also manually scanned all video on Fox News Channel from 1:15 p.m. ET November 22, 2023, when the network first reported on the crash, through approximately 5:15 p.m. ET November 22, 2023, and timed all visual chyrons that speculated that the car crash at the U.S.-Canada border was an act of terrorism.
We rounded all times to the nearest minute.
Reprinted with permission from Media Matters.